Allison Speer Releases Her First Book "Reindeer Flu"
Singer and songwriter Allison Speer has released her first book, "Reindeer Flu" just in time for Christmas. Written and illustrated by Allison for her nephews in 1997, it sat in a cabinet for many years. She and Brian recently decided to dust it off and share it with her friends. The paperback is full of Allison's original artwork... Your kids and grandkids will love it!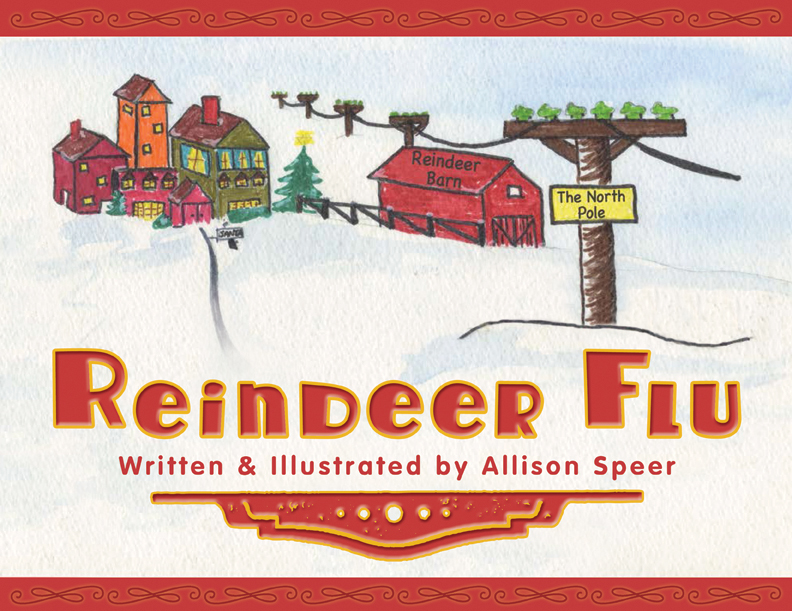 It is available for purchase now on Allison's website. And from now until Christmas, buy "Reindeer Flu" and receive Allison's Christmas CD, "Merry Christmas, My Love" for only five dollars more!
"Merry Christmas, My Love" was released in 2008 and it features Allison putting her signature vocals on Christmas classics such as "I'll Be Home For Christmas," "Jingle Bells," "The Christmas Song," as well as originals and lesser known festive songs such as "Merry Christmas My Love," and "Tennessee Christmas."
Allison's grounding lies at her home church, Grace Church of the Nazarene in Nashville, TN. But no matter where she is, a consuming flame keeps her searching for ways to be used, as she says, "to help others identify with the suffering of Jesus and bring clarity to the word of God through music." Allison's zeal for communicating the Gospel through song led her to begin the GodSong Music Academy (www.godsongmusicacademy.com), a four-day conference that in Allison's words, "makes communicators and ministers out of singers."
She adds, "I have a passion for giving new performers the tools that they need to better minister the Gospel." As a student of communication skills, her desire is to equip the next generation of singers and musicians to reach their audiences to their fullest potential. This conference has been held annually in Nashville, TN since 2008.
Allison's latest recording, "Writer," is her first self-penned project, featuring songs co-written with some of Gospel music's finest writers. "Writer" showcases the depths of her musical abilities and her passion for presenting the Gospel with unique poetry and melodies. Her performance seems effortless but pushes you beyond the voice to allow you to become one with the intimate message. "Writer" is packed with scripture and Biblical truths for the ages. Allison says, "This is the first project I've written and it gave me a freedom of expression that I've never had before."
Tags : Allison Speer allison speer reindeer flu allison speer new book allison speer news