Sarah Kroger to Release the Audrey Assad-Produced "Bloom" in April
Integrity Music welcomes Catholic worship leader and songwriter Sarah Kroger and announces the April release of her new album, Bloom, produced by Audrey Assad. The album is preceded by singles "Pieces," featuring a duet with Assad, on Feb. 22 and "Freedom In The Spirit" on March 22.
Kroger, a Melbourne, Florida, native who is now based in Nashville, developed a love for music as a child when she began singing in church choirs while following in the steps of her music minister parents. Her passion is to create a safe, prayerful space through her music in which people can encounter the love of God. She has been doing this for the past eight years, leading worship at events around the world, drawing people together from a variety of cultures and church backgrounds under the banner of Jesus.
"We are so excited to partner with Sarah," says Andrew Osenga, Director of A&R for Integrity. "Her heart for the Church and for bringing new expressions of intimate worship to the liturgical world is inspiring and much-needed."
"Since the start of my relationship with Integrity, I've felt nothing but kindness, hospitality and a genuine desire to partner with me as a worship leader and songwriter," says Kroger of her new label home. "I never set out to sign with a record label. I didn't think it was even in the realm of possibility...yet again, I'm reminded that nothing is impossible for God."
Previously Kroger released two independent albums, Your Time (2011) and Hallelujah Is Our Song(2013), that include songs "In The Silence," "Run To The Cross," "The King Of Love My Shepherd Is" and "Hallelujah Is Our Song." She releases her major label debut, Bloom, with Integrity on April 26.
Integrity Music is part of the David C Cook family, a nonprofit global resource provider serving the Church with life-transforming materials. With offices in Nashville, Tennessee (US) and Eastbourne, East Sussex (UK), Integrity is committed to taking songs of substance to the local church and its leaders around the world. Integrity publishes many of the top songs in the Church, including "Great Are You Lord," "Revelation Song," "Open The Eyes Of My Heart," "In Christ Alone," "10,000 Reasons," "Here I Am To Worship," "The Lion And The Lamb," "Great I Am," and "We Believe," among others. Additional information is available at www.integritymusic.com.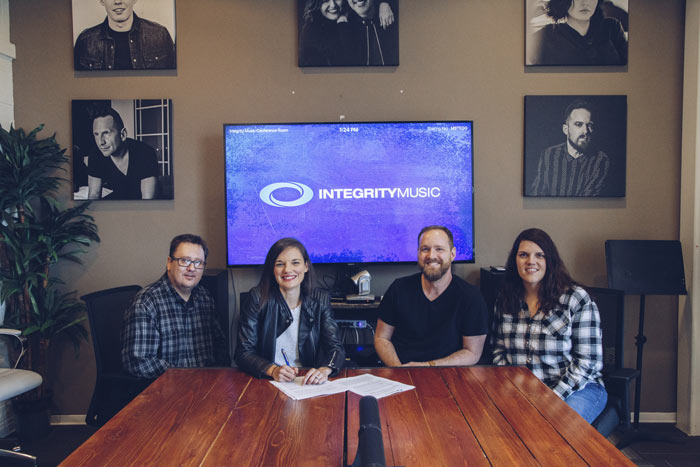 Shown left-to-right are Integrity's Jonathan Lane (Music Administration), Sarah Kroger and Integrity's Andrew Osenga (A&R) and Kristin Watson (Marketing).
Tags : sarah kroger sarah kroger blown sarah kroger new album Audrey Assad sarah kroger news