Big Daddy Weave Announces Upcoming Tour with Hannah Kerr and the Young Escape as Guests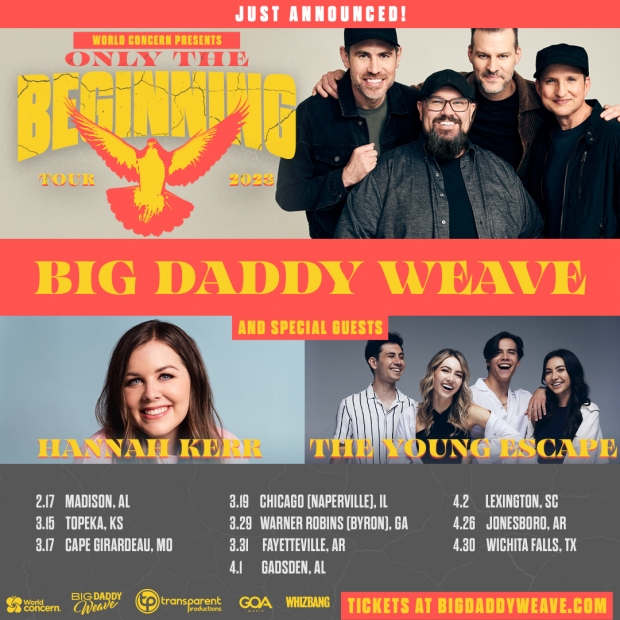 Big Daddy Weave is happy to announce that their Only the Beginning Tour is starting on February 1st! Hannah Kerr and the Young Escape will be joining as special guests. You can purchase your tickets here. 
Big Daddy Weave writes, "Like the approaching new year begins a new season, the heart of this tour is about what relationship with God brings to us - new life, one in which where we are now, regardless of our past, is only the beginning of new life with Him.
"We're excited to celebrate this wonderful news in concert with you! Get your tickets today, and please share with a friend. We'll see you there!"
Hannah Kerr adds, "We've been putting together my set this week and I am SO excited to share some new songs with you guys!! Get your tickets and come out and see us!" 
Here are new added dates: 
2.17 Madison, AL
3.15 Topeka, KS
3.17 Cape Giraedeau, MO
3.19 Chicago, IL
3.29 Warner Robins, GA
3.31 Fayetteville, AR
4.1 Gadsden, AL
4.2 Lexington, SC
4.26 Jonesboro, AR
4.30 Wichita Falls, TX 
Big Daddy Weave is one of Christian music's most beloved artists. A mainstay at radio, the band has achieved multiple No. 1 singles, including "Alive," "Love Come To Life," "Redeemed," "The Only Name (Yours Will Be)," "Overwhelmed" and "My Story." RIAA Platinum-certified "Redeemed" became an anthem of unprecedented impact when it spent 11 weeks at No. 1, was dubbed "Song of the Year" at the first annual K-LOVE Fan Awards, and earned GMA Dove Award and Billboard Music Award nominations.
Their follow-up hit, "The Lion and The Lamb," has become one of the genre's most-streamed songs, and their song catalog has an astounding 285 million career on-demand streams.Big Daddy Weave members are Mike Weaver (lead vocals, guitar), Jeremy Redmon (guitar, vocals), Joe Shirk (saxophone, keys, vocals), and Brian Beihl (drums). The band has released nine full-length projects and amassed more than one million units in album sales and has received numerous honors including a GMA Dove Award, ASCAP and BMI Awards, and the prestigious Rich Mullins Artist Impact Award, among others. BigDaddyWeave.com. 
Tags : hannah kerr the young escape Big Daddy Weave Only the Beginning Tour