John Crist Hits the Road with His "Emotional Support Tour"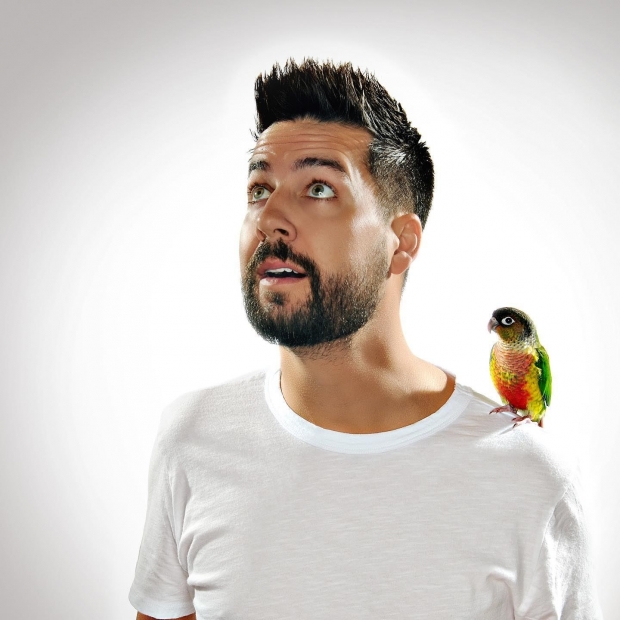 One of the nation's fast-rising, stand-up comedians, John Crist, is kickstarting the new year by hitting the road on his 40+-date "Emotional Support Tour." The massive tour will kick off on Friday, February 3 with SOLD-OUT theater shows in Bowling Green, KY, and Cincinnati, OH, and continue through the Summer, making stops in major cities including Indianapolis, St. Louis, Tampa, San Diego, Las Vegas and more. 
A viral sensation with more than one Billion video views, Crist is known for his no-holds-barred humor, southern-bred wit and charming relatability. Armed with a loyal fanbase of 5.7+ Million followers across social media and named among Pollstar's Top 100 Global Tours (2019, 197,000+ tickets sold), Crist has brought his laugh-out-loud sets to packed audiences around the globe - and he's not stopping anytime soon. With multiple shows already SOLD-OUT on this impressive, upcoming run and many more nearing capacity, additional dates are expected to be announced soon. 
In 2022, Crist released his second special, "What Are We Doing?," on YouTube, as well as his best-selling, debut book with Penguin Random House, "Delete That." The Georgia native-turned-Nashville resident also hosts a weekly podcast, "Net Positive" which features special guests every other week. To purchase tickets to the 'Emotional Support Tour' and for additional information on John Crist, please visit johncristcomedy.com.
John Crist's 'Emotional Support Tour' Dates:
Fri., Feb. 3 | SKyPAC | Bowling Green, KY - SOLD-OUT
Sat., Feb. 4 | Taft Theatre | Cincinnati, OH (2 Shows - 4pm/7pm) - SOLD-OUT 
Fri., Feb. 17 | Temple Theatre | Saginaw, MI
Sat., Feb. 18 | Clowes Memorial Hall | Indianapolis, IN (2 Shows - 4pm/7pm)
Thurs., Feb. 23 - Fri., Feb. 24 | Blue Gate Theatre | Shipshewana, IN - SOLD-OUT
Sat., Feb. 25 | Devos Performance Hall | Grand Rapids, MI (2 Shows - 4pm/7pm)
Fri., Mar. 10 | Kiva Auditorium | Albuquerque, NM
Sat., Mar. 11 | The Plaza Theatre | El Paso, TX
Sun., Mar. 12 | Wagner Noël Performing Arts Center | Midland, TX
Fri., Mar. 17 | The Strand Theatre | Shreveport, LA
Sat., Mar. 18 | Will Rogers Memorial Auditorium | Fort Worth, TX (2 Shows- 4pm/7pm)
Sun., Mar. 19 | Walton Arts Center | Fayetteville, AR (2 Shows - 4pm/7pm)
Thurs., Mar. 23 | Bologna Performing Arts Center | Cleveland, MS
Fri., Mar. 24 | Orpheum Theatre | Memphis, TN (2 Shows - 7pm/9:30pm)
Sat., Mar. 25 | The Factory | St. Louis, MO (2 Shows - 4pm/7pm)
Sun., Mar. 26 | Taft Theatre | Cincinnati, OH
Fri., Mar. 31 | Crown Theatre | Fayetteville, NC
Sat., Apr. 1 - Sun., Apr. 2 | Ovens Auditorium | Charlotte, NC - SOLD-OUT
Fri., Apr. 14 | Surf Ballroom | Clear Lake, IA
Sat., Apr. 15 | Kiewit Hall | Omaha, NE
Sun., Apr. 16 | The Midland | Kansas City, MO (2 Shows - 4pm/7pm)
Fri., Apr. 21 | The Classic Center | Athens, GA
Sat., Apr. 22 | Johnny Mercer Theatre | Savannah, GA
Fri., Apr. 28 | Bell Auditorium | Augusta, GA
Sat., Apr. 29 | Thomas Wolfe Auditorium | Asheville, NC
Fri., May 5 | Florida Theatre | Jacksonville, FL
Sat., May 6 | Tampa Theatre | Tampa, FL (2 Shows - 4pm/7pm) - SOLD-OUT
Sun., May 7 | Barbara B. Mann Performing Arts Hall | Fort Myers, FL
Fri., May 19 | The Lincoln Center | Fort Collins, CO
Sat., May 20 | The Avalon Theatre | Grand Junction, CO
Sun., May 21 | Morrison Center | Boise, ID
Sat., Jun. 3 | The Kentucky Center | Louisville, KY
Sun., Jun. 4 | Capital One Hall | Washington, DC
Sat., Jun. 10 | Eccles Theater | Salt Lake City, UT (2 Shows - 4pm/7pm)
Sun., Jun. 11 | Pikes Peak Center | Colorado Springs, CO
Fri., Jun. 23 | Safe Credit Union Performing Arts Center | Sacramento, CA
Sat., Jun. 24 | Saroyan Theatre | Fresno, CA
Sun., Jun. 25 | Fred Kavli Theatre | Thousand Oaks, CA
Fri., Jun. 30 | The Smith Center for the Performing Arts | Las Vegas, NV
Sat., Jul. 1 | Balboa Theatre | San Diego, CA (2 Shows - 4pm/7pm)
Sun., Jul. 2 | City National Grove of Anaheim | Anaheim, CA (2 Shows - 4pm/7pm)
Tags : john crist john crist news john crist tour Emotional Support Tour