CityServe International Team Visits Ukraine: "It's Now Light or Death"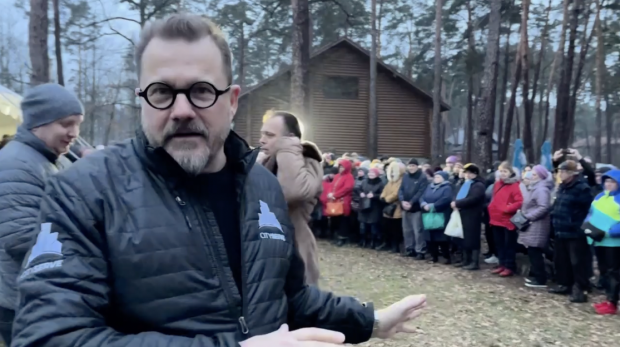 When it comes to a need for generators for families throughout Ukraine, CityServe International co-founder Dave Donaldson said it's now "light or death" for those still living in this warzone. Donaldson was part of a CityServe team that was on the ground in Ukraine this past week to assess the needs and determine how to best equip local churches to continue to help save lives there. 
"I'm pleading with the church: please don't grow numb to the situation in Ukraine," said Donaldson as he wrapped up his visit. "Our brother and sisters there are still in desperate need of food, medicine, shelter, and electricity. I've held their hands, prayed with them, and heard the bombs falling in a short radius from where they sleep at night. This is a critical moment, and we can't turn our backs to their suffering." 
Thanks to donors, CityServe has provided hundreds of generators to churches throughout Ukraine, which are subsequently transforming them into places of refuge for those left to freeze in the dark with no electricity in their homes. "Church buildings have become multifunctioning," said Donaldson. "Sanctuaries are now hotel rooms." 
The latest CityServe delegation had their schedule filled with a visit to the mass graves in Bucha, the distribution of another 1 million meals to that community, a visit to churches in the previously Russian occupied city of Kherson, a meeting with a regional military commander at his underground headquarters in Kherson, and the distribution of several generators throughout the country. They also dedicated 5 new C-train homes for families in Kyiv. These homes are temporary, prefabricated homes that provide shelter for those whose homes are uninhabitable due to Russian shelling of residential areas. The CityServe leadership also established a site for a future family trauma center in Kyiv during their visit.  
Before the trip inside Ukraine, the CityServe team hosted their second pastor's summit in Warsaw, Poland to provide much-needed relief and encouragement to church leaders from Ukraine, Poland, and Moldova. They gathered over 100 leaders and their spouses, many of whom have now spent nearly a year in a dangerous environment. "In 2022, we have shed more tears than any other time in our lives," one pastor said during the summit. Since the beginning of the war, CityServe has assembled a network of over 6,000 churches in Eastern Europe that are currently providing assistance to those in need in Ukraine.  
"Churches have been the quickest to respond to the crisis, said Wendell Vinson, Vice Chairman and and President of CityServe International. "We are one working organism," Vinson added, "and Ukrainian government authorities are surprised at how fast a church can respond to help people." Vinson also spoke to a congregation in Kherson, Ukraine. As he prayed for them, he called their church a "lighthouse" for the community. He encouraged the congregation with what's said in Scripture, "I am building my church, and the gates of hell will not prevail against it."