Producer Dan Posthuma Offers Exclusive Insights into the Film "THE CONFESSION MUSICAL"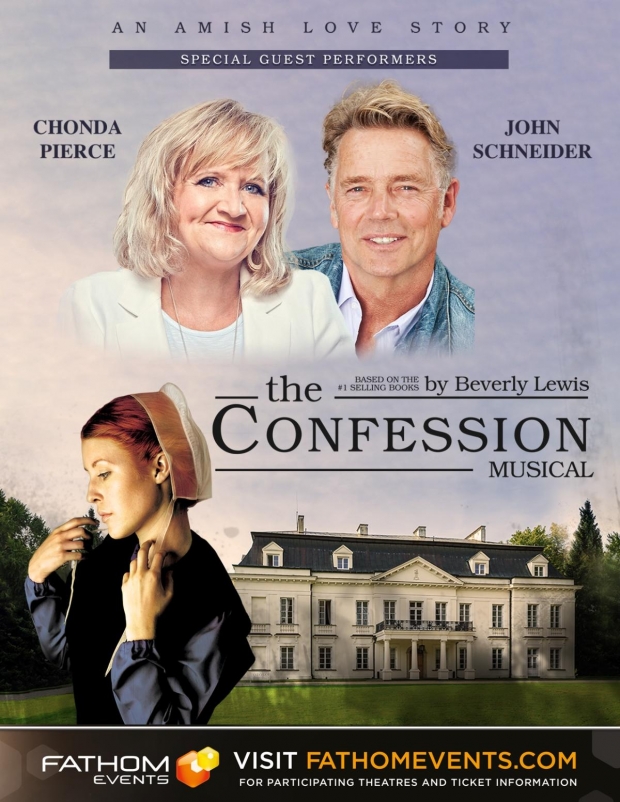 Blue Gate Musicals, UpTV Entertainment, and Fathom Events are partnering together to bring THE CONFESSION MUSICAL with special performances by Chonda Pierce and John Schneider to theaters nationwide on February 20. The film stars John Schneider (Dukes of Hazzard, Smallville), Chonda Pierce ("All Saints", "Selfie Dad"), Caroline Clay ("Doubt", "The Little Foxes"), Colin Alexander ("Elf the Musical", "Prince of Egypt"), Kristina Miranda Stone ("Sound of Music," "Showboat"), Geoffrey Davin ("How the Grinch Stole Christmas: The Musical", "Death of a Salesman"), and Caitlin Borek ("Pirates of Penzance", "The Mikado"). 
"The Confession Musical" is based on the New York Times best-selling book series "The Heritage of Lancaster County," written by Beverly Lewis and written for the stage by Emmy-Nominated screenwriter Martha Bolton. Katie Lapp, a young Amish girl, discovers her parents have been keeping a secret from her... she is adopted. Katie decides to seek her birth mother, defying the rules of her Amish village and risking a shunning. Meanwhile, her wealthy birth mother, Laura Mayfield, battling an illness that might take her life, begins searching for her long-lost daughter to bequeath her inheritance before it is too late. Secretly plotting against her is the gold-digging husband Dylan (played by John Schneider), who is scheming to make sure he inherits her fortune. With the help and prayers of her Christian maidservant (played by Chonda Pierce), they try to foil Dylan's plan and reunite Katie and Laura.
We are honored to be able to catch up with the film's producer Dan Posthuma for this exclusive interview. 
Q: Dan, thank you for doing this interview with us. You have had a very successful career as a music producer, why and how did you decide to be involved in musicals?
I began my work in the music industry as the Music Director for the Bill Gaither Trio, and then Amy Grant. This led to a career in Christian music as both a concert and record producer, and then as an A&R Director at Word Records. One of the artists I signed at Word was Chonda Pierce, and she introduced me to a gentleman by the name of Mel Riegsecker. Mel had a small theater up in Shipshewana Indiana - which is a growing tourist community for people interested in Amish culture. I began producing concerts in the event center, and my wife Sara and I fell in love with that beautiful little town. We're fascinated by Amish people - their sense of community, their commitment to simplicity, and their deep faith.
Mel introduced me to a line of novels described as "Amish Romance", which has lately been recognized as one of the fastest growing genres in the book industry. I read (and was deeply moved by) a beautiful story by Beverly Lewis called The Confession. I had no experience in producing musicals, but I had a sense that this emotional story would be even more moving with music. I connected with a songwriter by the name of Wally Nason here Nashville, and also reached out to my friend Martha Bolton, a script writer with a great reputation for comedy.
Q: Very briefly, tell us a little about "The Confession Musical," what is it about?
Katie Lapp, a young Amish girl, discovers her parents have been keeping a secret from her... she is adopted. Katie decides to seek her birth mother, defying the rules of her Amish village and risking a shunning. Meanwhile, her wealthy birth mother Laura Mayfield, battling an illness that might take her life, begins a search to find her long lost to bequeath her inheritance before it is too late. So, Katie makes the very difficult decision to leave her community to search for her birth mother. Katie runs into some interesting people on this journey, including a scheming gold- digging husband and her birth mother's housekeeper - a very funny and feisty woman with deep faith and beautiful prayers.
Q: What first attracted you to these books - to be made into a musical?
As a producer, I knew the power of a great melody and lyric, a song that has a "soul connection" with the listener. I want to find a way to tell this beautiful story with that kind of power. I read a quote lately from the book reviewer who is talking about Agatha Christie, who has sold more books of fiction than any other author. He said " Agatha offers her readers a retreat into a bygone world of moral certainties." One reason I think people are intrigued by the Amish is the fact that they have built into their life/belief systems a strong sense of right and wrong. Those boundaries, honestly, make for good storytelling: good people, having to make difficult decisions. Which is exactly the situation that Katie, as well as her mother and father, find themselves. The concept of strong boundaries is not found often today in contemporary culture. In The Confession, both the beauty and the challenges of those boundaries spoke very powerfully to me.
Q: What is it like to work with John Schneider and Chonda Pierce?
Such a great experience! Those two are incredibly talented and very funny people. I've produced projects for Chonda for years, and it's always a whirlwind experience (often hard to stop laughing to get the work done!). But my goodness, what a beautiful heart. I never worked with John Schneider before, and I was pleased to discover he's a strong believer, dedicated to his craft, and also massively talented. He played the part of the charming scoundrel to perfection!
Q: Do you have a favorite scene? If so, can you tell us what it is and why you love it?
There's a scene where Samuel, the Amish father, is deeply distressed about the proper way to respond to Katie's desire to leave. "A rebellious heart must be dealt with!", he argues to his wife. You can watch the fathers in the audience quietly nod in agreement, while at the same time saying in their hearts "You go young lady. Go find out where you came from". You can see him struggle - "What's best for my child here, in this particular situation? This is a powerful pain!"
It's that conflict (which every parent knows) that's at the very heart of this story.
And then, there is a gripping trio where the Amish mother, the birth mother, and Katie herself, all cry out in desperation: "I WON'T REST UNTIL I KNOW... WHERE YOU ARE!"
Q: What is the role of God and faith in this musical?
The most beautiful element of faith in this musical is Rosie, played by Chonda, as she tenderly encourages the birth mother not to give up her search. Trust in God's timing, the one that gave you this child in the first place. By the way, Gloria Gaither commented that to her this was one of the most beautiful and enriching parts of the story - the relationship between Rosie and Laura. Chonda gives tender support to her dying friend, then sings a beautiful prayer and song of encouragement.
Then there is Alyson, who comes into the household to help deceive Laura, but is so moved by the demonstration of Laura's faith and that, when hearing the parable of the lost sheep, Alyson realizes she is lost as well.
Q: What are some of the take home lessons people can draw from The Confession Musical?
I believe this story speaks clearly about the need for us to trust in God's timing. It is always right. And we learn that every incident is intended to bring us closer to Him. Also, be willing to risk (as Katie does) even if the way is challenging and unclear. Be willing to confess, because it is the only path to peace and acceptance.
Tags : Dan Posthuma Dan Posthuma interview THE CONFESSION MUSICAL THE CONFESSION MUSICAL movie chonda pierce John Schneider