"Jesus Revolution:" A Major Success at the Box Office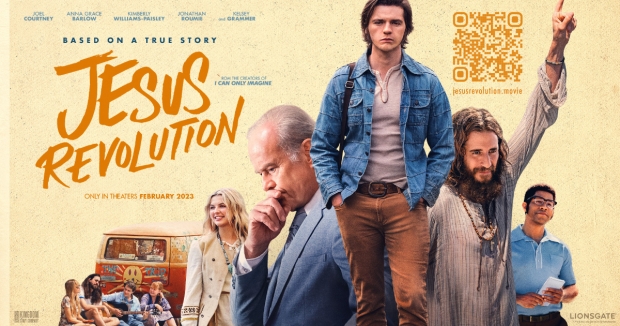 The new film Jesus Revolution surpassed box office expectations during the first three days of its release over the weekend, raking in $15.5 million. The film came in third overall at the box office, behind Marvel's Ant-Man an the Wasp: Quantamania and Cocaine Bear. But it beat out some star-powered contenders, too, including Magic Mike's Last Dance, 80 for Brady and A Man Called Otto.
This sets the bar pretty high for the film, as most Christian movies struggle at the box office. Only a handful of Christian films have made that much over the opening weekend, including The Passion of the Christ, the Shack and Heaven Is For Real. 
The film's co-creator, Jon Erwin, recently told CBN News that he had planned to create the film even prior to making the box office hit "I Can Only Imagine" which was released in 2018. "This project has taken many twists and turns. It's the longest I've ever worked on a movie," Erwin told the Christian news media outlet. My hope is [that] people enjoy the movie. And we want to make you laugh and cry. But there really is a movement behind this movie." 
The Jesus Revolution, written by Jon Erwin and Jon Gunn (I Still Believe), is based on the book of the same title co-authored by Greg Laurie and Ellen Vaughn, which tells personal stories of what became one of the greatest spiritual awakenings seen in the U.S. 
In the 1970s, Greg Laurie and a sea of young people descend on sunny Southern California to redefine truth through all means of liberation. Inadvertently, Laurie meets a charismatic street preacher and a pastor who open the doors to a church to a stream of wandering youth. What unfolds is a counterculture movement that becomes the greatest spiritual awakening in American history. 
Tags : "Jesus Revolution" A Major Success at the Box Office Greg Laurie Jesus Revolution christian movies