Christian Leaders & Artists Respond to Nashville's Christian School Shooting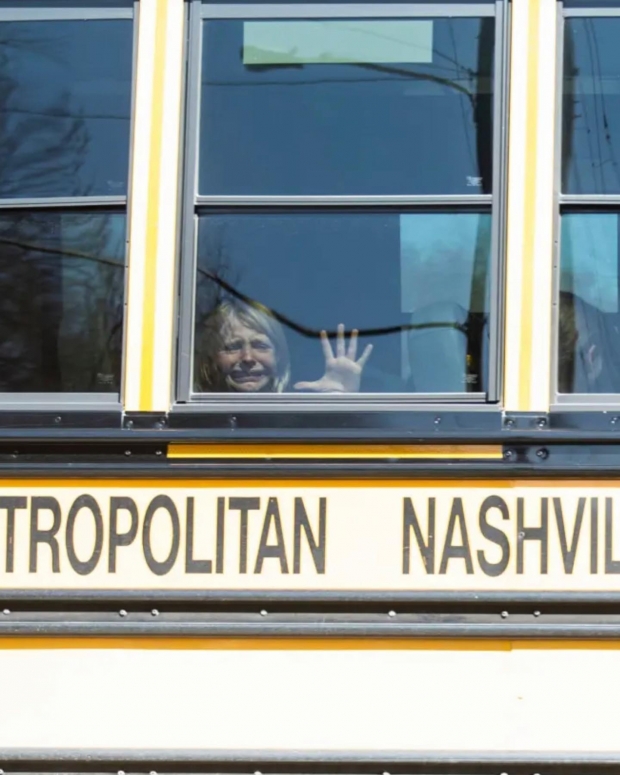 Christian leaders voiced their devastation after a shooting at a Christian school in Nashville, Tennessee, left three children and three adults dead. On March 27, 2023, a mass shooting occurred at The Covenant School, a Presbyterian private school in the Green Hills neighborhood of Nashville, Tennessee, United States. Seven people were killed, including three children and three staff members.  
The police department identified the victims as Evelyn Dieckhaus, Hallie Scruggs and William Kinney, two of whom were age 9 and one age 8 about to be 9, and Cynthia Peak, 61, Katherine Koonce, 60, and Mike Hill, 61.
Police said the suspect was 28-year-old Audrey Hale, who identified as transgender. Hale was armed with three guns, including a semi-automatic rifle, and was shot dead by police. Police received the first call about the incident at 10:13 local time (15:13 GMT) on Monday. The suspect drove to the school in a Honda Fit and got in by firing through one of the school doors, which were all locked.
Here are some of the responses from Christian leaders and musicians:
Franklin Graham:
"Please join me in praying for the students, faculty, staff, and families of The Covenant School in Nashville, TN, in the wake of a shooting this morning where at least three children and three adults are reported dead. May God comfort and uphold these families,"
Steven Curtis Chapman:
Still wrestling hard with the reality of what happened today in Nashville. Sorrow upon sorrow. Among those who died tragically in the school shooting today was an amazing woman name Katherine Koonce, who poured herself into the our family's life, especially our children, Will Franklin, Caleb & Shaoey in the early days/months of our grief journey. Her love and her light lives on in the life of our family and so many others that she touched! (Will Franklin said it beautifully in his post today)Our hearts are broken over all the devastating loss, and we continue to lift up all those impacted to the God of all comfort. 
Tasha Layton:
I cannot put into words the sorrow I feel for the families at Covenant...both for those who've lost more than I could ever imagine as a mother and for those who will attempt to pick up the pieces for their children who experienced this nightmare. We have friends who both teach and attend here and my heart is broken for them. God have mercy.

Scripture says He is close to the broken-hearted. Psalm 34:18 I pray everyone involved can experience the peace that truly goes beyond understanding. 
Bishop Joseph W. Walker, III: 
As parents, Dr. Stephaine Walker and I are mourning with the families and the rest of the Nashville community after the tragic shooting this morning at The Covenant School, claiming the lives of at least three children and three adult staff members.
Lives are forever changed because of this inconceivable tragedy due to a growing epidemic of gun violence in our country. This cannot continue to be the norm. Our thoughts and our prayers are with every single student, parent, teacher, and community member of The Covenant School. Nashville is a resilient city full of love, and I am confident that we will support this school community through this difficult time.  Please join the Mt. Zion Baptist Church and faith communities everywhere as we continue to keep The Covenant School covered in prayer.
Caleb and John:
 Earlier today, there was a shooting at Covenant School in Nashville. Our hearts are broken for those who lost their lives and the families who are affected by this tragedy. We really have no words, but we do know that God is still good and He is in control. For those who were affected, our hearts and prayers are with you.
Andrew Peterson:
Heartbroken for Nashville today. Please pray for the victims, families, first responders, and the greater community. I've spoken and played at Covenant School multiple times, so this hits hard. How long, O Lord?" 
Dr. David Jeremiah:
In a day when it is easy to wonder if anyone is in control, remember that there is only one "God of gods." His will will be done on earth as well as in heaven.
Gateway Worship:
Our hearts are broken for the families and everyone affected by the school shooting in Nashville today that claimed the lives of three students and three teachers. We are grieving with so many of our dear friends in Nashville, and while we can't comprehend the evil and violence in our world, we can turn to God. Will you take a moment to pause and join us in prayer?

Lord, we pray for every person affected by the tragedy in Nashville today and the recent shootings in our nation-students, teachers, staff, parents, and families. We pray for the first responders on the scenes and our communities who are shaken. We ask for You to cover those grieving with the comfort and peace that only You can bring, and we seek Your wisdom for our nation and our leaders in figuring out a way forward. Bring peace, healing, and unity to our land. In Jesus' name, Amen. 
Laura Story:
Our hearts are heavy today for our brothers and sisters at Covenant Presbyterian Church in Nashville, TN. 
Jason Crabb:
There are no words. As a father, I can't imagine the pain of those affected today. We send our kids to school thinking that everything is going to be ok, never expecting something like this to happen. Father God, we need you. Please pray for the families of the victims and all those affected by this horrendous tragedy at Covenant School. 
Tags : The Covenant School Nashville School Shooting Laura Story Steven Curtis Chapman Jason Crabb GATEWAY WORSHIP Caleb and John Franklin Graham Lauren Daigle