Pastor Greg Locke's DocuFilm "Come Out In Jesus Name" a Huge Hit at the Box Office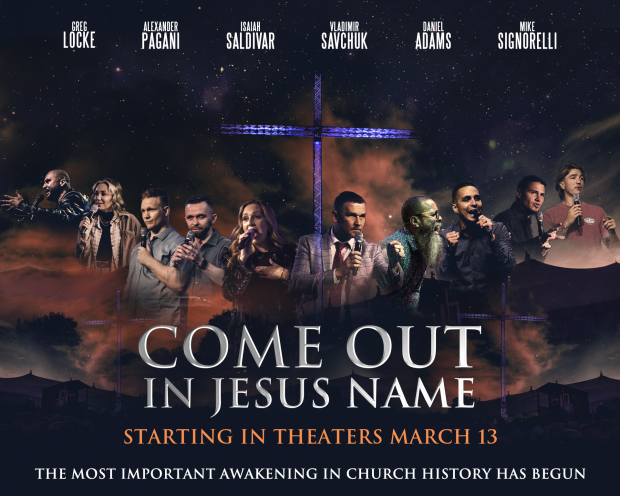 During its encore two-night exclusive engagement, Come Out In Jesus Name, from Pastor Greg Locke, topped the charts with the second-highest box office per-screen average and was the fifth highest-grossing film in North America. To date, more than 200,000 moviegoers nationwide flocked to see this feature documentary.
The movie received an impressive 97% Rotten Tomatoes Audience Score and the number of testimonies being shared across social media platforms, in emails, and via texts to the ministry, is staggering. The filmmakers have been inundated with requests to see the movie and 'deliverance' edition of the film, originally featured only during the premiere. See what people are saying now.
Due to the overwhelming demand, starting this Sunday, April 30, in select theaters nationwide, producers will unveil the new Deliverance Theatrical Edition, featuring a pre-recorded 30-minute deliverance led by Pastor Locke, at the end of the movie.
Following a startling chain of events, the most controversial pastor in America, Greg Locke, took a 180-degree turn from his mainstream religious traditions and led his church into a full-blown revival. Come Out In Jesus Name follows Locke and a diverse group of unconventional preachers as they then began to spark the most important awakening in the history of the Christian Church - through the most unlikely means - by casting out demons. 
Come Out In Jesus Name features Greg Locke, Tai Locke, Isaiah Saldivar, Alexander Pagani, Vladimir Savchuk, Daniel Adams, Mike Signorelli, Leon Du Preez, Henry Shaffer, Chiara Clark, and Hudson Locke. 
Come Out In Jesus Name is executive produced by Greg Locke, produced by Wayne Caparas, directed by Eddie Lamberg and Tim Romero, with music supervision by Jeffrey Joslin. Joslin also produced and is the featured artist on the official Come Out In Jesus Name soundtrack of original new songs which is available online.
For more information about Come Out In Jesus Name, visit Lockemedia.org.
For tickets, visit comeoutinjesusname.com.
Tags : "Come Out In Jesus Name" Pastor Greg Locke Chiara Clark Henry Shaffer