Emerging UK Artist Miriam Nyarko Opens Up About Singing at the Royal Albert Hall & Making New Music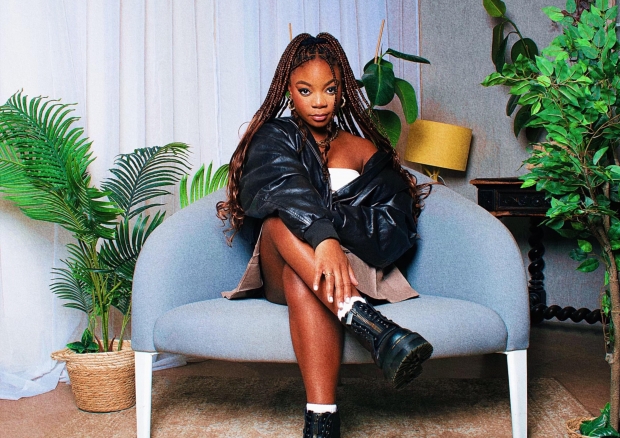 Twenty-year-old British, Ghanaian and Bajan Afrogospel + R&B singer, songwriter, and actress Miriam Nyarko has just released her new single "Built On You." The infectious track blends R&B with Afrogospel to glorious effects, and it comes with production from Samuel Jinadu, who has also worked with MOBO Award winner Still Shadey and 'The Voice UK' winner Annatoria.
As an artist, Miriam is fast-emerging in the UK's R&B and Gospel scenes, but Miriam is not only a musician, she is also making waves as an actress, with acclaimed performances in the Disney and BBC TV series 'Almost Never' and the West End musical 'The Lion King', among others.  
Q: Miriam, thanks for doing this interview with us. Let's start with yourself: tell us a little about your background and your journey.

Well, my name is Miriam Nyarko, I am 20 years old, and I am a singer songwriter, but also an actress/performer from Hertfordshire. I was raised in Northwest London by my mum, from Barbados, and my dad, who was from Ghana. I have been singing, dancing and acting for as long as I can remember. It all started when I was four and I would get up and sing at my local church. Then when I was seven, I was singing at an event & many  people started coming over to my mum, telling her that she should put me in singing lessons...and that's what she did. Ever since that day, I've not stopped perfecting my craft. From there, I went to an open call for The Lion King, all by chance. My mum said it was just a day off of school, but when I got there I ended up going through all of the rounds and booking the role of young Nala in the West End. Since then, all I have wanted to do is perform.

Q: How and when did you discover your gift of singing?

I have been singing for as long as I can remember! I even have videos of me at the age of seven, making everybody sit down and listen to me sing High School Musical songs at my birthday party. I don't think it's something I discovered, but more so my parents. Then as they nurtured that gift and continued to encourage me, that's when I realised that it wasn't just a hobby, but a blessing.

Q: I have read that you got to perform your own original music at the Royal Albert Hall! How did that happen?

Yes, in 2018, I got to sing one of my original songs at the Royal Albert Hall. I did some songwriter workshops for 8-18 year olds in music centres across Hertfordshire, and when I wrote my song 'Rise', it got added to the young songwriter chart. It slowly made its way to the top. When it reached the top of the charts, it meant that I had won a performance at the Royal Albert Hall, as part of the Herts Music/Hertfordshire Schools Gala! The full video is on YouTube and although it makes me cringe, it's also one of my favourite memories ever.

Q: You have successes in many genres of music including musicals. Why then did you decide to sing and record Gospel music?

Gospel music has always been something close to my heart. It's been all I've known for the longest period of my life and despite striving to go into many different parts of this industry, I have always felt called to impact the gospel sector the most. I didn't know how and I didn't know when, but I knew it was what I was meant to do - so as I kept writing songs and as time progressed I fell into R&B gospel. However I also wanted to include my roots, hence now creating 'Afro Gospel' music, which you can hear in my new song Built On You.

Q: Talk to us about your new single "Built on You." What's the song about? Why are you excited about this song?

I wrote "Built On You" in under half an hour and it was immediately a no-brainer. I called my best friend straight away, and sang it to her. All I remember is her stressing out and saying 'you HAVE to drop this'... and so here we are! The song is my personal testimony to God, and I hope it inspires others to share theirs as well. Also, the track serves as my love story, my faith story, and declares that God is my firm foundation. It also just feels like a really good comeback to the music scene. I dropped my debut single in 2020 and then kinda took a break from releasing, just to focus on myself and my mental health. But, this, to me, is the perfect song to come back with. It's letting my audience know that it's 2023. I'm here. And I'm getting ready to embark on this musical journey, together.

Q: What can fans be looking forward to in terms of music in the near future? Are you working on a new album now?
I am constantly writing and creating with producers, songwriters, and musicians. I have a lot of songs written, especially in the R&B genre. However, following the song that I have just released, I want to stick to this genre and eventually create an Afro Gospel EP. I don't have any dates, but just know there will definitely be some new singles dropping within the next few months.
Q: If our readers want to know more about you, where can they find you?

My Instagram & TikTok (@miriam.nyarko) are where I'm most active, but I'm also working on building up my YouTube channel! So if your readers want good vibes, exclusive behind the scenes content and some occasional faith chit chat, they should definitely subscribe.  
Tags : Miriam Nyarko Miriam Nyarko interview Miriam Nyarko news Built on You