Off Road Minivan Likens their New Album to a Scrapbook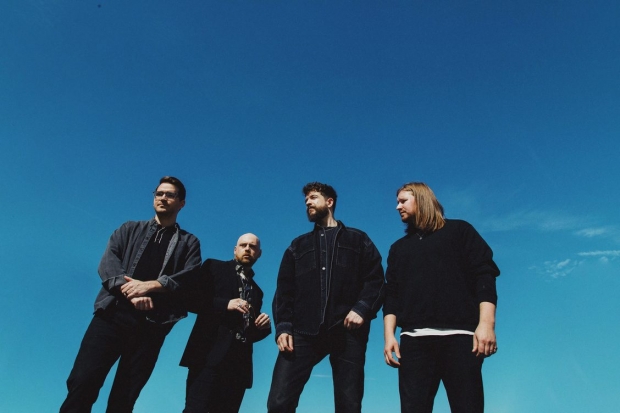 Off Road Minivan, fronted by Fit For A King bassist Tuck O'Leary, have released a emotional power-pop single entitled "Basement." The single is from their second full-length album, May This Keep You Safe From Harm, which will be released on June 23 via Tooth and Nail Records.
The new album is like a scrapbook. The Hudson Valley quartet ---frontman Ryan "Tuck" O'Leary [Fit For A King], Evan Garcia Renart, Miles Sweeny, and Dave Trimboli -- pin memories of real-life experiences to instantly chantable alternative anthems awash in nineties energy and uplifted with a 21st century perspective.

At the same time, actual secret recordings of Tuck's family thread together a nostalgic and nuanced vision. After generating millions of streams and inciting critical acclaim, the group fashion a sonic keepsake out of their own experiences meant to be shared as loudly as possible.  
May This Keep You Safe From Harm will also be available on two vinyl variants: Blood Red with Black Smoke (250 made) & Neon Violet Cyan Blue (250 made).  
Off Road Minivan is an alternative rock band from Red Hook, New York. The group-made up of Melvin Brinson, Dave Trimboli, Miles Sweeny, Evan Garcia Renart, and Ryan Tuck O'leary (of Fit For A King) is the direct result of decade-long friendships and a collective passion for 90's grunge. They began the project in 2018 and released their debut EP, Spiral Gaze, on Tooth & Nail Records later that year. Their ability to harness nostalgia in both lyric and tone revealed a band that not only appreciated, but embodied the emo genre. Their newest album amplifies that appreciation all the more. 
Swan Dive, their first full-length, tells stories centered around characters they knew in their Hudson Valley hometown. The record immortalizes the memories often felt but rarely discussed, from the pain of missed opportunity to the grief of suicide. It includes the band's hardest and softest instrumentation yet, proving they're as dynamic in skill as they are in sentiment. 
Tracklist:
1. Fade Out
2. Basement
3. The Beacon
4. Pity Sex
5. The Breakdown
6. Karma
7. Cheerleader
8. Victim Complex
9. Out Alive
10. Billy
11. Commitment Issues
12. It's Nothing Personal
Tags : Off Road Minivan Off Road Minivan NEW ALBUM Basement May This Keep You Safe From Harm