REVERE's "Holy Hallelujah" Reminds Us of Our Need to Fully Surrender to God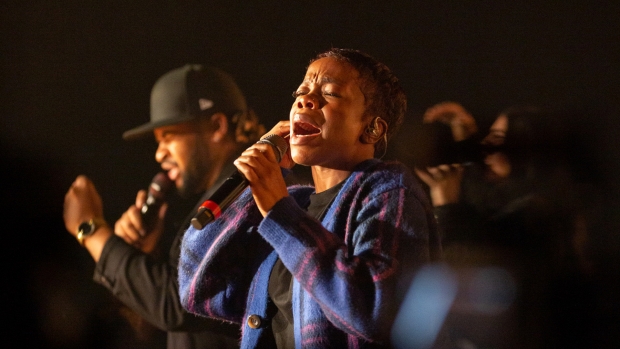 REVERE releases "Holy Hallelujah" via Integrity Music. Led by UK artist Becca Folkes and US-based worship leader Carrington Gaines, the new song is from their upcoming album.
'Holy Hallelujah' reminds us to surrender fully to the One who spoke us into existence and offer Him our heartfelt praise The song was born in the shared life experience of a team of songwriters from two different countries (Brazil and the United States) --- different hemispheres, different languages, different cultures --- with one unanimous resolve to worship the Lord.
Folkes writes, "I believe worship is obedience, yielding fully to the voice of the Father. Whether it was Abraham whose obedience provoked God to mercy, or Jesus who painfully yielded His will in the garden of Gethsemane, obedience cultivates the space for God to speak and act." 
Folkes and Gaines bring a level of raw honesty and passion to this song that points only to the glory of God. When the time comes to recount the trustworthy works of God, this song launches us into that process with a gut punch. "Holy Hallelujah" carries the sacred DNA of the REVERE movement, that of sharing the sovereignty of Christ and our worshipful response to Him. 
REVERE is a growing movement focussing on restoring the humble and honouring nature of worship. A generation ago, Christianity went through a massive shift. The formality of corporate worship gave way to 'intimacy', and we were forever changed. The ongoing work of the Spirit released us into 'a spiritual intensity', but our ultimate longing has always been a weighty encounter in the presence of God that is less about our contribution and more about our surrender. REVERE is a musical journey from intimacy to intensity into the fear of the Lord, where we fall down and cry out: "Holy, holy, holy are You, Lord Almighty."
Throughout history, the medium of our worship has communicated what we truly believe about God. Whenever we have been in seasons of faith and healthy dependence, the medium has been reverential songs and liturgies that are soaked in honesty and humility, the Psalms being a case in point. Whenever we have taken our eyes off the mark, we have replaced these with idols that we have been able to make with our own hands, substituting vulnerability with human ingenuity. If we are to be honest, we are facing this internal tug of war in the Church today. God forbid that our skills to produce and finesse cause us to move away from the simplicity and mystery of full surrender.
Our hope with REVERE is to gently help steer the Church away from a production culture where the emphasis can, mistakenly, become a love for worship, to a reverential cultural where the focus is, clearly and firmly, a love for Christ. 
Tags : REVERE "Holy Hallelujah" Becca Folkes Carrington Gaines Integrity Music