Sarah Hart Opens Up About Writing a Hit Song for Amy Grant, Singing for the Pope, Her New Music & More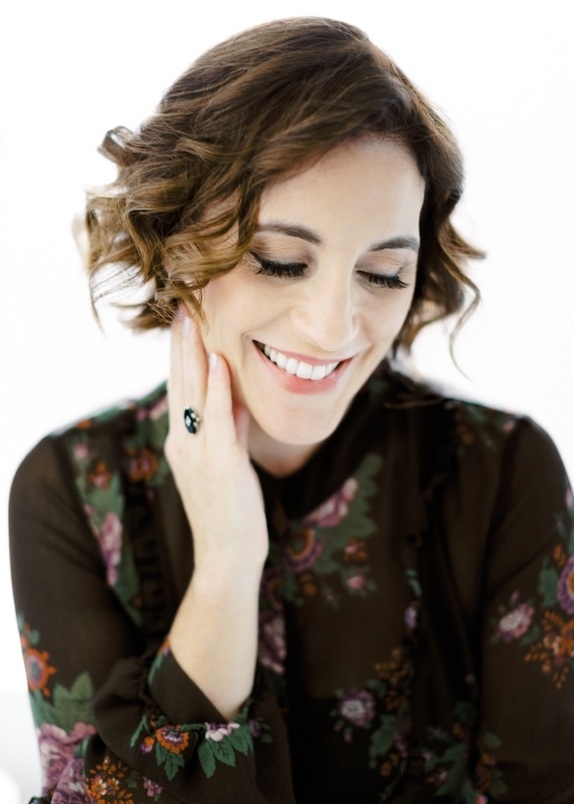 Sarah Hart is one of the leading figures in contemporary Christian music today. Her songs of faith, spirit of joy, love for teaching and leading workshops have touched the lives of thousands. Now based in Nashville, Tennessee, she's on the road a good part of the year leading concerts and events while juggling a busy songwriting, production and recording career. She has recorded 12 full-length collections with a signature blend of folk, pop and rock which delight listeners of every age.

In October of 2013, Sarah had the deep honor of performing for Pope Francis and a crowd of 150,000 in St. Peter's Square. She is also a Grammy Nominee and BMI Winner (Song of the Year, "Better Than A Hallelujah"), a Mark Award Winner for TV/Film Music Writing ("This Moment"), an ALA Odyssey Award Winner (Excellence in Audiobook Production, Score Writer, "Du Iz Tak") and an Audie Awards Nominee (Excellence in Audiobooks, Score Writer, "Say Something"). Her music has been recorded by many artists including Amy Grant, Celtic Women, Matt Maher and The Newsboys. 
Q: Sarah, thanks for doing this interview with us. How and when did you realize your calling as a songwriter? 
I was in college, and I wrote a song for my senior recital. The response was overwhelming, and I thought "I think I might be on to something!" But I think the calling actually came much earlier. I've been writing for a long time, especially poetry. I always loved words and music and the ways that they intertwined.
Q: What was the first song of yours being recorded by another artist? What was it like to hear your own song?
It was actually a Southern Gospel song called "Going Going Gone". I didn't know that style of music, or listen to it at all! So it was a fun surprise. The song went to number one on the Southern Gospel charts....for a 23 year old writer, I thought that was pretty cool.
Q: One of your big hits was "Better than a Hallelujah" recorded by Amy Grant. How did the song come about?
I wrote this song with a beautiful friend of mine named Chapin Hartford. We had never met before, but once we began talking in the writers room, we felt like we had known each other for many years. We started talking about our struggles, our heartaches, the things that drew us to our knees in prayer. It was a very powerful conversation. The lyric fell out of our hearts and onto the page because of that honest and raw conversation.
Q: How do you keep your songwriting fresh and exciting?
Well, I ask my children to send me songs they love! Honestly, they are very plugged in to music and because of my schedule I don't have a lot of time for discovery. So I have them share their discoveries with me! I also try to co-write a lot. I have found that often two heads really are better than one. There's a magic that happens when you let someone else into your songwriting.
Q: You have also written the scores for many children's audiobooks and animated works. Tell us more about your work there. 
Oh my goodness, this is all my joy! I have worked with Scholastic now for several years, writing music for popular children's book animations. It's such fun and a total palate cleanser for my writing. It's just magical and expands my imagination. I would love to do more score writing. There's such a great joy in adding the soundtrack to a story.
Q: Other than your songwriting, you are also a singer yourself. I have read that in 2013, you performed for Pope Francis in Rome! How did that come about? What was it like to sing for the pope?
I did indeed! I was contacted by some friends in Italy who invited me. And it was everything you would imagine - terrifying and wonderful and overwhelming and holy. I loved every minute of it. I hugged the Holy Father - which I am not sure I was supposed to do - but could not help myself. Talk about an overwhelming moment of joy!
Q: You had recently released a Christmas single. Do you have more of your recorded music coming in the near future? If so, tell us more about them. 
Yes, I have several singles releasing this year. The newest single is called "Remember Me" and is a call to social justice. Currently I am working on a new full length recording of hymns. I'm hoping to also release a folk recording within the next year. I'm always working on something, and am so grateful for this work!
Find out more about Sarah Hart here: Facebook, Twitter, YouTube, and on her Website. 
Tags : Sarah Hart Sarah Hart interview Amy Grant pope francis Sarah Hart songwriter singer