Timothy Keller, Co-founder of The Gospel Coalition, Pastor and Author, Dies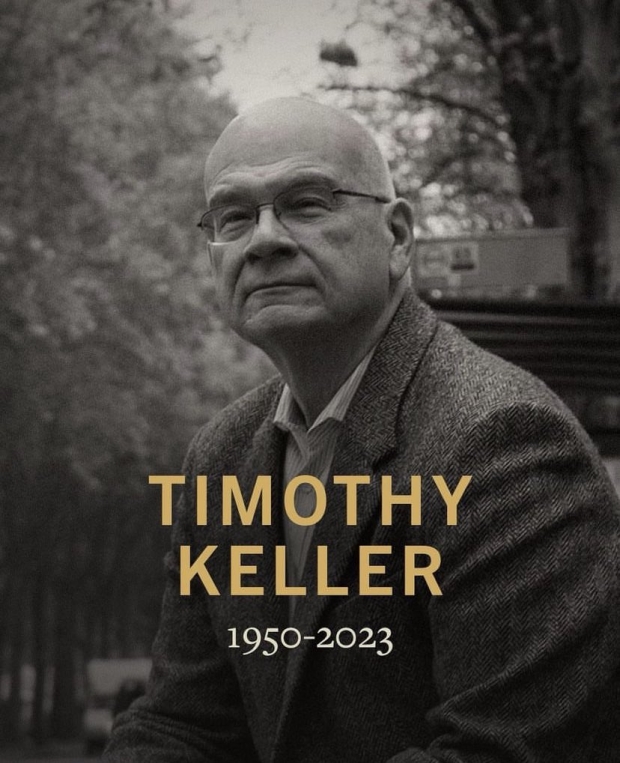 Timothy Keller, co-founder of The Gospel Coalition (TGC), pastor, author and theologian, died on the morning of May 19, more than three years after he was diagnosed with pancreatic cancer.  He was 72 years-old.
The Keller family writes, "Dad waited until he was alone with Mom. She kissed him on the forehead and he breathed his last breath. We take comfort in some of his last words, `There is no downside in me leaving, not in the slightest.' See you soon Dad."
Upon hearing of Keller's passing, TGC co-founder Don Carson said, "Like an Old Testament prophet, Tim didn't hesitate to address the culture and the nation and to call for justice as well as for contrition. He was jealous for the glory of God. He was quick to see how the trajectories of Scripture, the structure of biblical theology, drove thoughtful readers, again and again, back to the gospel."
Keller co-founded The Gospel Coalition (TGC) in 2005 and served as vice president and then vice chairman of the board. Keller also was the pastor of Redeemer Presbyterian Church in Manhattan. He also served as the chairman and co-founder of the church-planting network Redeemer City to City. His many bestselling books-including The Reason for God, The Prodigal God, and The Meaning of Marriage-have influenced the faith of millions across the world.  
"Today the Christian world is in mourning, for one of our great leaders has departed this life," TGC interim president Sandy Willson said. "Tim Keller was a once-in-a-century sort of person. There is no pastor I know, in the last 100 years, who did what Tim Keller did to take the Reformed faith to the street, to the church, and to the academy. He will be remembered among this generation's most effective Christian pastors, apologists, and evangelists.
"Tim not only made the most articulate arguments for the Christian faith; he also demonstrated our faith with his humble and gracious spirit and his relentless passion to see the lost come to know the Lord he so loved. He planted the most amazing church New York City may ever have seen, he planted thousands of other churches globally through Redeemer City to City, he co-founded The Gospel Coalition, and he inspired an entire generation to love and serve the Lord. We all grieve for Kathy and the dear Keller family. And we all rejoice for the unmitigated delight that is now Tim's, as he looks upon the beautiful face of his Savior, whom he has faithfully served." 
"The gospel is this," Keller said time and again: "We are more sinful and flawed in ourselves than we ever dared believe, yet at the very same time we are more loved and accepted in Jesus Christ than we ever dared hope." 
Tags : tim keller timothy keller Tim Keller death Tim Keller funeral the gospel coalition