Mission House "Friend Forever (Acoustic Sessions)" Album Review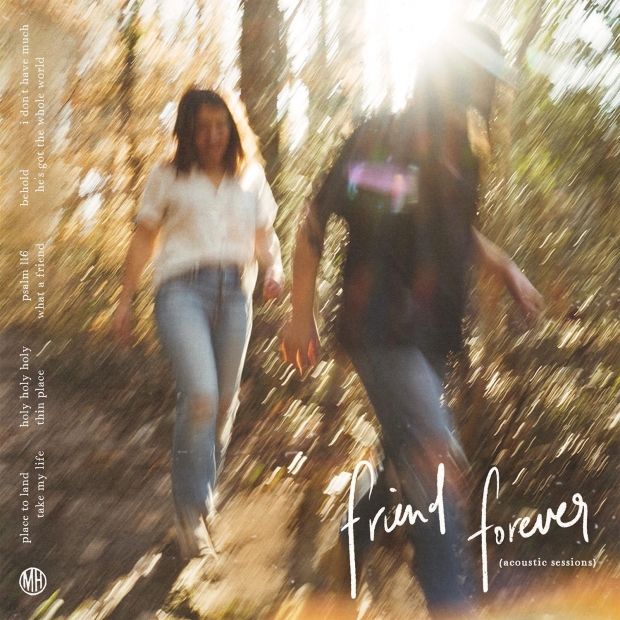 Prime Cuts: Behold, He's Got the Whole World, Take My Life
Overall Grade: 4.5/5
You don't need stage lights, smoke, and a full band to worship. With an acoustic guitar and vocals as the primary instruments, "Friend Forever (Acoustic Sessions)" shows how you can still worship in truth and in spirit without all the frills. In this regard, this stripped-down album is a must-hear for every worship leader. "Friend Forever (Acoustic Sessions)" is Mission House's fourth Integrity Music release. This 9-song album finds the duo, Jess Ray and Taylor Leonhardt, re-visiting some of their previously recorded songs, hymns, and a few surprises. Some of the surprises include their take of British band Delirious?'s "What a Friend" and their former label mate, Gas Street Music's "Thin Place."
The set opens with the duo re-visiting Jess Ray's "A Place to Land." Unlike the electronic vibe of the original, this new version only features vocals and acoustic guitar. The result is much more intimate and affecting taking away the robotic sheen of the original. Featuring some gorgeous sounding finger picking riffs, "Psalm 116 (I Love You Lord)" finds the girls thanking the Lord for his redemptive work. One of the duo's best songs "Behold" is thankfully re-imagined here. A contemplative reflection of how Christ welcomes the outliers, "Behold's" beauty resides in how the song weaves scripture in and out of its lyrics.
Not everything works: "I Don't Have Much," which is already dreadfully slow in its original form, gets decelerated even more here. This makes the listening experience an exercise of tedium. Surprisingly bright and encouraging is Mission House's take of the chorus "He's Got the Whole World." Clocking in at only 1 minute and 40 seconds, their take is terse, simple, and highly effective. Sit back and enjoy a mesmerizing version of the hymn "Take My Life." Meanwhile, "Holy Holy Holy" gets a coffee-house impromptu-sounding re-make.
Of all the songs Mission House could cover, one is surprised why they would venture to cut the lyrically awkward "Thin Place" (first recorded by Gas Street Music). Delirious?'s "What a Friend" is a tad better. Making this 2004 hit song their own, they have eradicated the power-rock veneer of the original. Instead, they have given it a singer-songwriter folkish make-over that is quite fetching. In sum, "Friend Forever (Acoustic Sessions)" is an important record. It shows worship leaders that with the right creativity, hymns and newer worship songs, not only can co-exist together, but they can also be beautifully rendered as a seamless act of worship to God.
Tags : Mission House "Friend Forever (Acoustic Sessions)" Album Review mission house Integrity Music Jess Ray delirious Taylor Leonhardt