Dennis Quaid to Release His First Gospel Album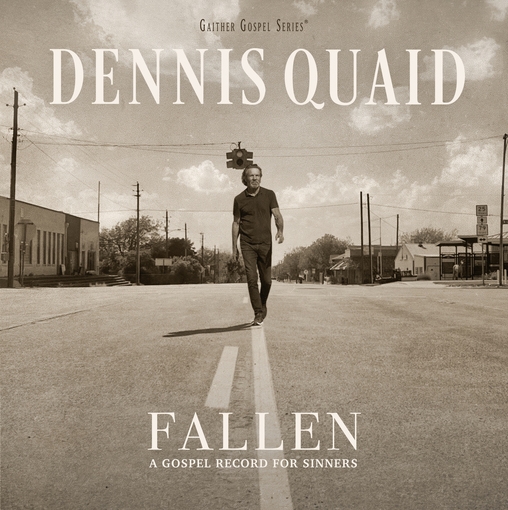 Grammy®️ Award winner and two-time Golden Globe®️ nominee Dennis Quaid will deliver his debut Gospel album, Fallen: A Gospel Record for Sinners, on July 28 via Gaither Music Group. Preceding the album is Quaid's cover of Kris Kristofferson's 50-year-old hit, "Why Me Lord," HERE. Combining soul-stirring renditions of seven hymns and classics with five original songs, Quaid delivers honest, inspiring lyrics sung with unmistakable tones that reflect heartfelt gratitude and eternal hope.

Fallen was executive produced by Quaid with producers David R. "Fergie" Ferguson, Ben Isaacs and Chris Lindsey. The Isaacs and Jackson Brumley supply background vocals on "I'll Fly Away," while The Oak Ridge Boys join Quaid on "Life's Railway to Heaven."

Originally released on the soundtrack for Quaid's faith-based film I CAN ONLY IMAGINE, "On My Way to Heaven" was inspired by the global superstar's public grapple with addiction. Quaid also vulnerably acknowledges these personal struggles and his subsequent return to Christianity on songs like the title track.

Fallen follows Quaid's 2018 album, Out of the Box, described by Quaid as a junkyard of American music. Though he loves writing, recording and making movies, music holds a special place in the Texas native's heart, and for the last four decades, he has toured extensively, displaying equal ease on the piano and acoustic guitar. Quaid enchants audiences with a set list that ranges from songs such as those included on Fallen to rock 'n' roll standards like "Great Balls of Fire!," an homage as "the Killer," who he portrayed in the 1989 box office smash.
Also known for his roles in THE ROOKIE, THE DAY AFTER TOMORROW, TRAFFIC, VANTAGE POINT, FREQUENCY, THE PARENT TRAP, SOUL SURFER, THE RIGHT STUFF, BREAKING AWAY, MIDWAY, Quaid's recent big-screen credits include starring roles in Netflix's uplifting movie, BLUE MIRACLE, Sony's thriller THE INTRUDER, Universal's A DOG'S JOURNEY and A DOG'S PURPOSE and Disney's animated adventure film STRANGE WORLD. He also recently completed production portraying the 40th president of the United States in the biopic, REAGAN, slated for release in early 2024.

To keep up with Dennis Quaid, follow him on Instagram and visit DennisQuaidIsHere.com.

FALLEN: A GOSPEL RECORD FOR SINNERS TRACK LISTING
1. Fallen
Dennis Quaid
2. Please Don't Give Up On Me
Dennis Quaid
3. Why Me
Kris Kristofferson
4. God Gets Lonely Too
Dennis Quaid
5. Just as I Am
Charlotte Elliott and William B. Bradbury
6. Amazing Grace
John Newton; American Melody
7. Life's Railway to Heaven
M.E. Abbey and Charles D. Tillman
8. On My Way to Heaven
Dennis Quaid
9. What A Friend We Have in Jesus
Charles C. Converse and Joseph M. Scriven
10. The Lord's Prayer
11. Welcome Home
Dennis Quaid
12. I'll Fly Away
Albert E. Brumley 
Tags : Dennis Quaid Dennis Quaid news Dennis Quaid Gospel album Gaither Music Fallen: A Gospel Record for Sinners