Chris Tomlin's Non-Profit Foundation Raises $12 Million for Vulnerable Kids and Families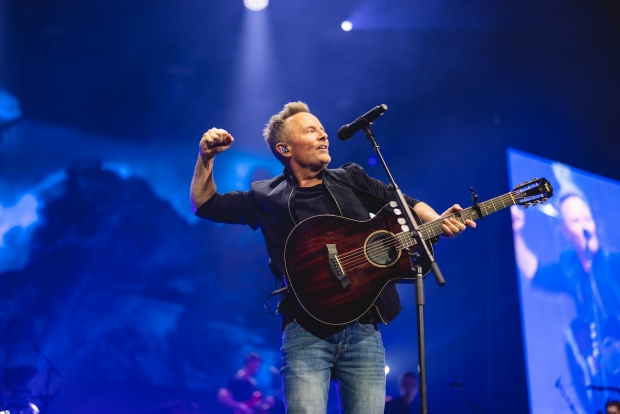 Chris Tomlin and his wife Lauren's non-profit foundation For Others, in partnership with the Troubadour Golf & Field Club in Middle Tennessee and Discovery Land Company Foundation (DLCF), raised over $12 million at the 2nd Annual Troubadour For Others Vision Gathering last month, far exceeding their goal. Proceeds will go to help improve the lives of vulnerable kids and families in the United States.
Over 30 celebrities from across sports and music participated in the benefit golf tournament and auction, including Nate Bargatze, Drew Brees, Kirk Herbstreit, Vince Gill, Tyler Hubbard, Shay Mooney, Golden Tate, TobyMac, Ben Roethlisberger, Chris Tomlin, and Carrie Underwood, among many others.
"We're once again blown away by both the generosity and passion of all who were a part of our 2023 celebrity golf tournament and Vision Gathering," said David Nasser, For Others President. "Although we are only two years old, it felt like a homecoming as over 400 people united to do together what we could never do alone. The funds raised will allow us to push the gas pedal even harder as we serve America's vulnerable and help them find safe and loving homes."
"This year's Troubadour For Others Vision Gathering exceeded our expectations in countless ways. What a day!" said Chris Tomlin. "Best golf experience, incredible ladies' gathering, and most of all, we witnessed an evening of laughter and heart that reached beyond our highest hopes. Because of the generosity of our guests, we'll be able to fund even more adoptions than planned this year so that families can focus on welcoming their new child wholeheartedly without financial stress. I'm so sincerely grateful to everyone who attended and to those who chose to donate. You're our heroes."
Chris and Lauren Tomlin have always had a heart for children and created the For Others non-profit foundation to help close the gap between children in need and capable care providers by raising awareness, maximizing resources, and mobilizing communities.
"The Vision Gathering has quickly become one of the largest charity events in the country," said For Others board member Chad Spencer. "We love hosting it at Troubadour in our hometown of Nashville and in partnership with great friends like the Discovery Land Company. This isn't possible without all the amazing celebrities and guests who joined us. For Others is just beginning our journey, yet the momentum accelerating us toward our goal brings the vision of every kid finding a path Home closer than ever. We're grateful and excited to crush it for kids all across America."
Tags : Chris Tomlin For Others Chris Tomlin's Non-Profit Foundation Raises $12 Million for Vulnerable Kids and Families 2nd Annual Troubadour For Others Vision Gathering