Tim Bowman, Jr & Faith City Music Are #1 with "Jesus!"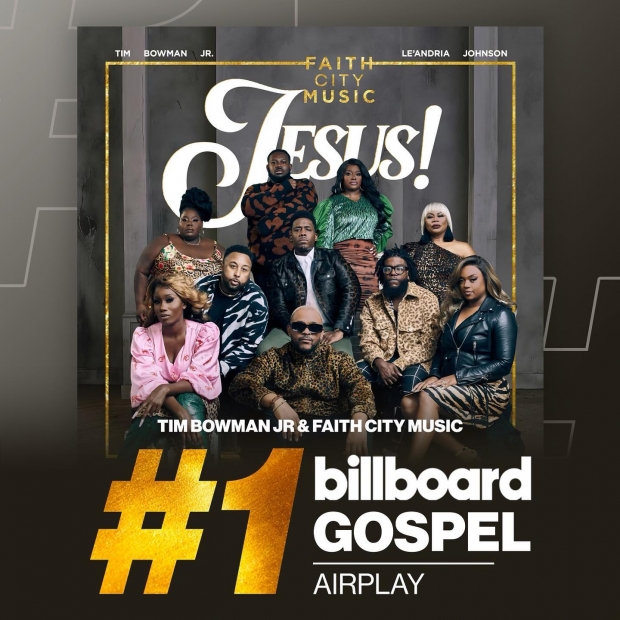 GRAMMY, Dove, and Stellar Award nominated artist Tim Bowman, Jr & Faith City Music's "Jesus!" is this week's #1 song on Billboard's Gospel Airplay chart. The song climbs from 4 to 1 on its 27th week on the chart.
Bowman writes, "Let's goooooooo!!!!! Got this news today from our team!!! We currently have the #1 song in the country on @billboard. Thank you for ALL of the love and support you've shown us for the last 3 years. What a ride it's been, and you haven't seen anything YET!!"
"Jesus" combines the voice of gospel powerhouse Le'Andria Johnson with pop and rock elements. The vocals and instrumentals merge effortlessly to ensure that every lover of Jesus Christ receives this anthem's message. The song is a celebratory tribute to the encompassing joy received from a relationship with Christ. 
"Jesus!" is from Tim Bowman, Jr & Faith City Music's latest album WELCOME TO FAITH CITY.  Bowman & Faith City Music seek to deconstruct and redefine the concept of worship with their new album, WELCOME TO FAITH CITY, available now.
Tim Bowman Jr. is an American Grammy, Dove, and Stellar Award-nominated gospel artist. Bowman, born in Detroit, is the son of the famous jazz guitarist Tim Bowman and the nephew of gospel recording artist Vickie Winans. Bowman started his music career in 2012 with the release of Beautiful by Trippin' N' Rhythm Records. The power of Tim's music resonates with true and radical believers.  Through God's divine timing and an official ordination, Tim and his wife, Brelyn, were honored to be ordained as Pastors at Spirit of Faith Church under the leadership of Dr. Mike and Dee Freeman. Tim brings an exciting energy to every church, every stage, and every recording studio no matter the occasion.
WELCOME TO FAITH CITY Tracklist
Welcome to Faith City with Pastor Mike Freeman
Enough (feat. Mumen Ngenge)
Jesus (feat. Le'Andrea Johnson)
Highest Place (feat. Sara Mia)
Holy (feat. Kierra Sheard Kelly)
Love is a Miracle (feat. Sara Mia, Malcolm Brown & Eden Williams)
Here All the Time (feat. Maranda Curtis)
Savior (feat. Pjay Edmund)
Maranda's Chant
Jehovah (feat. Derrick Millard & Maranda Curtis)
Love the Way You Love Me (feat. Bri Babineaux & M.K. Ngenge)
Surrounded
Best Life Now (feat. Kim Burrell)
Nobody But God (feat. Kierra Sheard Kelly & 1k Phew)
Great is Thy Faithfulness (feat. Erick Roberts and Sonya Brown)
Tags : Tim Bowman Jr & Faith City Music Tim Bowman Jr & Faith City Music Jesus! WELCOME TO FAITH CITY