Chosen Road "It Never Gets Old" Album Review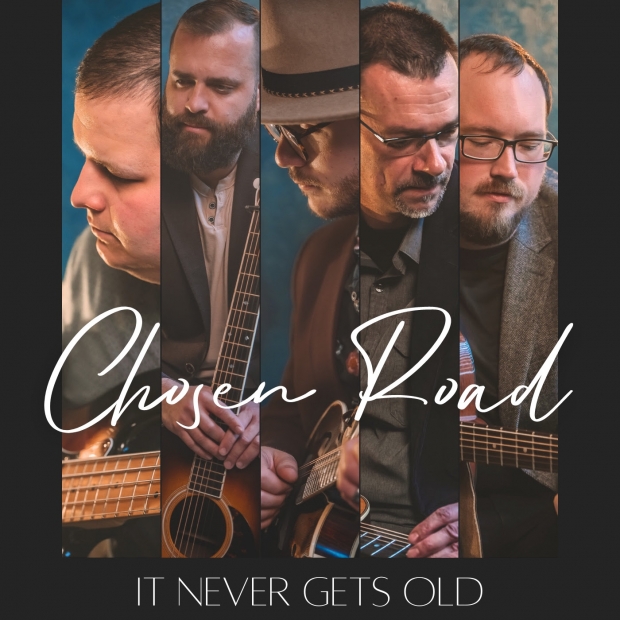 Prime Cuts: Awake My Soul, I Want to Be Just Like You, Two Times Born
Overall Grade: 5/5
While many bluegrass albums tend to fault on trying to get their pickings right at the expense of the songs, this is not the case with Chosen Road. Comprised of Zachary Alvis, Tyler Robertson, and Jonathan Buckner, Chosen Road often balances excellent musicianship and superior song selection. In this regard, "It Never Gets Old" doesn't. After a hymn and a Christmas-themed album, it's good to know "It Never Gets Old" is packed with 13 newly recorded tunes with subjects ranging from worship to parenting to even a tribute to a martyred missionary. 
The album starts with Tony Wood and Lee Black's "Awake My Soul." Featuring a classic John Wesley structure, the song has a hymnic nostalgia despite being a recently penned composition. Nineties Christian music duo Phillips, Craig, and Dean (PCD) is represented in a couple of tracks. Chosen Road offers a banjo-led country version of PCD's big hit "I Am a Friend of God," which is not bad. Gorgeous is Chosen Road's take on PCD's tender ballad "I Want to Be Just Like You." The song, which tells how a boy longing to like his dad drives the father to make the same request from his heavenly Father, is soul-searching at best. 
Those faint of heart who need to boost their vision of God will benefit from the theologically rich "The Storm Still Knows His Voice." For some two-stepping fun, "Two Times Born" is danceable and proclaims the Gospel in an ultra-catchy fashion. More heart-rendering stuff comes with the story songs "That's What Heroes Do" and "What Love Looks Like." The latter, in particular, is a wonderful depiction of marital love that goes beyond cute roses and champagne glasses.
The most surprising entry in the set is the trio's rendition of Leeland's "Lion and the Lamb." Chosen Road has taken one of worship music's most bombastic rock anthems, and they have it their own. Stripped and dressed in their warm acoustic Appalachian backing, "Lion and the Lamb" gets a nice verdant makeover. Meanwhile, album closer "People's Praise," a track that will keep you at the seat's edge, was inspired by a letter left behind by missionary Karen Watson, who was killed while working with refugees in Iraq.
In short, this album is more than just about good songs and instrumentations; there is a lot of heart and moving moments that you will want to visit again and again. 
Tags : Chosen Road "It Never Gets Old" Chosen Road Chosen Road "It Never Gets Old" Album Review Bluegrass Gospel Country music