Jeff Senour, Hollywood Stunt Pilot, Author and Singer-Songwriter, Reflects on His Career & New Music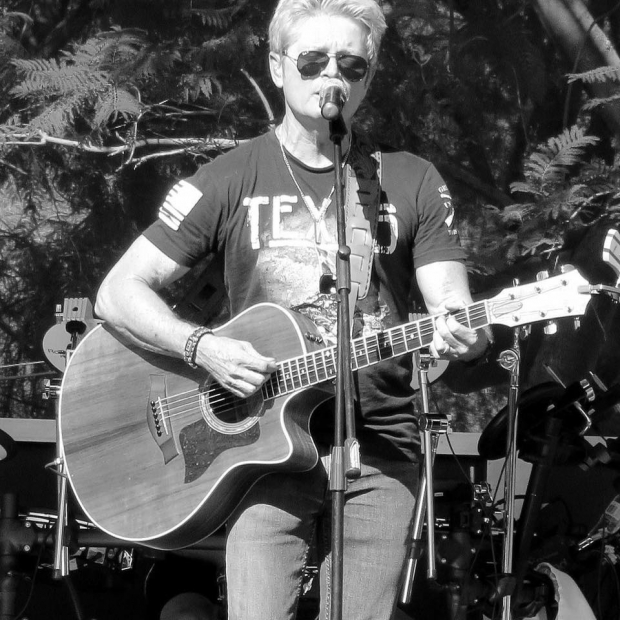 Hollywood stunt pilot, aerial film coordinator, and multi-award winning recording artist Jeff Senour has released his debut single and video, "Angels Watching Over Me," from Universal Music Group's Mi5 Recordings. To listen to "Angels Watching Over Me," click here. Senour is currently preparing for the release of Angels and Miracles, his upcoming debut album from Universal Music Group's Mi5 Recordings.
Q: Jeff, thanks for doing this interview with us. You have an exciting career! How did you first get involved to become a Hollywood stunt pilot?  
My dad was a private pilot, and when I was around five years old, he took me up for my first ride in a Piper Cub.  I was pretty much hooked on aviation from then on. I never thought I would be able to fly for a living until I got into college and started to pursue my ratings. I didn't have a lot of money, nor did my parents, so I worked just about every conceivable job there was to make enough to pay my bills and purchase my air flight time. I became a flight instructor at Van Nuys Airport and then later obtained my Learjet-type rating once I got a couple of thousand hours built up. My first break was flying for Clay Lacy Aviation at Van Nuys as a First Officer in a Learjet.   
I flew many celebrities, movie stars, CEOs, and high-profile customers around to various locations. After some time, I moved up as a Captain and worked for several air charter companies. One thing I learned in aviation was that kindness, work ethic, and good service opened a lot of doors. One day, I was asked to be in a TV show, Murder She Wrote, and do a flying scene with the jet. To get the job, a producer I had flown on a charter flight basically took me under his wing and allowed me to join the Screen Actors Guild. After that, I did numerous shows as a SAG Pilot. One day I met a gentleman named Bob Nettmann, a five-time Academy Award winner for his camera designs in Hollywood. Bob was inventing a new camera system for a Learjet called Vectorvision. Since I was somewhat known by then in Hollywood, Bob asked if I'd be interested in flying the camera system and helping him find an owner of a jet who would be willing to put the system in his aircraft.   
I eventually found the right owner of a Learjet 25, and we modified that aircraft. The rest is history. Our first big break was to film the Blue Angels for McDonnell Douglas when they obtained the F-18s. They produced a movie documentary called Ladies and Gentlemen, The Blue Angels, which won some awards. Flying formation with the Blue Angels to film them in flight was nothing short of a miracle and put us on the map in Hollywood as well as with the airframe manufacturers like McDonnell Douglas, Lockheed, Boeing, and the like. From then on, I became one of less than a handful of film pilots in Hollywood to do that kind of work.  
Even after I became a pilot for Southwest Airlines, I still was able to do movie flying, and continue to do so to this day.
Q: What were some of the movies you were involved in?   
I have been blessed to work on such feature films as True Lies, Space Cowboys, Hot Shots, Executive Decision, Forever Young, Air Force One, and Silence Of The Lambs, among others. I was also Aerial Coordinator Pilot and Director with specialized camera systems in Learjet, Nettmann Vectorvision, and Helicopters with gyro mounts for feature films and research and development for various aircraft manufacturers. I also flew Channel 9 KCAL News helicopter in Los Angeles. Aerial Film Pilot credits also include United States Navy Blue Angles,USAF Thunderbirds, Canadian Snowbirds,  United States Air Force Commercials, McDonnell Douglas C-17 and MD-11 certification, Boeing, Lockheed, Learjet, Cessna, and Beechcraft. NASA F-14, F-18, Pegasus Rocket, X-29, X- 31 research and development, and high angle of attack research. I also worked on TV shows such as Knight Rider, Wonder Woman, Murder She Wrote, and Fall Guy. 
Q: How did you become involved in music, especially Christian music? 
My Mom was a violinist, and that is probably where I get the music gene. Mom was an amazing woman who moved to Hollywood with her parents when she was a little girl. She became an accomplished violinist and actress as well. She ended up being in a movie called Sylvia Scarlett with Cary Grant. When I was in grade school, I remember seeing the Beatles on TV and was mesmerized, so I wanted to play guitar. I ended up playing guitar in high school and college in different bands. When I pursued my flying career, it took me away for a while from my music because of how much time was needed to devote to aviation. It wasn't until I was in my thirties that I started playing at a local church on the worship team. It was then that I started writing music and actually formed a band, CTS. I wanted to write a Christian message but not limit my music to just Christian venues, so we ended up playing in many different venues. CTS, which stands for Called To Serve, eventually became a ministry. I wanted to touch lives in a positive way and share God's message, but we weren't a worship band. We were a rock band with a message of love, kindness, and forgiveness--Biblical values but playing in many different venues.  
I am also very patriotic and wrote several songs dedicated to honoring our veterans and First Responders. Many doors opened for us as we ended up performing at the Pentagon, Pearl Harbor, USS Missouri, USS Midway, and military bases. Our Christian message was being planted around the world, and this has remained my mission ever since. Jesus spent his life among the down and out, thieves and the like spreading the word. In a smaller way as a band, that is exactly what we have done. Many times at our shows, people have come up to us and said, "There's something about your lyrics that is capturing me. Are you a Christian band?" I respond by saying we aren't necessarily a Christian band but rather a band of Christians. No matter what someone's beliefs are, it's pretty hard to argue with a message of kindness, love, and forgiveness.  
Q:  Talk to us about your latest single, "Angels Watching Over Me." Why are you excited about this song? 
"Angels Watching Over Me" has a dual meaning to me. The Bible talks many times about God's angels. They are amongst us, kind of like God's helpers assisting believers in our down times, helping us, and helping God do his miraculous work on earth. I also think that aside from our heavenly angels, there are earthly angels (figuratively speaking). Our earthly angels are those people we meet along this journey of life that are the real-life heroes, those people we have all met or known that put others above self. Our military veterans and First Responders, to me, are examples of these earthly angels.
Very few people will sacrifice their own life to save others, and these people do just that. I believe our heavenly angels do watch over us by assisting God in his miracles. I'm excited about the success of this song on the charts as my dreams and goals are to touch as many lives through my music as I can. Mi5 Recordings and Universal Music Group have allowed me that opportunity. To see Angels Watching Over Me climb to #16 on the Global Radio Charts is a miracle in itself to me. It shows how hungry our world is for a message of hope and love. It is a complete honor for me to be in this position, and it is my prayer that we keep going to touch even more lives. 
Q: Give us a glimpse of your upcoming Angels and Miracles album. What are some of the highlights for you as you were making this new album? 
The songs on the album, Angels and Miracles, are a culmination of several years of writing. I didn't sit down one week or month and write the entire album, so I guess it's safe to say it's been a work in progress. It will be my third studio album but the first under the Mi5 Recordings/Universal Music Group banner. Each song carries a meaning of God's word and a message of love and forgiveness. Our world is filled with so much division and negativity, and it is my goal to bring something positive to it. The song "Miracles" is about exactly that, those miracles we all have witnessed that God performs. Those things we can't explain that we witness seem impossible. "War" is about good against evil. "One Life" is about the gift each day is. We don't know how long we have here on earth, so each day is a gift, a new adventure, a journey to be cherished.
Like flying an aircraft, life is full of ups and downs. Sometimes a storm is in our path or there is an emergency to handle. Having gratitude and overcoming those obstacles is what life is about. It is a precious journey, and in the end, it's not how big our house is or what kind of car we drive but the lives we touch along the way, the people we influence, and the loved ones we make a difference to. "We The People" is our patriotic song of three simple words. When the founding Fathers wrote the U.S. Constitution, they started it with "We the People." E Pluribus Unum--from many, we become one. From many, we are America and, in my opinion, the greatest nation ever in human history. We owe so many thanks to those who have served and defended our freedom, a freedom that is anything but free. 
Q: Your new song speaks about how God sends his angels to watch over us. Can you recall a time in your own life when you have experienced such providential care? 
There are numerous times in my life when that has happened, many in aviation. As a career pilot, there have been times that have tested my courage and survival instinct. On one film shoot many years ago, I was filming a Boeing 747 for an airline commercial. One particular shot we were doing was a simple one, but it needed extreme care and coordination to do it safely. I would have the subject aircraft, a 747, pass under us from the rear and fly out in front of us. Our periscope camera system can look backward, and as the large airplane came forward, it would come into frame. 
On this day, the 747 came under us, and as I was waiting for it to appear in front of us, I had an uneasy feeling. I could actually feel the pull of the 700,000-pound machine as it passed underneath us. This time something didn't feel right, and all of a sudden, the 40-foot tail of the airplane swept by our right window like a shark fin in the water. It was by God's grace that we weren't hit. The pilot of the plane miscalculated his distance from us, and as he went underneath us, he pulled up slightly and, thankfully, slightly to the right. It surely would have been catastrophic if we had been hit. I have always felt that it was God and his angels that saved us from peril. I learned a valuable lesson and never attempted that shot again. 
Q: You have also released a new book. Tell us more about this book. 
For many years, my mom told me that I should write a book, as she always marveled at the people I flew and the adventures I had in aviation. After many years of thought and planning, I finally started writing. The book is called Life Lessons From 7 Miles High: The View That Captured My Heart. It's an inspirational journey of what 30,000 hours of aviation have taught me about life and how it has brought me closer to God. You get a different perspective of the world when you're seven miles high, and it teaches you what's important and what's not. I have always marveled at the view flying over a city like Los Angeles at 40,000 feet and looking down on 15 million people. I think about the fact that at that very moment, there is probably every possible human emotion going on all at once. 
I talk a lot about some of the celebrities I've flown with and the perspective they gave me about life. Aviation has inspired much of my music writing and the message it brings. We are all put here by God with different gifts, and the book is intended to inspire the reader to dig deep inside and find their own God-given gifts and to do good things with them. I have been able to make a living by performing gifts God gave me in flying and in music. I really have never had to work a day in my life because I love what I do, so it's not really like a job. I also hope the book inspires each reader to adopt a servant's heart, which we are called on to do. Each one of us can make a difference on this planet by contributing something good to it, by being an asset, not a liability. It takes more energy to be negative than it does to have a servant's heart and make a difference to others. Like my song, "One Life," it's about having gratitude, showing kindness to others, and having forgiveness in our hearts. It is my hope that Life Lessons From 7 Miles High touches people's hearts out there in the world.
To listen to "Angels Watching Over Me," click here. To view the "Angels Watching Over Me video," click here.
To purchase Senour's book, Life Lessons From 7 Miles High, click here. 
Tags : Jeff Senour Jeff Senour interview Angels Watching Over Me Jeff Senour news Angels and Miracles