Chart-Topping Bluegrass Band Chosen Road Shares the Highlights of their New Album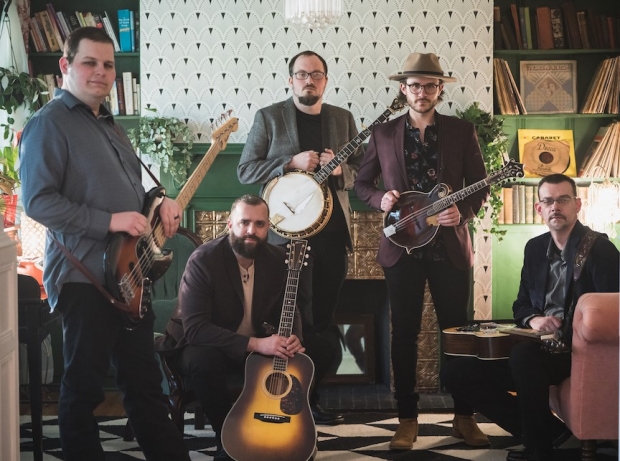 Chart-topping bluegrass Gospel leaders Chosen Road return June 23 with the much-anticipated new full-length set It Never Gets Old. Hallmarked by the band's signature blend of traditional Appalachian instrumentation and tight harmonies atop fresh originals and updated arrangements of familiar favorites, the Thoroughbred Records release was produced by group members Zachary Alvis, Tyler Robertson and Jonathan Buckner. Steeped in tradition with a nod to the future, It Never Gets Old showcases 13 songs, including the most newly-penned tracks the band has featured on a project to date.  
Q: Thanks for doing this interview with us. When you were starting work on your new album, did you have a vision what the album would sound like? Or did the songs just come along the way?
We had a clear vision for the new album, but the songs still came to us naturally as we worked on it. Our goal was to fill the album with music that share our personal stories and the Gospel's impact on our lives. Each song is significant to us in its own way, whether we're singing about Christian parenting, missions, or our role as the Church in the world. We think this album is relatable to anyone living as a child of God, and we hope it has a positive impact.
Q: What were some of the highlights in the making of this record?
Creating the record has been an amazing experience. The best part has been witnessing the songs come to life, both musically and in our daily lives. We believe this album addresses every season of life for those who follow Christ, so we hope that anyone can listen to it on any given day and find comfort and inspiration for whatever they may be going through.
Q: I love your new single which deals with the struggle of what it means to be a dad. If I am not wrong "I Want to be Just Like You" was first recorded by Philips, Dean and Craig. Why did you choose to record this song?
We absolutely adore this song, and you're right-it's a classic from PCD. It was written by Joy Becker and Dan Dean, and we've always wanted to put our own musical spin on it. The melody and harmonies are fantastic, but what really touches us are the lyrics. Four out of the five guys in our band have become parents within the last two years. Two became dads for the very first time and one has two children under the age of two. As a band, we're living out the message of these lyrics and praying them every day. While many people know us for our music, our most important role is the one we have at home. That's where our ministry begins. This song was the one we did for ourselves on the album because we needed it.
Q: I love how you have a balance of covers as well as new ones. Is this deliberate to record both types of songs?
Over the past few years, our music has become known for blending Christian songs with an Appalachian or bluegrass style. We take pride in bringing this unique sound to our fans. With the new album, we aimed to deliver a mix of familiar crowd-pleasers and fresh, meaningful tracks that are special to us. Our listeners can expect to sing along to some of their favorites while also discovering original songs we hope they'll love just as much as we do.
Q: Another song I have on repeat is "Two Times Born." Tell us more about your thoughts about this song. 
The moment we heard that song, we fell in love with it. It may surprise you, but it was actually written by a senator from Tennessee. We were in East Tennessee to celebrate the 250th anniversary of the state's oldest church and were asked to perform a few songs during the festivities, which included speeches from the governor and other elected officials. After the event, Senator Rusty Crowe introduced himself to us and mentioned that he was also a songwriter. He had a song he wanted to pitch to us, and I was blown away when I heard it. The song was "Two Times Born," and he explained that he came up with the idea after seeing a vehicle license plate that read "2XBorn." Senator Crowe has become a close friend and he's a talented writer; we can't speak highly enough of him. 
Q: How do you hope these new songs would speak to the lives and faith of your listeners?
Even if a song doesn't resonate with you today, it may be precisely what you need in the future. The album focuses on the message of the Gospel and how it guides our lives as followers of Jesus Christ. Some songs will uplift and inspire you, but more importantly, the Gospel-driven lyrics will challenge you to live out your faith with purpose. Our music strives to be a positive force in the world, and we want this album to have a meaningful impact on listeners' daily lives. By listening to our lyrics and reflecting on the words of Jesus, we hope the music will help people deepen their faith and walk more closely with Him.
Q: What does your summer and fall look like? Will you guys be touring?
Yes, we will be on the road! We have some exciting things planned for this summer and fall. Then we'll take a short break before heading out on our Appalachian Christmas Tour, which will make multiple stops from Amarillo, Texas, to Anchorage, Alaska.
For further information, visit chosenroadmusic.com or turningpointpr.com. Follow Chosen Road on Instagram, Facebook and YouTube.  
Tags : Chosen Road Chosen Road interview Chosen Road new album Bluegrass Gospel Chosen Road "It Never Gets Old" Album Review It Never Gets Old