Lucy Grimble Opens Up About Songwriting, Her New Album & Shedding Skin!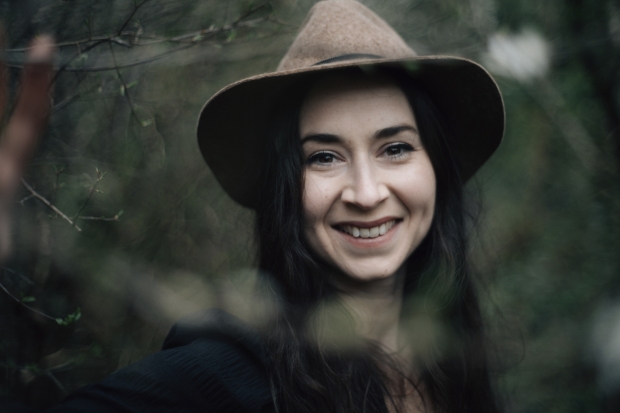 Based in London, UK, Lucy Grimble has been crafting songs for as long as she can remember and leading worship for the last 10 years in the UK and beyond. Grimble has just released her new single, "Shedding Skin," an honest song prompted by the common human experience of self-reflection and the need to change. Finding a space between the hauntingly honest lyricism of Fiona Apple and an ethereal sonic backdrop echoing Radiohead, "Shedding Skin" is a moody, spiritual walk towards the Light. 
We are honored to be able to catch up with Lucy for this exclusive interview.
Q: Lucy, thank you for doing this interview with us. I have read that you started writing songs when you were a teenager. Can you share some songwriters and artists who have influenced your songwriting?
One of the key artists who influenced me when I first started to write was a soul/RnB artist called India Arie. A friend gave me her album and as I listened I was so struck by the honesty of her lyrics, how she seemed to share so freely from the heart, without guard. It really inspired me to reach for honesty as I wrote too, to dare to be brave enough to bare my own soul in my writing.
Q: When did you know you were called to write Christian songs?
I always loved to worship, even as a child and young teen. I was quite shy when it came to being in a worship band, so I would just spend time worshipping on my own and that was my favourite place. I often found in those times that I would have a vision of thousands of people worshipping along with me - deep down in my heart I knew it was part of God's call on my life - to lead many in worship - and even though I resisted that vision for a long time, I also knew I wanted to just be obedient to God. So when I was invited to lead worship in my early 20s at my church, I said yes, mostly out of obedience rather than feeling I was gifted or qualified to do it(!) As I started to then lead worship, the worship songs followed suit and my passion to share the hope of God's word only increased.
Q: Throughout your career, you have worked with many artists, including Mitch Wong, Graham Kendrick, Matt Redman, and others. Do you have a story or two about how working with some of these artists has encouraged you as a person and songwriter?
I think I am always encouraged to write with people who are very well renowned, but have still retained their humility and awe for God. Graham is a man just like that - he absolutely inspires me to keep running the race, keep my eyes fixed on Jesus and to stay humble. He makes me excited to keep pursuing songwriting and to keep growing as a songwriter!
Q: How did you get to work with Integrity Music for your new music?
It has completely been through relationship - getting to know individuals at Integrity and finding so much resonance in terms of artistic and spiritual vision, I've been signed to Integrity as a writer for a few years and with this album, it just felt so right to work collaboratively with the team there to develop the album.
Q: Your new song, "Shedding Skin," is both lyrically and melodically stunning. For our readers who may not have heard, tell us more about this song and how you came to write it.
Thanks so much! Well, the song came out of a time where I was really wrestling to forgive someone, and forgiving them felt like a huge and sort of painful process of really letting go, of humbling myself, of choosing to really give it to God and then not take it back from Him! These moments in life are truly defining as they determine if we are going to stay in an isolated, self reliant place which can often go hand in hand with bitterness and pride OR if we are going to choose to wilfully give away our rights to control, our rights to being strong, our rights to be right even - to go low and walk the path that Jesus walked.
The scripture in John 12:24 "Very truly I tell you, unless a kernel of wheat falls to the ground and dies, it remains only a single seed. But if it dies, it produces many seeds. Anyone who loves their life will lose it, while anyone who hates their life in this world will keep it for eternal life" was quite key in shaping the song. This scripture refers to salvation, but I think it can also refer to the ongoing work of salvation in our lives, the process of becoming more like Christ which can feel like a thousand tiny deaths to self in order to take on His life even more.
Q: Are you currently working on a new album for Integrity Music? What can we expect from you in terms of new music?
Yes I am! My new album will be out in October. It's a ten track album with songs that draws a wide variety of genres and styles. The album is not congregational worship, it is more a personal expression of my own faith which I really hope can help others in their own walk.
Q: How do you hope your songs will impact the lives and faith of your listeners?
I always pray that my music will ultimately point people towards God - music has such power to do that, whether it's through prompting deeper thought, inspiring through the beauty of creativity or a song just feeling like a friend helping you along the way. However my songs might impact people, I really pray they can help people to go deeper in their walk with God (and also be enjoyable to listen to as well!) 
Tags : Lucy Grimble Lucy Grimble interview Lucy Grimble news Lucy Grimble "Shedding Skin" Integrity Music