Colton Dixon and Jordan Feliz Team Up for "Love and Light Tour"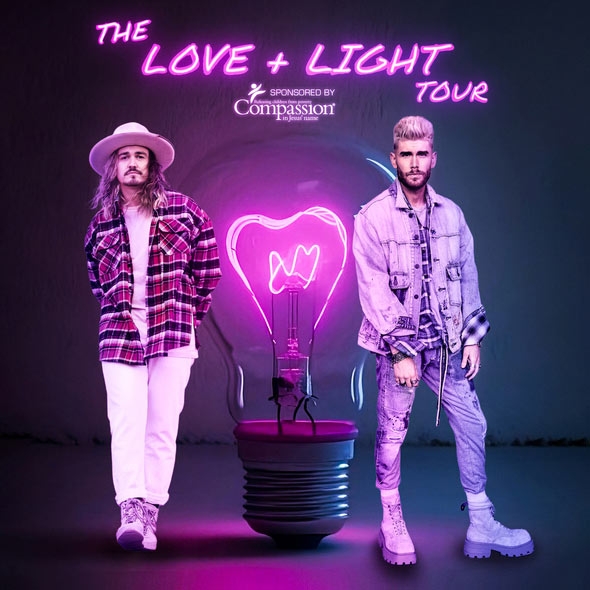 2023 continues to propel Colton Dixon's career, most recently receiving a GMA Dove Award nomination for Song of the Year with his massive hit "Build A Boat." The nod for the 54th annual event follows the song's K-LOVE Fan Award nomination for Song of the Year and what ultimately became the longest running No. 1 Mediabase Christian AC song of 2022.

Also featured on Dixon's April release of his bestselling 7-song EP, CANVAS (Atlantic) is his current single, "My Light" which continues to impact radio, rising to No. 10 on the Mediabase Activator Chart, and inching closer to such on others, currently sitting at No. 11 on Billboard's AC Monitored, at No. 12 Mediabase Christian AC, and No. 13 on Billboard's Christian Airplay chart respectively.

Earlier this spring Dixon and Jordan Feliz announced "The Love & Light Tour" coming this fall, and last week revealed where they'll be headed (see full listing below). Kicking off September 28 in Searcy, AR., the tour will hit U.S. 28 cities this fall, also including Dallas, TX., Portland, OR., Denver, CO., Cleveland, OH., and Lancaster, PA.. RSVP for on-sale alerts and limited VIP Q&A tickets are available at www.coltondixon.com.

Along with touring the festival circuit, Dixon has made several national television appearances this summer, starting with a live appearance of "My Light" on FOX & Friends outside on the FOX Plaza, followed by opening the K-LOVE Fan Awards performing "Build A Boat," with multi-platinum country star Gabby Barrett. On June 8, Dixon then appeared on The Kelly Clarkson show performing a special version of "My Light."   "The Love & Light Tour" (all dates subject to change):

September:

28 -Lions Arena Searcy High School- Searcy, AR

29 - Abundant Life Christian Center - La Marque, TX

30 - Hippodrome Theatre - Waco, TX*
 
October:

1 - Fellowship Dallas - Dallas, TX

3 - Moody Coliseum - Abilene, TX

5 - Without Walls Church - Mesa, AZ

6 - Bonita Valley Community Church - Bonita, CA

7 - Gateway Church - Visalia, CA

8 - Redding Civic Auditorium - Redding, CA

12 - Parkway Christian Center - Grants Pass, OR

13 - Sunset Church - Portland, OR

14 - Christ the King Community Church - Bellingham, WA

15 - Temple Theatre Tacoma - Tacoma, WA

18 - Riverside Baptist Church - Denver, CO

19 - Evangelical Free Church - Grand Island, NE

20 - Countryside Church - Spearfish, SD

27 - First Assembly of God - Montgomery, AL

28 - Earle May Boat Basin - Bainbridge, GA

November:

1 - Blue Gate Performing Arts Center - Shipshewana, IN

2 - Woodlands Church - Plover, WI

3 - Cuyahoga Valley Church - Cleveland, OH

4 - Timothy Christian High School - Elmhurst, IL

5 - St. Lorenz Lutheran Church - Frankenmuth, MI

10 - Harvest Church - Lexington, SC

11 - Charleston Southern University - North Charleston, SC

12 - Unity Baptist Church - Newnan, GA

16 - The Donnell Theater - Findlay, OH

17 - Lancaster Bible College - Lancaster, PA

18 - The Patriots Theater - Trenton, NJ

19 - Word of Life Ministries - Greensburg, PA

*Jordan Feliz not on this date 
Tags : "Love and Light Tour" Colton Dixon jordan feliz Colton Dixon and Jordan Feliz Team Up for "Love and Light Tour"