Rick Lee James Hopes People Will Know God Loves Them Through His Chaplaincy & Music Ministries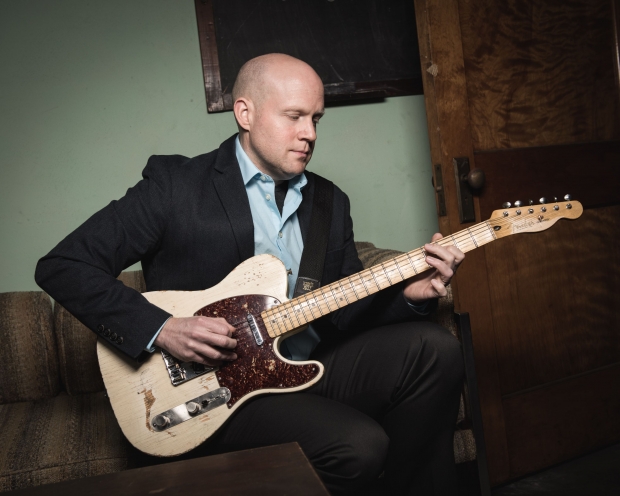 Rick Lee James is a singer/songwriter, worship leader, author, speaker, and podcaster. His latest single "Keep Watch, Dear Lord"  is now available on digital platforms. Penned and produced by James with instrumental contributions from Dove Award-winner Craig Adams, the tender piano ballad pays tribute to the care and compassion selflessly administered each day by doctors, nurses and other medical professionals around the world.  
Q: Rick, thanks for doing this interview with us. Could you tell us a little about yourself and your current ministry?
I have served as a music pastor at my church for 22 years in Springfield, Ohio. In addition to that, I have spent a great deal of those years on the road touring as an artist and writing songs for publishers such as Lifeway Worship. In 2021 I began feeling that God was calling me into a new area of ministry as a Hospital Chaplain. I just finished my 4th CPE Unit as a Resident in Kettering, Ohio, and am 7 classes away from being finished with my MA in Healthcare Chaplaincy. I was also recently hired as a Chaplain at the local Hospital in my city. 
Chaplaincy has completely transformed my perspective on ministry. We call it the Ministry of Presence, being present to self so that we can be present to God's presence, which helps us to be present to others so that we can help others be present to God's Presence.
So I am still playing and writing music and still serving the church, but this new calling as a Chaplain has been some of the most rewarding ministry I have ever encountered.
Q: How has this inspired your new song? Can you tell us more about your ministry at the hospital and how that came about?
I didn't realize how much hospital ministry is simply waiting with people and listening to them, helping them really be heard and seen. I never had Chaplaincy on my radar until one day when I received an email with the word Chaplaincy in it, an for some reason, God wouldn't let the word leave my brain. I counseled with wise friends, prayed about it with my wife, and decided that if I was accepted into Loyola University's Healthcare Chaplaincy program, I should take it as a sign from God. That's what happened, and the next thing I knew, I was on a roller coaster ride, training to become a Chaplain.
This work has inspired me to write a number of songs, which I hope I can release one day as a complete album. In the meantime, I'm doing a single at a time, telling stories of the good and godly work that happens in healthcare settings.
Q: What's the story behind your new single "Keep Watch, Dear Lord"?
After nearly a year and a half working in a hospital, I have had the opportunity to see medical staff in action in nearly every scenario. Many times, the staff called me in to play music and worship in a patient's room as they passed away. 
After a particularly challenging night, during which I sat beside a patient's bedside, together with the staff, we sang to him as he peacefully passed away. This experience led me to read a portion of the Compline Prayer, which sparked the inspiration for the song. The prayer commences with the words, "Keep watch, dear Lord, with those who work, or watch, or weep this night." In that moment, I couldn't help but think of all the compassionate individuals engaged in the vital work within healthcare settings.
As I go about my rounds in the hospital, I find myself humming this song to myself. It has become a way for me to offer prayers not only for the staff and myself but also for all those tirelessly working for the well-being of others.
The dedication of these individuals often goes unnoticed, and their efforts are not acknowledged as much as they should be. I've had the privilege of hearing many nurses at our hospital telling patients, "This is not just our hospital; this is God's hospital." With "Keep Watch, Dear Lord," I aim to remind each person in the hospital, whether they're custodians, cooks, care teams, or technicians, of their immense significance and value. I hope this song serves as a reminder of our gratitude for every single one of them and the meaningful work they do.
Q: I listened to your music on Spotify and noticed you have four new singles this year.  I like your country-flavored "(If You're Not Gonna) Move This Mountain," can you tell us more about this song?
That is a song I wrote when I first started trying to make a living as a professional musician. I wrote it at a time when so much in my life was crumbling down around me. I was so tired of hearing the scripture misquoted to me that "God won't give you more than you can handle." Scripture actually tells us that we will not be tempted beyond what we can handle, not that we won't be given too much. I wrote the song at a time when it felt like the mountains in my life weren't moving, and the storms just wouldn't calm. The song became a lament song for me, praying that if god wasn't going to remove the mountain, then I was begging Him to help me cross to the other side.
Working in healthcare and seeing the suffering that so many endure, it felt like a good time to do a rerelease as a new single. It's one of my favorite songs that I have written.
Q: "You Are My Salvation" is a gorgeous worship song you recorded live. Please give us more context on how and when the song was recorded.
I originally released a studio version, which turned out great, but I felt like there was a different feel, maybe a different spirit, when I played it live. Believe it or not, the live version was recorded on an iPhone as a video at a Baptist Church in Springfield, Ohio. I had such a great response to the video that I felt like it might be a good idea to release a live version. It reminds me a little of the demos that were released on the Rich Mullins Jesus Record. There was no big production, no other instruments, just me sitting at a piano, singing and playing my heart out as I worshipped in a local congregational setting. I'm grateful to know that you liked it.
Q: With all the new music, are you in the process of releasing your new album? If you are, could you give us a little foretaste of what fans can expect?
Actually, I am hoping to release an album in the future based on my work as a Chaplain, There are a lot of stories that I feel I need to share. Two of my songs are entered for Grammy consideration this year, and I am so pleased that my singles are doing so well. I hope that in a year, after I complete my Master's degree, I'll have the time and focus to complete the full album. Until then, I plan to keep releasing singles throughout the year.  
Q: How do you hope your songs will impact the lives and faith of your listeners?
I hope they will help people to just let God love them. We make it so hard sometimes, but it's really as simple as that. I hope when they hear my music, it reminds them how dearly loved they are.
For further information, visit rickleejames.com. Follow him on Instagram, Facebook and Twitter. For booking inquiries, email [email protected] or call 937-206-1146.  
Tags : rick lee james rick lee james interview rick lee james news Rick Lee James new single