Pastor Mike Signorelli Shares Exclusive Insights into the New Film "The Domino Revival"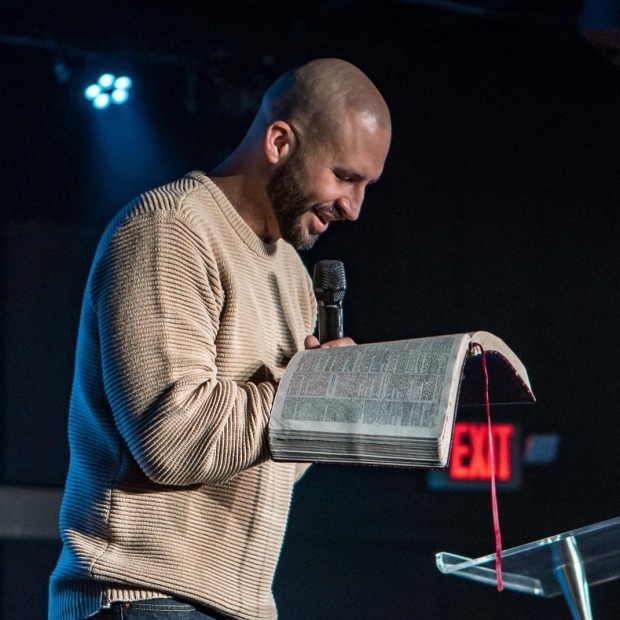 As American society has a moral backslide, many Christians are lamenting the loss of the country's Christian foundation. However, in the face of spiritual darkness in America, a new remnant is rising, according to online media sensation Pastor Mike Signorelli.
A groundbreaking new documentary, "The Domino Revival," will outline decline of American spirituality, as well as the growing movement currently sweeping the nation. Led by Signorelli and other leading revivalists, the film details society fascination with the supernatural and unveils the awe-inspiring power of Christ. Through compelling Gospel preaching, documented miracles, triumph over despair, and liberation from demons, "The Domino Revival" captures the essence of spiritual hunger and delivers a profound cinematic experience. The film is distributed through Fathom Events and will be in theaters for one night only on Tuesday, October 24.
Thank you, Mike, for doing this interview with us. Let's start with yourself. Could you tell us a little about yourself and your current ministry
Thank you so much for having me!  My wife and I started V1 Church in New York City in 2016 and since then, it has grown into a multisite church with physical locations in four cities across the US and hundreds of global watch parties.  I stream on YouTube regularly and am honored to reach over 5 million people a month across all platforms, including social media.  I've been married to Julie for almost 20 years, and we have two daughters, Bella and Everly.  
How would you define revival?
Revival means "to bring back to life again."  So often, we are taught to believe what's new is better.  But sometimes, the newest idea is not the best idea, and the new way society is operating is not the best way.  To me, revival is a return to the ancient paths.  It's a return to the roots of our faith.  It's when the 21st-century church begins to look like the first-century church.  
Why did you decide to make a documentary film on revival?
This movie is a fulfillment of prophecy.  Over a decade ago, I was in a parking lot in Northwest Indiana when a man I didn't know approached me and said, "I have a prophetic word for you."  He said he had a vision that I would be known for film.  At that point, I didn't even own a camera!  
Very shortly after that, the Lord spoke to me and said there would be a second Jesus movement in my generation, and that I would be a significant player in that Jesus movement.  Over the next year, I began to call people who were involved in the first Jesus movement who were still alive and ask for their time to talk about it and share what it was like.  
Flash forward ten years, my wife and I started a church in New York called V1 that was in its beginning years.  We were at ground zero for the pandemic in 2020 and couldn't physically meet as a church, so, like pastors across the US, I shifted to another strategy, which was meeting online. As people were glued to social media watching the world change around them, my videos started going viral on almost a daily basis while I prophesied, cast out demons, and taught the scriptures.  And that's when it hit me: This was the beginning of the second Jesus movement and the realization of that prophetic word.  So I've been filming a documentary with Netflix-approved cameras for the last few years behind the scenes, but not telling anyone why, since I felt that the footage could be significant years down the road.  
I heard through the grapevine that some CEOs in the movie industry listened to my sermons and enjoyed my ministry. So I had my team reach out to these people and said, "Hey, we've heard these rumors, can you confirm this is true? Because if so, Pastor Mike has a movie that he'd like to do."  I told them I had footage of my revival events all over the United States, and I also have friends who are revivalists who have footage, and I'd like to put together a story.  It would be a sort of Avengers End Game of Christianity, where revivalists joined together, each of them with different gifts and strengths.   I wanted to make an apostolic movie that shows the diversity of gifts in the body of Christ and how revival is taking on many different forms. 
You talked to many experts and pastors about this issue in this documentary. Who are some of the people you interviewed for the film?
I was able to speak to many people who are seeing revival firsthand.  This includes people leading revival movements among students like Andy Byrd of YWAM's Circuit Riders and Jonathan Stamper of Black Voices.  I spoke to Jenny and Stephen Weaver who are leading the Core Group, as well as my fellow demon slayers Isaiah Saldivar, Pastor Vlad Savchuk, and Apostle Alexander Pagani, each of whom reach millions via social media and YouTube weekly.  In addition, Jessi and Parker Green of Saturate Global, Prophet Leon DuPreez of South Africa, Prophet Jeremiah Johnson of The Altar Global, and Apostle Ryan LeStrange all contributed their revival experiences to the film.  We interviewed several Christian influencers like Jacob Coyne, Shane Winnings, and Craig Brown to find out how they're leveraging their social media platforms for revival.  I also had the opportunity to interview Pastor Mark Driscoll, founder of Real Faith and pastor of Trinity Church in Arizona.  
Based on your research, how does a revival usually start?
As we were making this movie, we studied awakenings. We found that typically, in America, there are usually 30 to 40 years between every minor or major awakening.  These awakenings almost always coexist with a major technological advance. So for example, when the rail system in America connected the East Coast to the West Coast in the late 1800s, trains could transport people and goods cross country, which became the impetus for the gospel reaching places rapidly. 
From talking to many of the people who played a part in the first Jesus movement, I learned that revival is often preceded by a time of pioneering.  This means embracing new methods and new ways of doing things. While revival is a return to the ancient paths, the method that revival spreads is often through new, revolutionary methods.  In the sixties and seventies, the church in the United States was very traditional, with songs sung from hymnals and preaching from behind a large wooden pulpit.  When the Jesus movement emerged, the hymn singing transitioned to worship songs, and the wooden pulpit was traded for something more informal, but this came with a lot of resistance from people clinging to the traditions of the past.  
Then, in more modern times, TV broadcast was only available to those who could get on the Christian networks.  This was beneficial because it could vet a lot of bad theology from ever making it on the air, but the major Christian networks were gatekeepers.  Now, I can put my phone to my face and go live online walking around the streets of New York City and reach more people than if I paid for time on a TV network.  
I want the movie to show the body of Christ that we are in another shift, which is based on the internet.  This awakening is decentralizing and centralizing, it's global and local.  When we're prepared for pioneering, for trying new things, that's when revival comes.  
Would most people recognize revival? If so, how would they respond?
As people see other people return to the way that God intended life to be, they begin to recognize it as revival.  When they see marriages restored between a husband and a wife, when physical health is restored and we don't believe the deception of addiction, and they see the fruit that it produces, like overwhelming peace and clarity in a chaotic world, then they respond! 
How should we be praying for the US now?
The people in the US who are the loudest are the ones who often have a platform.  However, they're usually the ones we shouldn't listen to.  And the ones who remain unheard and don't have big platforms are the ones who know the truth, who have been faithful to the secret place, and who have developed a rich relationship with God and can discern His voice.  Pray that God would give a golden megaphone to those who know the truth and amplify their voices to be heard in this generation.  
To buy tickets for "The Domino Revival," go to Fathom Events. Tickets can also be purchased at participating theater box offices. For a complete list of theater locations, visit the Fathom Events website (theater locations are subject to change). 
Tags : The Domino Revival The Domino Revival film The Domino Revival movie Pastor Mike Signorelli Pastor Mike Signorelli interview Mike Signorelli