Amy Grant To Release "Lead Me On LIVE 1989"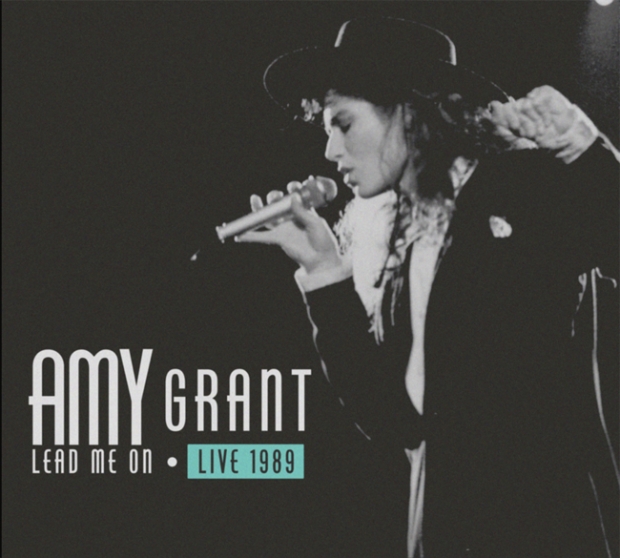 On October 6th, six-time GRAMMY-winner Amy Grant will release a long-awaited, fan-anticipated project, Lead Me On Live 1989. Originally recorded during her Lead Me On World Tour in 1988-89, and mostly unreleased except for a few songs included on the 20th Anniversary Edition of the original "Lead Me On" album, this new collection of 18 tracks from the Ft. Worth, TX tour stop includes the full-concert experience.  
Pulled from the vault 34 years later, this is the first-time fans will have the opportunity to experience all the songs from Grant's biggest tour up to that point in her career. Prior to Grant's global pop-star success with Heart In Motion, 1988-89 was a time of incredible audience growth for Grant, and found her pulling out all the stops for an unparalleled experience. 
Says Grant, "When I first heard the recordings from 1989 from the Lead Me On Tour, the thing that bowled me over was just what a talented band I had on the road. I have loved every band configuration I've ever had on the road and all are so special to me, but there was something unique about that group of players and singers during the Lead Me On Tour. First of all, there were so many of us on the stage and so many types of instrumentation like harmonica solos, flute solos, saxophone, mandolins, lots of keyboards and stacks of vocals, it just felt like one big family reunion every night. The size and scope of the production and the big experience we were trying to create also made this tour very special. The energy of the crowd felt like an infinite number 8 with energy coming from us on stage, it circling through the audience and then coming back to us and it brought back so many amazing memories. I'm so grateful we captured that moment in time."

In the midst of those big-room moments, Grant still did what she does best: connect with people. Sometimes with a look, a wave, a smile, and at least one point every evening, during the song, "Everywhere I Go," she asked her fans to join in on the connection by doing two simple things: Dip and sway.

Even three-plus decades later, these performances from Grant and this band underscore an artist coming into her own ever-changing identity (one that would morph again three years later with the worldwide success of Heart In Motion).

"What I loved with the Lead Me On Tour was that I got thrown into so many environments where people didn't freely communicate about spiritual things," Amy reflected in 2008. "That's very different now because everybody communicates about all kinds of spiritual things. Growing up somewhat of a maverick myself, I had always hated being preached to," she continued. "I wasn't about to do that to anybody else but rather make an experience available to somebody and kind of let them stumble into it or step into the water. And that was exhilarating." Lead Me On Live 1989 will be available in all digital formats plus available on a 2-CD collection. iTunes will have the album for pre-sale with an instant grat track, "Wait For The Healing" starting September 15th. All-new merch, fan packs and bundles for the project will also be available to fans at www.amygrant.com. Additionally, the salvageable film footage from the 1989 Ft. Worth, TX show that has been 'in the vault' will finally see the light of day on YouTube and social media platforms in the forms of music videos, shorts, reels, and more.

This fall, Grant will once again hit the road starting September 20th performing her iconic hits along with selections from the Lead Me On Live 1989 project. Starting November 26th, Grant and her long-time friend and collaborator Michael W. Smith will begin their 2023 Christmas Tour. Joined by special guest Michael Tait of the Newsboys, Grant and Smith will co-headline nine holiday shows, including their first appearance together on New York City's iconic Carnegie Hall stage (Dec. 5). Following this, will be one of Music City's most treasured traditions with Grant and husband Vince Gill, their beloved "Christmas at the Ryman" residency. The 12-concert run is scheduled for December 13-14, 16-17, 19-20 and 22-23 and will once again feature matinee performances of the beloved show.

LEAD ME ON LIVE 1989 track listing:

1. Love Of Another Kind

2. Wait For The Healing

3. Shadows

4. Everywhere I Go

5. All Right

6. Saved By Love

7. 1974

8. Stay For A While

9. Emmanuel

10. El Shaddai

11. Lead Me On

12. Find A Way

13. Band Intros

14. I Love You

15. Wise Up

16. Fight

17. Angels

18. Say Once More
Tags : Amy Grant "Lead Me On LIVE 1989" Amy Grant Amy Grant Live Album