Grace Worship's Kevin King Talks About Choosing Songs for Church, their New EP, and More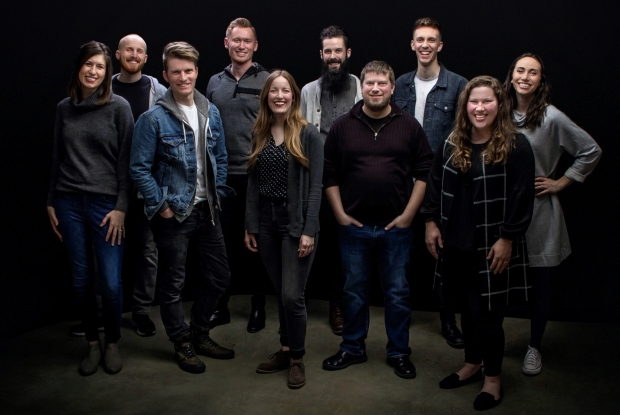 Pairing theologically rich lyrics with soaring melodies, Peoria, Illinois-based Grace Worship releases its first EP in over three years, Steadfast Love, this Friday (Sept. 15). The six-song recording's title track is available now at digital and streaming outlets globally via The Fuel Music.
Centered on the theme of God's heart for his people, all the new songs for the EP came out of as ong-writing team at Grace Worship. 
We are honored to be able to catch up with Grace Worship's Worship Director Kevin King for this exclusive interview.
Q: Thank you for doing this interview with us. When and how did you feel God's call to record and release your music as a church worship team?
The idea to write music for the church first came when our Senior Pastor at the time, Dr. Bryan Chapell, was about to release his book "Unlimited Grace." He and I were talking and believed the message that God's unlimited grace for all generations and peoples was worthy to write a song about, and it spurred us on to write more. At first, we wanted to use the song to help cement the truths of God's grace into peoples' hearts, and we were fueled by the Holy Spirit to keep on writing. Now, I'd say we have a passion to write songs for the church that are theologically rich, beautiful, and help people behold Jesus.
Q: What I love about your new music is that you record songs from all eras and generations. Why is this important for you?
Writing music that can span the generations is important because the church is filled with the generations. For too long we've divided over music, a cheap trick and diversion of the enemy to take our eyes off Jesus and on to ourselves. It is Grace Worship's vision to be a family of worshipers who serve to unite the church to treasure Jesus. We want to offer songs that our children can sing to as well as those wiser and more advanced in years.
Q: When you prepare your worship song set each Sunday, what criteria do you use to choose songs?
This is a loaded question and deserves a 50-minute class. Briefly, I'll give you just a few. I funnel songs through a series of questions. The first and most important being "Is this theologically accurate?" I want our songs to help people know God and to know him more clearly. By the end of a worship set, people should have Christ unveiled to them in glorious splendor, so this means I choose songs that contain rich truths, beautiful poetry that inspires the mind, and I stay away from songs that may be vague, ambiguous, or are using scripture either out of context or to clearly fit their context. 
Second question - "is the melody beautiful and singable?" Keith Getty said that a beautiful melody can cover a multitude of bad lyrics, but great lyrics can't make up for a poor melody. A good melody helps us learn. It is truth in sound. The triumph of the resurrection heard in the rightly placed interval leap or the lament of the heart heard in the legato phrase perfectly weaving up and down in the threads of our hearts. A melody must serve the text and must be both beautiful and singable. So often, we have wonderful melodies, but they aren't singable. They are written for the soloist, and that soloist sings it wonderfully, but a congregation would struggle. You want to set up your congregation for success. Give them wins, not losses. They want to enjoy singing, and a beautiful, singable melody helps them soar.
Some other helpful questions to consider: 3. Do we have other songs that hit this topic? 4. Is this something that our congregation needs to sing right now, in this current season? 5. What does the arrangement of the song communicate (perhaps it's an organ lead piece or lead by a band)? 6. What is the sustainability of this song (will we want to sing it in 5 years?)?
Q: On your new record, you have a song written in 1846! Why is this hymn ("Hallelujah Who Shall Part") important to you? Why is it essential for people today to hear this song?
The fact that Christ's church can never be separated from Christ's heart is a timeless truth. The poem is a refashioning of Romans 8, but sadly, it has lost its place in the modern liturgy of the church. A song writing group was formed at our church, and this poem rose to the top very quickly. So often, we are bent towards legalism - living our lives trying to convince God we were worthy of saving. Romans 8 slaps that notion down and reminds us that it is the complete sufficiency of Christ that keeps us hidden in his heart. To sing this song out is, on one hand, a celebration of the soul, knowing Christ loves his own and, on the other hand, a battle cry as satan's head is crushed under the heel of Christ's devotion to his people. We hope this song assures people of Christ's devotion and sets their spirit ablaze with holy joy!
Q: The song "The Twenty Third Psalm" is based on a poem written by George Herbert in 1633; tell us more about this poem and song.
George Herbert, who is one of the finest Christian poets, wrote this metrical psalm. I was going through some Christian poetry at the time and came across it and thought, "This just deserves a wonderful melody." So, for me, it became an exercise. I did not expect it to be on any Grace Worship project. I did update some of the original text. I was advised by Matt Merker, who is a songwriter and on staff with the Gettys, to modernize some of the language, as it may confuse a congregant of today rather than help. Because I definitely lean on the clarity side rather than confusion, I found his advice helpful. Herbert's rendition of Psalm 23 fixes its reader on the provision of the Shepherd-King. We begin by hearing "he that doth me feed" and end with the assurance that "thy sweet and wondrous love shall measure all my days." Herbert's poem focuses us on God's provision to the sheep, which allows the hearer to rest in the green pastures of God's goodness. My hope is that this melody will allow a person to pray Psalm 23 through song and rejoice in God's unending provision to them.
Q: Can you tell us more about the original "Steadfast Love"? 
The reason God's steadfast love is so good to us is because we live in a world of sorrow, sin, and ruled by one who hates God. I wanted to write a song that allows the singer to acknowledge those three pains (sorrow, sin, and the devil) and feel relief as God's steadfast love transcends them all. Each verse has you travel through one of those experiences and points you to God's love at the end. The verses are inspired by Lamentations 3, and the chorus, of course, comes from the famous Lamentations 3:22-23 passage.
For the bridge, I wanted to allow the singer to conclude that, in all times, we get to respond in praise, because Christ is bound to his bride. So, the bridge lists many scenarios of trouble and of triumph, and in all, we praise Him. I hope this song is an anchor for people wherever they're at. There are things we use to help carry us through life - whether relationships, power, influence, material possessions, etc - but it is ONLY the steadfast love of the Lord that never ceases. It is ONLY His mercies that never come to an end. We are free to run to him in sorrow and sadness, cling to him even when we've betrayed him, and hide in him when we're spiritually attacked. It is Christ who is our deep anchor of the soul. It is His love that never fails us.
Q: Many of our readers are musicians and worship leaders; what advice can you give them on leading worship?
Keep the main thing the main thing, and you will love your people the best. Keep Christ at the center. Your goal is not to create an experience, to get hands raised or have people think you're cool. Your goal is not to keep the peace or pacify people with lesser songs. Your goal is to help people behold Jesus, in all his glory and splendor. If you do this, you will unite your church. People have preferences, but in the end, ever believer prefers Jesus. Give them Jesus, and they will be deeply blessed and satisfied.  
With its music resources available from PraiseCharts and through www.graceworship.com, additional Grace Worship news and more can be found on its socials: Facebook, Instagram and YouTube. 
Tags : kevin king Grace Worship Kevin King interview Steadfast Love worship Grace Worship new ep