Anne Wilson's "My Jesus" Is Certified Platinum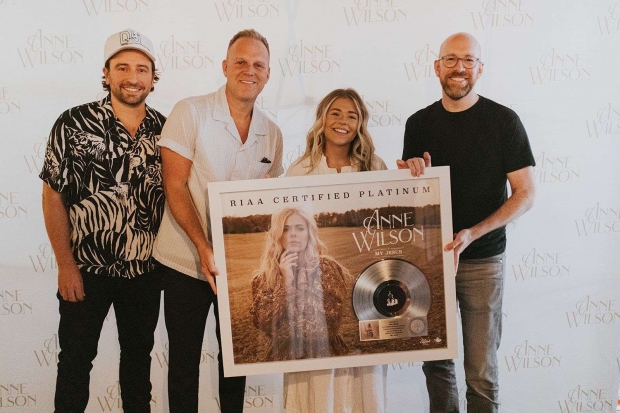 GRAMMY-nominated artist and songwriter Anne Wilson was rendered speechless as her Capitol Christian Music Group team surprised her with a celebration to announce that her debut single "My Jesus" is now certified PLATINUM by the Recording Industry Association of America (RIAA). The "deeply personal breakout ballad" (Billboard) has continued to fuel Wilson's unstoppable career as it notched over one million units sold and counting, with numerous awards and accolades to its name.
Wilson's momentous week extended to her debut performance at a Country award show during Monday night's ACM Honors. She graced the historic Ryman stage alongside Jordan Davis to perform the double-Platinum, ACM Award-nominated No. 1 song, "Buy Dirt."  Watch the performance here.
"What a moment for the Lord, for my sweet brother Jacob, for my family, for the writers and producers, for Capitol Christian and for ALL who have walked this unexpected adventure," shares Wilson. "To see what God has done out of the deepest pain is such a precious gift that He has given to all of us. GOD NEVER wastes our sorrows. He uses them in ways we cannot dream of. I can't wait to hug my brother again and talk about all the things God has done. Jacob must be beaming in heaven right now sitting with 'My Jesus.'"
Called to her musical mission in the wake of tragedy, Wilson's "My Jesus" - an empowering anthem of personal conviction wrapped in uplifting, roots-pop energy - served as her warm introduction to fans in early 2021. After going viral upon release, the single's music video reached 7M views in its first week and 23M to date. The track hit No.1 on Billboard's Christian Airplay chart, making her the first debut female Christian artist in chart history to reach No.1, and was nominated for a Billboard Music Award for Top Christian Song. The single also went on to be named ASCAP's 2022 Christian Music Awards Song of the Year, reaching Spotify's Viral 50, the Shazam Top 200 and Rolling Stone's Top 25 Trending charts. To date, the song has accumulated 360M streams and 180M TikTok views in addition to notching PLATINUM status.
Tags : Anne Wilson My Jesus Anne Wilson "My Jesus" Album Review Anne Wilson