Loren Harris Leaves the Kingdom Heirs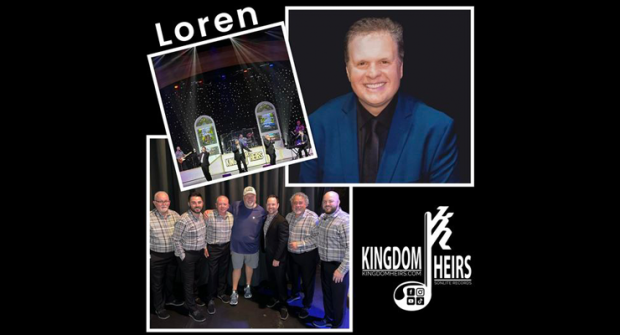 The Kingdom Heirs are saddened to announce the resignation of Loren Harris from the lead vocal position due to health concerns. Harris has been singing with Kingdom Heirs as their baritone since 2016.
Kreis French, the owner of Kingdom Heirs, states "I am going to miss Loren and his big voice, but his health comes first. I wish him good health and success in the future and predict that he will be singing again before long. We want to thank Loren for the seven years he devoted to our group.
"He joined us at the baritone position and then moved to the lead role when it became vacant in the summer of 2022. He has not only been a dedicated professional, but also a great friend and brother in Christ.We ask that everyone continue to pray for Loren and his family as they await answers moving forward.The Kingdom Heirs will not be accepting any auditions at the moment. We will patiently wait and focus on the direction God has for us." 
Harris reflects, "As fall is quickly approaching, I'm reminded that change is inevitable and seasons come and go. I've so enjoyed this latest season of my life and ministry so much getting to sing with `the boys from Dollywood' and living out my dream for the last seven years.
"Due to health issues that have affected me the last few years, I have decided to resign from the Kingdom Heirs. God knows this has been a very hard decision with much prayer and seeking God's guidance. I never would have thought that when I stepped thru that curtain on Friday, August 4th, 2023 that it would be my last time to sing with these fine men. God always has a plan, and even though I don't know what's around the next bend in the road, I trust the one who does.
"Kreis and Sonya French have been so good to me and my family and we will always be a part of the Kingdom Heirs family. I love these men with all my heart and I wish them the best as they have the distinct honor of sharing the gospel in a secular theme park every day. What an amazing opportunity they've been given. When I shared my decision with my son and daughter they said, `we can't ever remember you not singing and we don't know that you can even do anything else.'
"I've wanted to sing Gospel Music since I was a child and I still have a love for this music and a song in my heart. If it's the Lord's will, maybe some day I can sing my song again. Continue to pray for Cindy and I, my family, my health, and my Kingdom Heir family. To all my friends I've met along the way, I love and appreciate you. Thanks for always supporting me and I hope to see you soon." 
Tags : kingdom heirs loren harris Loren Harris Leaves the Kingdom Heirs