Franklin Graham Dedicates New Samaritan's Purse Airlift Response Center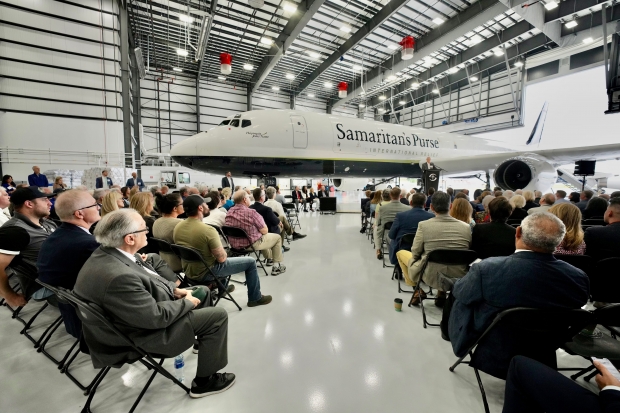 Samaritan's Purse President and CEO Franklin Graham dedicated the organization's new Greensboro Airlift Response Center yesterday on Tuesday, Sept. 26. This facility was built to support the organization's two largest cargo aircraft-a Douglas DC-8 and a newly acquired Boeing 757.
The more than 62,000-square-foot response center includes a 55,000-square-foot hangar, office space, and the capacity to facilitate a wide range of aircraft maintenance activities. It is staffed by 21 people, including pilots, flight engineers, load masters, maintenance personnel, and additional flight support staff.
Samaritan's Purse recently expanded its fleet of aircraft by adding a 757 freighter airplane. The cargo hold is equivalent to the space of three tractor-trailers, and it can carry a maximum load of 67,000 pounds of cargo-increasing the N.C.-based organization's ability to respond to disasters at a moment's notice. The 757 completed its first relief mission on Sept. 1, airlifting 24 tons of cargo to Maui, Hawaii, where volunteers are helping wildfire victims begin to recover.
"Disasters and crises are happening more and more frequently around the world. Things aren't getting better, they seem to be getting worse, and we want to help those who are suffering when their needs are greatest. As a pilot, I know the value of aviation. It allows us to respond quickly when disasters strike-we couldn't do it without these tools and this team," said Franklin Graham, president of Samaritan's Purse. 
"We thank God for the new Greensboro Airlift Response Center and our two cargo planes that give us the ability to meet needs in Jesus' Name."
Officials from Greensboro and the surrounding area as well as local church leaders and key Samaritan's Purse staff were at this special ceremony.
Tags : Greensboro Airlift Response Center Franklin Graham Samaritan's Purse news samaritan's purse