Watch Chosen Road Perform at RFD-TV Here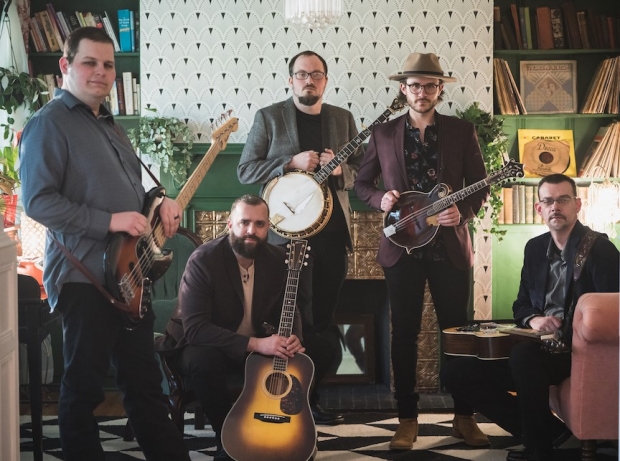 RFD-TV, the nation's first 24-hour television network featuring programming focused on the agribusiness, equine and rural lifestyles, along with traditional country music and entertainment, welcomed bluegrass Gospel chart-toppers Chosen Road to its Nashville studio earlier this week.
 
Renowned for their traditional Appalachian instrumentation and tight harmonies, Chosen Road performed their recent #1 single, "I Want To Be Just Like You," on RFD-TV's flagship daily show, "Market Day Report." In addition, "Market Day Report" co-host Suzanne Alexander talked with the band about their bestselling Thoroughbred Records release, It Never Gets Old.
 
With fresh originals and updated arrangements of familiar favorites, It Never Gets Old showcases the hit song "I Want To Be Just Like You," as well as "Awake My Soul," "That's What Heroes Do" and "Jesus Wear The Crown," among other selections. The project, which reached #2 on Billboard's Bluegrass Albums chart earlier this year, was produced by Chosen Road's Zachary Alvis, Tyler Robertson and Jonathan Buckner.   

RFD-TV is available in more than 52 million homes across the country and can be streamed online at watchrfdtv.com.
Chosen Road has carved a singular niche in the musical landscape with their world-class instrumentation combined with a passion for sharing and living the Gospel. Comprised of founding member Jonathan Buckner, along with Zachary Alvis, Tyler Robertson, Josh Hicks and Chris Stockwell, the group has been carefully honing their craft since 2009, releasing multiple albums and performing at festivals, fairs, churches and theaters across the United States as well as overseas. Last year's Appalachian Christmas debuted at #1 on Billboard's Bluegrass Albums chart, while 2020's Appalachian Worship and 2021's Appalachian Hymns each spent multiple weeks in the Top 10 on the same chart. Throughout their career, Chosen Road has garnered seven Top 10 bluegrass radio singles, and the group has performed on stages alongside such greats as Doyle Lawson & Quicksilver, Dailey & Vincent, and The Isaacs. 

For further information, visit chosenroadmusic.com or turningpointpr.com. Follow Chosen Road on Instagram, Facebook and YouTube.  
Tags : bluegrass Chosen Road RFD-TV Chosen Road Chosen Road interview