The Inspirations Win Three Singing News Fan Awards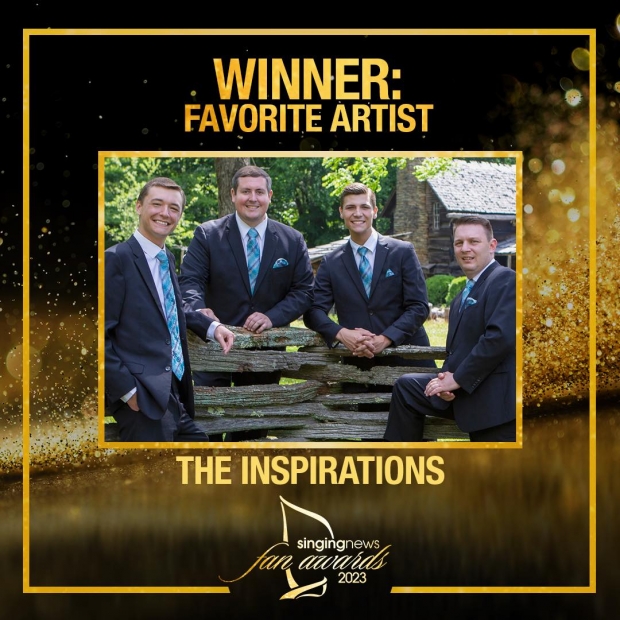 The Inspirations, one of Gospel music's longest-standing quartets, won three Singing News Fan Awards, which were presented last week at the National Quartet Convention in Pigeon Forge, Tennessee.
The Inspirations were named Favorite Artist; their album, A Pioneer Legacy, was named Favorite Album; and tenor Isaac Moore was named Favorite Young Artist.

"To say we are honored would be an understatement," says lead Roland Kesterson. "Of course our goal is not to win awards and accolades, but to spread the gospel and see God give the increase. Ruben Bean once told me that God is the best promoter and how true that is. But these awards let us know that people love us and love what we're doing, and we are so grateful for that. Thank you so much to all that voted for us. We love you all."

In 2020, the latest generation of The Inspirations - Kesterson, Moore, Wyatt Austin and Luke Vaught - released What A Wonderful Time LIVE, the first album featuring the lineup that also won the Favorite Album award in 2022. They quickly followed it with A Pioneer Legacy, a collection that signified a step forward that was new, yet seamlessly bound to the past. Since, they've continued to carry on the quartet's legacy, garnering critical acclaim for their energetic performances.

This year, The Inspirations released two albums: Ageless Treasures, a retrospective collection, and Reunion LIVE, a recording of the group's 2022 National Quartet Convention performance featuring several generations.

Listen to all of The Inspirations' music HERE.
Tags : the inspirations quartet THE INSPIRATIONS singing news fan awards