Natalie Grant "Seasons" Album Review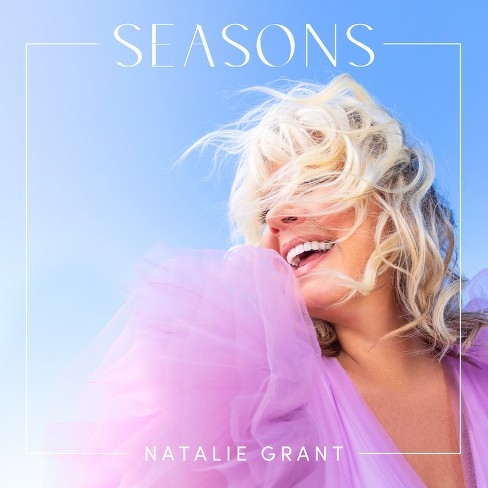 Prime Cuts: Another Time, Another Place (feat. Jonathan McReynolds), Shackles (Praise You) (feat. Mary Mary), I Need You
Overall Grade: 4.5/5
Natalie Grant's "Seasons" is a sure-fire bulletproof hit album. She has got three things in her arsenal. First, she has the who's who of Christian and Gospel music singing with her; this includes CeCe Winans, Jonathan McReynolds, Mary Mary, Tauren Wells, Tasha Cobbs Leonard, Jekalyn Carr, CAIN, and Cory Asbury. Second, besides three original cuts, the rest of the album comprises well-chosen hits garnered from both the pop and Christian canon. Finally, she has even enlisted the help of non-CCM artists to help bolster interest outside the genre; this includes Dolly Parton, who sounds really out of place trying to keep pace with Grant, who does her Whitney Houston impersonation of Houston's "Step by Step." Parton sounds bemused, and Grant seems lost in her Houston-awe that she forgets her voice. 
Besides the above misstep, the rest of the album is excellent. Sandi Patty's #1 single "Another Time, Another Time" is so underrated that this may be the first time it gets a cover. With Jonathan McReynolds' contribution, the pair brings a spirited renewal to this power anthem. Meanwhile, Keith and Kristyn Getty's "In Christ Alone" gets a faithful (but a worshipful) rendition. CeCe Winans demonstrates class as she tries not to outshine Grant on Andrea Crouch's "My Tribute (To God Be the Glory)." Instead, she has a way of letting Grant shine as she takes the lead in worship. Mary Mary partners with Grant on their signature tune, "Shackles (Praise Him)," which is given an updated airy synth sound.
Grant gets up, close, and personal with Bob Dylan's "To Make You Feel My Love" when she includes her family, giving the song a different familial twist. "You Will be Found," one of the three originals, is a syrupy worship ballad that ticks all the right boxes. However, even with Cory Asbury's input, the song is not distinguished from the many similar-sounding pop-centric ballads. "We Will Stand" (which features CAIN, Jekalyn Carr, and Tauren Wells) has a more singalong quality, and "I Need You" establishes a strong emotional connection that makes it an album highlight. 
With classic tunes and a long list of her peers joining her, it's hard for Grant to go wrong with "Seasons."  
Tags : Natalie Grant "Seasons" Album Review Natalie Grant natalie grant new album natalie grant news