Mark Roberts Reveals How He Came to Record His Debut Christian Album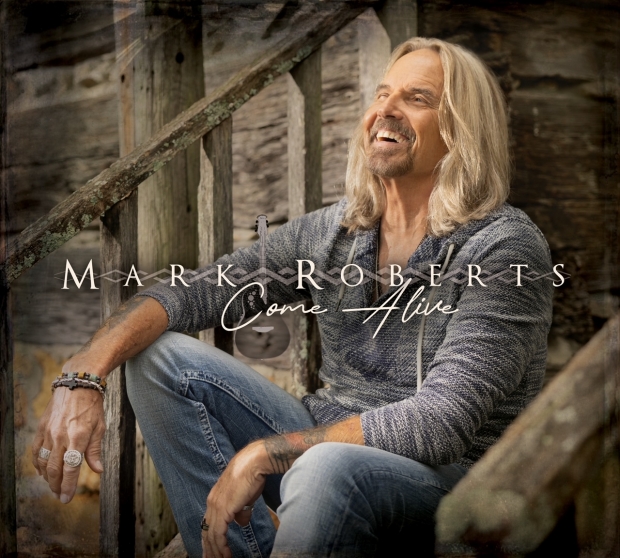 Veteran singer-songwriter and band leader Mark Roberts has recently released his new album, Come Alive. Produced by GRAMMY and Dove Award winner Tom Hemby, the album is Roberts' first foray into Contemporary Christian Music.  
The uplifting title track is just one of the faith-fueling anthems that point to the increased authenticity of this already seasoned artist, who will be the first to admit feeling like he was swimming against the current pursuing such a drastic lane change later in life, but was nonetheless reminded God's timing was truly perfect upon receiving a demo to "It's Not Too Late (To Start Over Again)."
There's also "Teach Me," which could also be considered Roberts' precise prayer for restoration that he continues to play during daily devotionals, plus uplifting covers of Simon & Garfunkel's "Bridge Over Troubled Water" and Bread's "Everything I Own." Yet it's the opening cut, "Running Home," that could very well be the defining soundtrack to his lifelong testimony, in addition to being a personal favorite.  
Q: Mark, thanks for doing this interview with us. I have read that you had some health struggles as a child. Can you share with them some of these struggles? 
As a child, I was diagnosed with a bone marrow disease in my right leg, which caused me to have to wear a steel unbendable brace for 3 plus years. This brace was designed to suspend my leg with absolutely no pressure on it. When my parents would take my brace off my arms were my only transportation. I scooted across the floor in a seated position using my arms to push myself, my dad actually laughed at how fast I could scoot. 
According to the doctors, the only solution was a bone transplant, which my parents chose not to do because of the multiple surgeries. Everything was just put on hold with me living everyday with the brace and an endless list of things I would not be able to do. I overcame the list and found a way to do everything I was told I couldn't do like running, jumping, climbing trees and riding my bike. Despite constantly being made fun of, I was happy and my dog, music and my dad were my best friends. A lady came up to me in Sears and Roebuck and said she was going to pray for my healing and He did! This is the short version. 
Q: How have your sufferings impacted your faith then and now?
It satisfied my belief that God cares and loves us and He can do anything. We just have to give Him a chance, because His path is the best path for us because all the good things He planted in us are there. It just sometimes takes us a while to figure that out.  
Q: How did your new record "Come Alive" come about? 
After walking away from my music career, traveling club after club, stage after stage, dead end after dead end, I fell on my face and gave it all back to God because I had misused my gift and I wanted Him to have it back because I didn't feel I deserved it. I disappeared from the road and all my friends for about 3 years.
I prayed a prayer that is the song, word for word "Teach Me" that's on the album. I never intended it to be a song, it just happened and it was the first time I had played my guitar in three years and it was quite rough.A very close friend of mine, Frank Mills encouraged me to let him record a demo for this song. I shared it with a friend in need and the short of the story is, that birthed the means to do a whole album.
God sent me to the right person he had introduced me to before and all the music was there. As it turned out, unbeknown to me, my producer, Tom Hemby was also the guitar player in one of my favorite Contemporary Christian Bands that had, in my youth, inspired me to do what I am doing now in God's way.  Tom's wife works for my other childhood inspiration Amy Grant and my videographer was very dear friends with my other inspiration, Andraé Crouch. This is my miracle circle!
All of this is the inspiration for "Come Alive."
Q: What were some of the highlights in making this record? 
Being able to work with the most delightful, talented and humble people that I've known in the music industry. Growing in friendship, brotherhood, laughing together, crying together, creating together and praying together,  has been the most fulfilling time of my life.
Q: You have also included a couple of covers; why did you choose Simon & Garfunkel's "Bridge Over Troubled Water" and Bread's "Everything I Own"? 
5. "Bridge Over Troubled Water" is a recognizable song that reaches back to my childhood roots to a time when this message caused people to reach out to one another. The sweetness of it's spirit lives on and certainly needs to live now. 
"Everything I Own". I  chose this song after finding out that David Gates wrote this song after loosing his dad. This song is a dedication to my dad, who was my biggest encourager and my biggest fan and he was a man with the biggest heart in the world and he is greatly missed. 
Q: How do you hope these songs will impact the lives of your listeners? 
On the Album, songs 1-9 are organized in the process of a Christian life. From where we find ourselves running all the way to knowing where we are going. The songs follow us though this process, asking the right questions, recognizing the right things in life, reaching out to help others and making God smile. 
For more information, visit MarkRobertsAlive.com. 
Tags : Mark Roberts Mark Roberts interview Mark Roberts Come Alive Amy Grant Tom Hemby