John Paul McGee to Release New Seasonal Project "A Gospejazzical Christmas"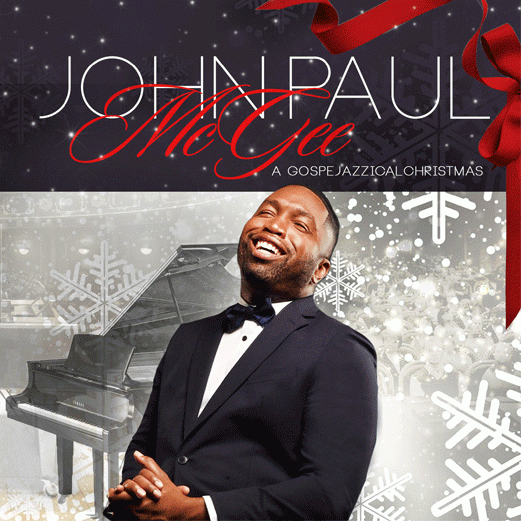 Baltimore-reared, Berklee-based pianist, composer, vocalist and educator Dr. John Paul McGee, Ph.D. (AKA Dr. JP) is set to release, A Gospejazzical Christmas, on Nov. 16. The album is set to brighten up the holidays with 11 tracks of original and classic Christmas selections with his unique Gospejazzical sound: a pianistic amalgam of gospel, jazz and classical genres.
An assistant chair of piano at Berklee College of Music in Boston, Dr. McGee has worked and recorded with a wide variety ofsecular and religious artists including Stevie Wonder, Cory Henry, Najee, Patti Labelle, Kim Burrell, and The Clark Sisters. He was the featured pianist in the 2017 movie, A Question of Faith. His previous recordings include Gospejazzical, Vol.1 (2022).
McGee's magical musical hybrid provides the right mix to spice up the holiday season in solo, duo, trio and quartet configurations. The Caribbean-cadenced "Emmanuel," the solemn sonorities of "The Manger Medley" and "Mary Did You Know" are evocative original compositions. They complement the well-known Christmas tunes like "Little Drummer Boy," with the "Linus and Lucy" bassline, the beautiful balladry of the Charlie Brown classic, "Christmastime is Here" and "Oh Holy Night." The CD's other rhythms range from the Quiet Storm backbeat of "Jesus What a Wonderful Child," and the straight-ahead 4/4 swing of "God Rest Ye Merry Gentlemen" to the striding, gospel-grooved, "Go Tell it on the Mountain."
McGee started playing piano at the age of four. He studied piano and organ with the late Dr. Nathan Carter, earned his B.A. with a concentration in piano performance from Bethune-Cookman College, A Masters of Art in Religion degree from Liberty University and a Doctorate of Ministry with a concentration in Pastoral Care and Counseling from the Interdenominational Theological Center.
John Paul McGee's Gospejazzical sound brings many musical genres together for the holidays.
TRACK LISTING
1. Emmanuel Norman Hutchins
arr. John Paul McGee, Larry Wilson (5:23)
2. Have Yourself A Merry Little Christmas
Composers: Ralph Blane/Hugh Martin (Emi Feist Catalog) (7:05)
3. Little Drummer Boy arr. John Paul McGee, Larry Wilson
Composers: Katherine Kennicott Davis, Harry Simeone (4:12)
4. Christmas Time Is Here Vince Guaraldi and Lee Mendelson (4:07)
5. What Child is This Public Domain (5:07)
6. The Manger Medley John Paul McGee (4:20)
7. Jesus What a Wonderful Child Public Domain (7:35)
8. Oh Holy Night Public Domain (4:54)
9. Mary Did You Know Composers: Mark Lowry, Buddy Greene (4:33)
10. God Rest Ye Merry Gentlemen Arranged by Gary Motley (5:33)
11. Go Tell It on the Mountain Public Domain (3:11)
Tags : Christmas 2023 john paul mcgee John Paul McGee new album john paul mcgee christmas album A Gospejazzical Christmas