New Film "Bringing Back Christmas" Shows Us Why Jesus is Our Hope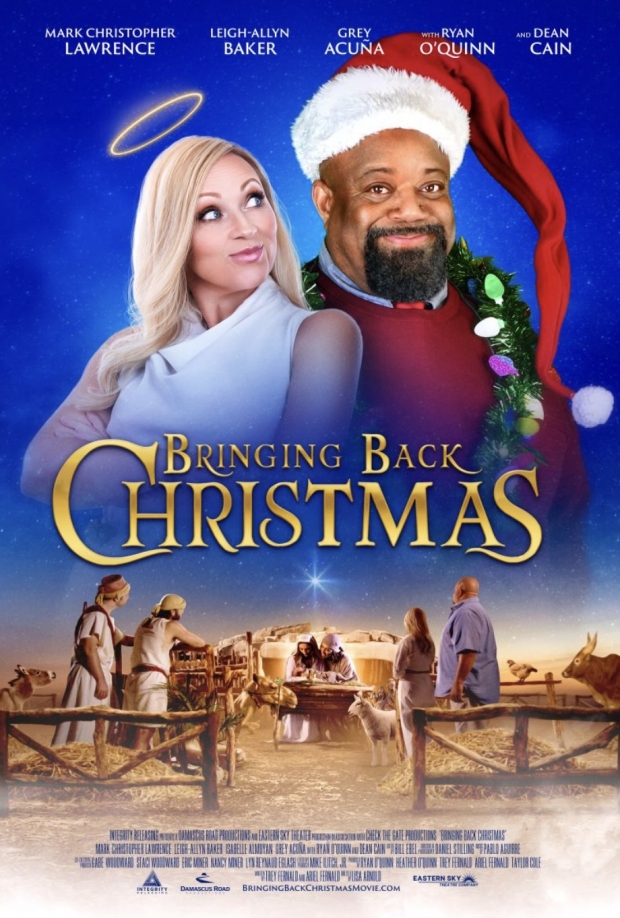 New family-friendly film, "Bringing Back Christmas" is slated to premiere at a special Dream Center charity event in Los Angeles, followed by availability on global streaming platforms including Apple and Amazon Prime along with select theatrical showings on November 17 through Integrity Releasing. 
In Bringing Back Christmas, it's two weeks before Christmas and DANIEL REECE has just been fired after 17 years of service and right before his son, with special needs, is slated for an expensive surgery.
Daniel's hopelessness cues a sassy angel, whose been following him in disguise, to take Daniel on a humorous and inspiring journey back in time to witness the trials of Joseph and Mary before the very first Christmas.
Daniel observes their quirky parents of the young couple squabbling over the marriage "deal" and dances at their beautiful wedding. He sees the loving couple build a beautiful home and life together before being abruptly forced to by Roman soldiers to leave it all behind.
With humor and faith, the holy couple along with their hilarious in-laws remind Daniel how God's love can carry him through any challenge and face the future with hope. 
"It's rare to come across a film that has heart and humor. This one has both," said Ryan O'Quinn of Damascus Road Productions. "We are thrilled to share this soon-to-be- holiday classic with audiences of all ages," added producer Heather O'Quinn.
Written by the husband-and-wife team of Trey and Ariel Fernald and directed by Lisa Arnold ("God's Not Dead"), "BRINGING BACK CHRISTMAS" stars Mark Christopher Lawrence ("Terminator 2: Judgment Day," "Tales From the Hood," "Planet of the Apes," "Lost Treasure," "The Pursuit of Happyness"),  Leigh-Allyn Baker ("Will & Grace," "Charmed," "Good Luck Charlie," "Bad Hair Day"), Grey Acuña ("NCIS: Los Angeles," "NCIS: New Orleans," "Deputy," "Queen of The South"), Isabelle Almoyan (Lifemark", "Running the Bases"), Ryan O'Quinn ("Paul's Promise", "Believe"), Dean Cain ("Lois and Clark: The New Adventures of Superman," "Ripley's Believe It Or Not," "Out of Time" "God's Not Dead" "Little Angels), Katherine Norland, Aaron Fullan, and YouTube sensation Gabe C. Brown (AKA Black Gryph0n). The film is produced by Ryan O'Quinn, Heather O'Quinn, Trey Fernald, Ariel Fernald, and Taylor Cole, with executive producers Mike Ilitch Jr. and Nick Ilitch.
"With 'Bringing Back Christmas,' writers Trey and Ariel have brought the art of the stage to life in a whole new medium," says Executive Producer Nick Ilitch. "They have created a relatable world that is both fresh and new. The film embodies slapstick humor with a warm human component. The performances are top notch. Having Gabe C. Brown on the team along with the music of for KING + COUNTRY really rounded out this holiday film, and we are confident audiences will embrace it."
Tags : Bringing Back Christmas Bringing Back Christmas film Bringing Back Christmas movie Christmas 2023