New Film AFTER DEATH is Now the Top Faith-Based Documentary of All Time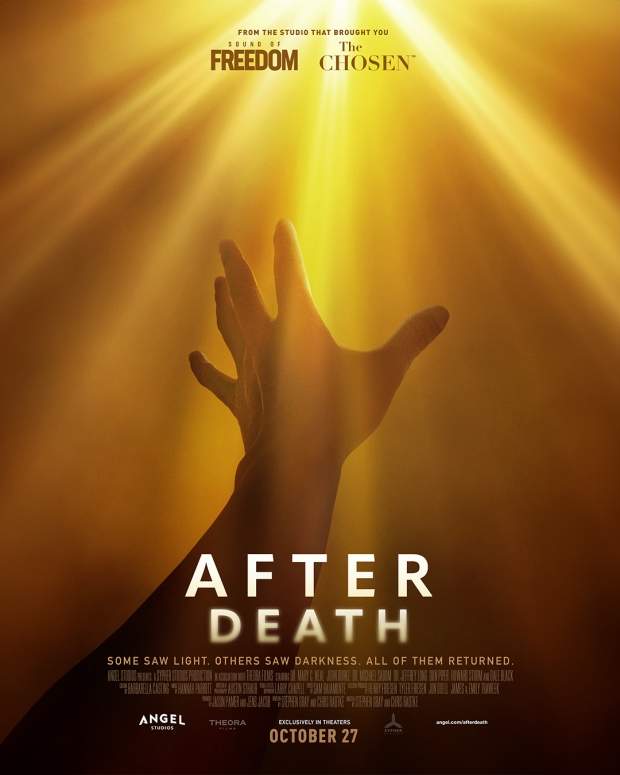 Angel Studios, the platform empowering filmmakers with full creative control to crowdfund and create, is announcing the box office hit AFTER DEATH has added additional screens going into its second week and achieving the milestone of being the both the Top Grossing Documentary since 2019 and the Top Grossing Faith-Based Documentary of all time.
"AFTER DEATH stands as the highest-grossing documentary to grace the big screen since 2019, a testament to Angel Studios' disruptive track record," shares Brandon Purdie, Head of Theatrical for Angel Studios. "Once more, we've partnered with valued exhibitors to rekindle the passion of audiences who haven't visited the cinema in years." 
We are overwhelmed with the success of AFTER DEATH and the incredible audience response to the project. We are grateful for our theatrical partners who continue to support this important film that asks questions everyone, everywhere asks...

AFTER DEATH: Box Office Results
Theater count: 2,730
Box Office Cume: $9,023,797
AFTER DEATH: Audience Scores
CinemaScore: A-
Rotten Tomatoes Audience: 88
AFTER DEATH is a captivating and thought-provoking exploration into the enigmatic question that has fascinated humanity for centuries: "What happens when we die?" Through personal accounts, philosophical discussions, and scientific research, the film takes viewers on a profound journey of discovery. 
Featuring a captivating line up of New York Times bestselling authors, doctors, scientists, and survivors, AFTER DEATH features a notable cast, including Don Piper (90 Minutes in Heaven), Dr. Mary Neal (To Heaven and Back), John Burke (Imagine Heaven), Dr. Jeffrey Long (Evidence for the Afterlife), and Dr. Raymond Moody (Life After Life). 
AFTER DEATH, a Sypher Studios Production, was written and directed by Stephen Gray (DISCOVERING HEAVEN), co-directed by Chris Radtke (AMONG THIEVES), and produced by Jens Jacob (I'M NOT CRAZY I'M SICK, WAR UNFOLDING) and Jason Pamer (NICK: THE NICK VUJICIC STORY, THE HEART OF MAN). 
Tags : AFTER DEATH AFTER DEATH film AFTER DEATH movie AFTER DEATH interview