RED Announces New Album "Gone" for October 27
GRAMMY-nominated rock band RED is set to release its sixth studio album titled Gone on October 27. The album's digital pre-order is available now with instant downloads of two songs: the debut radio single "Still Alive" and "Losing Control." Additionally, on October 13th, fans who pre-order the album from some major digital outlets will be able to download a third song, the title track "Gone." Fans also can be part of the band's PledgeMusic campaign featuring unique, fan-centered limited edition pre-order packages not available anywhere else. 
True to the band's discography, Gone continues RED's honest exploration of darker themes and deep human struggles, with epic musical soundscapes that are raw, melodic, intense and emotional, all at the same time. With songs that explore Ecclesiastes-like questions such as, "What is the meaning of life?" and "What is my legacy when I'm GONE?" RED draws additional creative inspiration using "Artificial Intelligence" (A.I.) as a metaphor for the human experience, similar to the sorts of themes featured on HBO's hit series "Westworld." Having been together for more than a decade, these themes had special meaning for the band as lead singer Michael Barnes, and identical twins Anthony Armstrong and Randy Armstrong, contemplated their own careers in music and their existence as a band. "
Each and every time we make an album, we have to consider that it could be our last," says Randy Armstrong. "So we really wanted to give our fans something heavy but that also makes them think about some of the big questions. None of this lasts forever, it could all be gone tomorrow, so it's always in the back of our minds. We never want to make the mistake of thinking that we are unstoppable even though at times we have all felt that way. Stay humble because tomorrow is not a guarantee." 
Selling nearly two million albums with stream and track equivalents, and two Top 10 Active Rock singles, RED is a career rock band with a strong emotional connection with fans. 
To create Gone, RED once again partnered with long-time producer Rob Graves and executive producer Jason McArthur to create an intense, hard-driving masterpiece fans will love. In addition to the songs mentioned above, the album includes a rock cover of Sia's smash hit "Unstoppable." Also available is a digital-only Deluxe Edition of the album, which includes 17 tracks. 
"There's always something alluring and more meaningful going on in RED's music," shares McArthur, Vice President of A&R, Sony/Provident. "Every album delves deeper and deeper into the human experience in a way no other band can do. RED makes cinematic rock music that not only makes you want to bang your head, but also asks some of life's biggest questions." RED will be hitting the road with new music in October with 10 Years and special guest Otherwise. See below for the tour dates.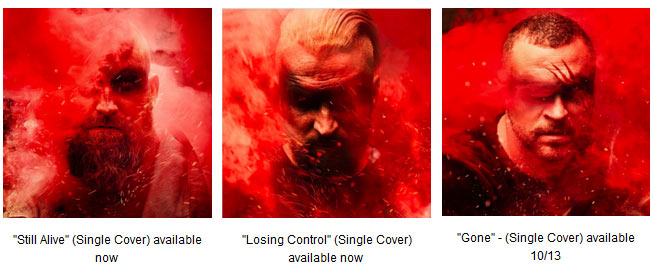 10/17/17 Pittsburgh, PA - Diesel
10/18/17 Poughkeepsie, NY - The Chance
10/19/17 Lancaster, PA - Chameleon Club
10/20/17 Lynchburg, VA - Phase 2 Club
10/21/17 New York, NY - Highline Ballroom
10/23/17 Greensboro, NC - The Blind Tiger
10/25/17 Darlington, SC - Carolina Nightlife
10/26/17 Atlanta, GA - The Masquerade
10/28/17 Jacksonville, FL - Murray Hill Theatre
10/29/17 Lake Buena Vista, FL - House of Blues
10/31/17 Baton Rouge, LA - Varsity Theatre
11/2/17 Lexington, KY - Manchester Music Hall
11/3/17 Cincinnati, OH - Bogart's
11/4/17 Sauget, IL - Pop's Nightclub
11/5/17 Joliet, IL - The Forge - Joliet
11/7/17 Kansasville, WI - 1175
11/8/17 Detroit, MI - St. Andrews Hall
11/10/17 Fort Wayne, IN - Piere's
11/11/17 Indianapolis, IN - The Vogue Theatre 
ABOUT RED: RED is Michael Barnes (vocals) and twin brothers Anthony Armstrong (guitar) and Randy Armstrong (bass). The band has sold nearly 2 million albums collectively of its five previous album releases: of Beauty and Rage, Release The Panic, Until We Have Faces, Innocence & Instinct, and End of Silence. The band also boasts more than 1 million Facebook fans and more than 600k monthly listeners on Spotify. RED has had an illustrious career over the last 10 years - with an RIAA Certified GOLD album (End of Silence) and RIAA Certified GOLD digital single ("Breathe Into Me"). The group has two GRAMMY award nominations and has won six Dove awards from 19 nominations. Radio success for RED includes two Top 10 Active Rock singles, three Top 10 Mainstream Rock singles and 19 consecutive No. 1 hits at Christian radio. RED has appeared on Conan and The Tonight Show with Jay Leno, and has been featured in USA Today, Rolling Stone, Billboard, Revolver Magazine and Decibel.
Tags : Red red new album red news Gone RED Gone