Christy Nockels Releases "The Thrill Of Hope Renewed" Christmas Album Today
Three-time GMA Dove Award-winning worship leader, singer-songwriter Christy Nockels announces the release of The Thrill of Hope Renewed today (Nov. 8) on Keeper's Branch Records with global distribution through The Fuel Music. Available now at iTunes, Apple Music, Amazon Music, Spotify, Google Play, Pandora and more digital retail and streaming outlets everywhere through https://the-fuel-music.lnk.to/thrillofhoperenewed, the 15-track Christmas album includes both classics and original songs that share the hope we have in Jesus; that He has come and that He's here with us now.
Produced by her husband, Nathan Nockels (Passion, Matt Redman, Laura Story), this new offering is based on Christy's acclaimed debut Christmas album The Thrill of Hope (2016) that has been nearly completely re-recorded. While favorite "Advent Hymn" was a plaintive piano vocal, it is now a full band arrangement that MultiTracks.com, a resource for worship leaders, will be featuring this season. The classic "O Come O Come Emmanuel" and original "Our Christmas Song" have similarly been completely recrafted.
Christy also shares her personal story behind her song "Amaryllis" on the album and will release her "Amaryllis Story" video on YouTube today. Receiving a potted amaryllis bulb from her sister-in-law, Christy learned that the Amaryllis plant blooms in the bleakness of winter, conditions that are counter-intuitive to new life - much like Jesus' arrival on Christmas.
"He certainly didn't arrive when conditions were perfect," reflects Christy. "In fact, He arrived in the midst of a silence in a winter that the world had never known and just when we thought we'd never see spring, heaven gave a King. He surprised the night. When we least expected it, His love broke through and He shined, pushing through the hardness of winter on our behalf.
"He has and always will be new life," she continues. "And that very life he offers to us, that no matter how dark and bleak our condition may be, like Him, we too can bloom with the brilliance of summer right in the middle of winter."
Steeped in scriptural references from Isaiah, Genesis, Micah and more, The Thrill of Hope Renewed further includes the new song "Is He Worthy / The King is Coming." A blend of Andrew Peterson's "Is He Worthy" and Nockels' "The King Is Coming" prelude on her original Christmas release, the new recording now serves as the album's postlude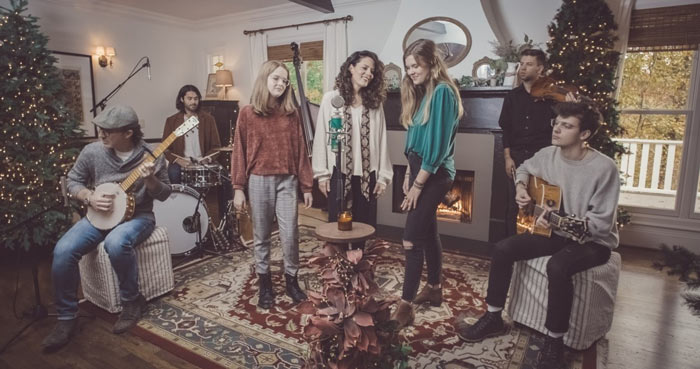 Christy, Elliana and Annie Rose Nockels are pictured singing "Make Good Your Christmas Day" along with Christy's band.
Another standout track, "Make Good Your Christmas Day," which was a line out of "Our Christmas Song" on the last record, has been turned into a full-length song. The track became a sweet family affair as the Nockels' children, Elliana and Annie Rose, joined mom to sing the song.
The full The Thrill of Hope Renewed track listing follows:
1. The King Is Coming Prelude
2. Advent Hymn
3. O Come O Come Emmanuel
4. Hark! The Herald Angels Sing / Room In Your Heart Reel / O Come Let Us Adore Him
5. Amaryllis Story
6. Amaryllis
7. Have Yourself a Merry Little Christmas
8. Our Christmas Song
9. Make Good Your Christmas Day
10. Song In The Air
11. Dance At Migdal Eder
12. Silent Night (Holding Us Now)
13. Wrap This One Up
14. Joy To The World
15. Is He Worthy? / The King is Coming
Taking this new music and fan favorites on the road, Christy launches her "Night of Hope: A Family Christmas Tour" Dec. 7 in Hopkinsville, KY, followed by events in Franklin, TN (Dec. 8, 9), Spring?eld, IL (12/12), Adrian, MI (12/13), Northville, MI (12/14) and wrapping up in Atlanta (12/15).
"Christmas is such an amazing time to come together and remember the hope we have in Jesus, and to rediscover the hope He has given us to offer the world," says Christy. "We hope you'll join us for these nights of awe and wonder as we worship Him together as a family."
For all the latest news about Christy Nockels, including tour dates, music, videos and more, go to http://christynockels.com/, Facebook, Twitter, Instagram, YouTube and Spotify.
About Christy Nockels: 
Christy Nockels is a three-time GMA Dove Awards-winning worship leader/singer-songwriter who lives Franklin, TN with her producer husband Nathan Nockels and their three children. Christy and Nathan toured nationwide for several years as the duo Watermark, recording five albums and seven No. 1 radio hits together on Rocketown Records. A founding member of Passion City Church, where she served on the worship team with friends Chris Tomlin, Matt Redman and Kristian Stanfill, Christy released her first solo album on sixstepsrecords, Life Light Up (2009), followed by Into The Glorious (2012) and the live worship album, Let It Be Jesus (2015). Unveiling her first Christmas project, The Thrill Of Hope, in the fall of 2016, Nockels released her Dove-nominated Be Held -Lullabies For The Beloved in 2017 and started her podcast The Glorious in the Mundane that averages 25,000 plays per week and has become a Top 4 iTunes Religion and Spirituality podcast. Touring with author friends Jennie Allen, Rebekah Lyons, Ann Voskamp and others, Christy is also co-owner of Keeper's Branch Records with her husband Nathan.
About The Fuel Music:
Established in 2008, The Fuel Music & Management, LLC, is a leading artist management and artist solutions company that independently distributes music internationally. Based in Nashville, TN, the Fuel team brings nearly 70 years of combined music industry experience in record label operations, major label distribution and marketing, and artist management for artists ranging from upstart bands to GRAMMY Award-winning, multi-platinum artists. More information on the company can be found at www.thefuelmusic.com.
Tags : Christy Nockels "The Thrill Of Hope Renewed" Christy Nockels christmas album 2019