Worldwide Justice Advocate Danielle Strickland Teaches Us How to Hunt for Hope in the Dark
Global social justice advocate Danielle Strickland has just released her newest book, "The Other Side of Hope." In it, she tackles the twin giants of cynicism and despair that threaten to derail our emotional and physical health and shows readers how to find hope by witnessing the power of God's redemptive healing.
Part guidebook and part storytelling, "The Other Side of Hope" is a uniquely-designed flip-book with two entry points. One part of the book focuses on theory and biblical philosophy, including insights into: fighting cynicism, embracing true humility and love and shifting to a new mindset together as a community.
Flip the book over to the other part and read a collection of stories about people from around the world who overcame impossible situations, showing that nothing is impossible through Christ. In this start-where-you-want flip-book, you not only learn what the Bible says about hope but also witness God's redemptive power at work in the lives of people in the real world.
"The Other Side of Hope" is published by W Publishing Group, an imprint of Thomas Nelson, is available now wherever books are sold.
Q: Danielle, thank you for doing this interview with us. You have a passion for justice and compassion, tell us a little of some of the ministries you have had been in.
I've had a plethora of opportunities around the globe to be honest. From mission service in Russia after the collapse of the Soviet Union, street outreaches and anti-trafficking work, building affordable and supportive housing, church planting and discipleship schools. It's been a rollercoaster of an adventure following Jesus! It seems I love to work in places that are difficult and seeing God show up there! Part of this discovery, that God is at work in the hard places is what gives me such a deep hope for this world. 
Q: When and how did you develop this passion?
I was discovered by God in a jail cell. That is the easiest way to put it. I had a mixture of early life experiences that were toxic and painful. Sex abuse and addiction and then I met Jesus in a way that turned on a light for a different future. I think this is hope - to see that God is inviting us to move forward and out of darkness. I think my passion for seeing people experience that kind of light and hope stems from this encounter and has only grown as I've seen God at work in dark and difficult places. 
Q: You have a new book coming out. Briefly tell us what is "The Other Side of Hope" about.
The Other Side of Hope is about flipping the script on cynicism and despair and rediscovering our humanity. Instead of offering a 'happy' hope I'm suggesting we let hope be honest. Instead of avoiding sorrow (because we think that's despair) I'm inviting people to head straight into sorrow with the expectation that they will find God there... and that will offer a Hope that will last. 
Q: "Hope" is a word that many people use. What do you mean by "hope."
Hope is believing that God is at work in this world. 
Q: How do people stop being cynical about those with mental health issues and suffering from addictions? 
Coming out of agreement with despair is one way. I refuse to believe that people are 'beyond hope'. Also, leaving 'glorious' expectations of what 'hope' should look like is another way - perhaps hope is someone choosing to take the next step forward towards life... maybe it doesn't look like a Disney film but a genuine willingness to connect or call for help. Hope is manifested in every single evidence of God working... picking up a help line, going to a recovery group, seeing a doctor, getting honest about their journey, coming out of shame and fear - hope is everywhere if we have eyes to see. 
Q: What is the role of faith in our quest for restoring our humanity?
Hope is so powerful because it's God at work in the world. It's divine evidence of God's intention to redeem people not destroy them. The apostle Paul tells us that only 3 things will remain for eternity and one of those eternal elements is Hope. That's why hope is so potent - even if people can't name God properly they can spot and be impacted by Hope. This is part of the good news. It's part of our job as believers to offer hope, to live hopefully to see hope and help others see it too. Our faith is not alone it has friends - hope, love and faith are the trifecta of change. 
Q: How will this book help both the Christian and the non-Christian?
I'm praying the stories will awaken the desire to hunt for hope in the dark. And I'm praying the theory will educate and inspire people to work on an ordinary framework of living that is authentic enough to display hope to the world. For Christians, there are some truths that were new to me that helped me discover the way I think about God and others! It was life changing for me and I hope might offer some believers some liberation. For non- christians I pray that they will discover an authentic glimpse of faith and that glimpse would lead them to sense and encounter Hope for themselves. 
Q: Tell us something fun or unusual that you have learnt about God while you were writing this book?
God is never afraid. God is not ashamed. God is not hiding. God is not angry. God is not far away. 
God is love. God is hope. God is here. God is welcome. God is hope right now. 
Learn more about Danielle at her website (www.daniellestrickland.com) and follow her on Twitter at @djstrickland.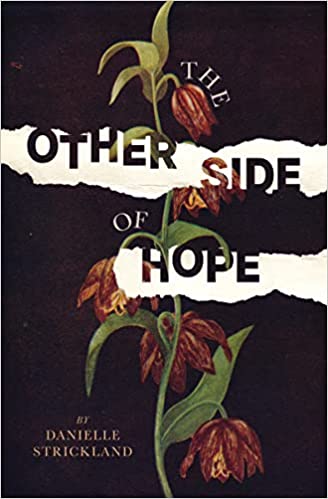 Tags : Danielle Strickland Danielle Strickland interview Danielle Strickland new book Danielle Strickland news The Other Side of Hope