Isabella Grosso Shares About Being Sexually Abused and Why She Chooses to Talk About It in New Docu-Film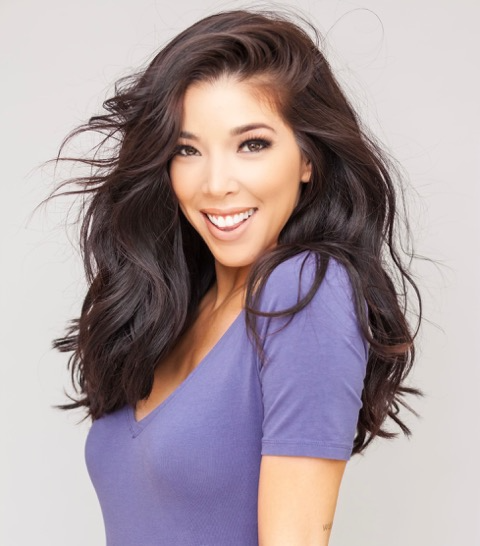 New documentary feature film She Is... will be released on all Digital/VOD platforms including Apple iTunes, Amazon, Prime Video, and Google Play starting January 17th, 2023. Watch the trailer HERE.
This documentary follows the story of Isabella Grosso, a survivor of childhood sexual abuse. In her quest to heal, Isabella discovered a sense of empowerment through the power of dance and founded SHE-IS, a non profit combining the art of dance with therapy.
We are honored to be able to catch up with Isabella for this exclusive interview.
Q: Isabella, thank you for doing this interview with us. You were abused at a very young age by a number of people you knew. Tell us what happened there?
The abuse started at 5 years old with a family friend and progressed throughout my adolescence. I was abused by 7 different people by the time I turned 12. For young people, it can be a ripple effect if it goes unnoticed by the adults in their lives. Given my history, I was definitely someone who was very vulnerable and easily manipulated at that age. Predators know their prey. 
Q: Were you able to tell an adult when this was happening to you? How were you later helped?
I told my dad when I was 5 using a stuffed animal. He had asked me what happened and while I explained it to him, I could see how much it affected him to hear the details. He was destroyed by my experience. Watching his pain, I felt responsible for it and I decided not to tell him anything else. From that moment forward, I carried the guilt and shame in isolation, and I told myself I would never tell anyone again. Throughout my childhood, I tried to convince myself it didn't happen and even if it did, that it didn't really matter. 
It wasn't until my late 20's that I uncovered key memories and began to understand that what I experienced wasn't okay. Since then, I've been in active therapy and have prioritized healing from the abuse using multiple mind-body strategies. 
Q: What are some of the pains and anguish you went through? How did you overcome them?
The abuse impacted my life in pretty much every way I can imagine. It made me question my own reality, which made me lose trust within myself. That mistrust was also transferred to my relationships where I struggled a lot with forming healthy relationships. I also had PTSD, nightmares, depression, and anxiety for years. Things felt so unmanageable that I attempted suicide twice as a teenager. 
The isolation I felt was one of the worst contributors to my feelings of being misunderstood and alone. It wasn't until I started telling my story that I realized other people had experienced similar things, and that they had managed to get help to begin healing. 
Looking back, movement has always been one of my consistent healers. During times in my childhood when I stopped dancing, I experienced my darkest feelings of grief. I see why now. Dance allows me to process through feelings on a body level, which really can help unlock those body-stored memories. That's been the key to my healing. A lot of patience, a lot of trusting building, and a lot of healing the mind-body connection. 
Q:  In the upcoming film, you talk about dancing. How did you get into dancing? What kind of dances do you excel in?
My dad put me in dance at 3 years old. We joke that I was twirling before I was walking. Dancing to songs in my living room is the first thing I remember. After each class, I would perform the choreography for my family in the middle of the room. 
Initially, I wanted to be a tap dancer. I'm technically trained in ballet, tap, jazz, and modern. Now I specialize in Latin partnering, and my current favorite style is salsa. 
Q: How is dancing a form of empowerment and healing for you?
Dance helped me connect to my body after it was taken away at a young age. Reclaiming ownership over my body has been a very important part of my healing journey. Not to mention, dance allows me to experience emotions like joy and contentment. It is the source of community, connection, and celebration in my life. 
As a kid, dance was an emotional escape, and the one place I could be myself. Now, I see how much it helped me process and move through the elements of my past that hurt me. It helped me unlock trauma and unburden myself from all the ways trauma was stored in my body. Today, dance isn't just a place I can be myself, it's the the way I discover the innermost parts of who I truly am. 
Q: Why should our readers watch the movie "She Is..."? What are some take away messages from this film?
I want people to know that sexual abuse happens all over the world, yes, but it also happens in our own homes and neighborhoods. I think people like to distance themselves from this conversation, thinking it could never happen to them, which unfortunately will never help us address and stop abuse from happening. We have to be aware, and we have to listen and care for each other when we hear a survivor's story. 
This documentary isn't just about the details of abuse. It's about living life with a secret you've lived to tell, and how you care for yourself and others on your journey towards ultimate healing. We are responsible for building compassionate communities, and that begins with the family we build at home. 
I hope survivors see this and realize there is hope beyond their past and that they deserve to also share their stories and receive support. 
Q: What advice do you have for anyone who is currently a victim of abuse?
I want other survivors to know they are not alone. I thought I was the only person that was going through this emotionally, and I felt so much shame and embarrassment because of it. It wasn't until I started sharing my story that I started to feel connected to others in my community. Please know, there are resources out there. And even though darkness does exist, there is also so much love and so much light waiting for you. Please reach out for support. 
Please join us in bringing this important film to the the forefront during National Slavery and Human Trafficking Prevention Month. Please follow this link to pre-order the film today: https://apple.co/3V5h1IK.  
Tags : Isabella Grosso Isabella Grosso interview Isabella Grosso She Is Isabella Grosso new film Isabella Grosso news sexual abuse movie