NO VACANCY, A Film About the Transformation of Communities, is Now Available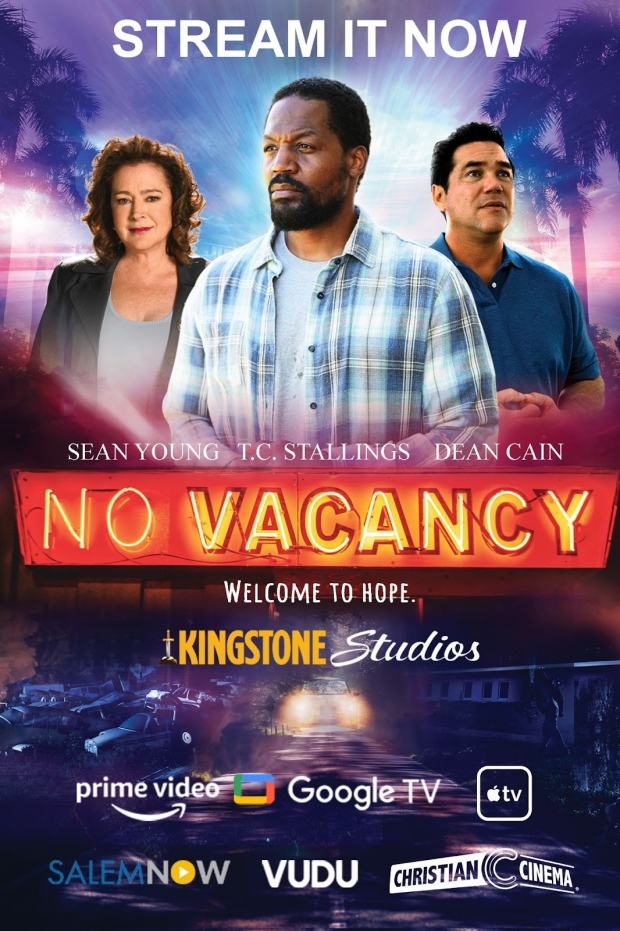 Faith-based movie NO VACANCY is now available on Prime Video, Apple TV, VUDU and Pure Flix. Based on a true story, the film tells of how one community fought for social justice amidst an economic collapse. 
Starring Dean Cain (GOD'S NOT DEAD, "Lois & Clark: The New Adventures of Superman"), T.C. Stallings (COURAGEOUS, WAR ROOM) and Sean Young (DUNE, BLADE RUNNER), NO VACANCY had a successful theatrical debut nationwide through Fathom Events, landing #10 overall at the domestic box office on its release day. It currently has a 95% audience score on Rotten Tomatoes and 8.1 out of 10 on IMDb. 
The film follows a reporter who finds her assumptions challenged when she moves to a small town in Florida during the economic downturn of 2007, befriends a former addict and covers a news story about a congregation struggling to purchase a motel for homeless families in their community. Opening conversations about homelessness and addiction, this film calls communities to engage in empathetic action.
"If the true events portrayed in this movie were replicated across the nation, the ripple across America would be stunning," said screenwriter and producer Art Ayris. "We attempted to make a good movie but realized very quickly this motion picture also lays out a model, a pattern for community transformation."
The church portrayed in NO VACANCY purchased a motel for homeless families, now called the Samaritan Inn. But beyond their motel for homeless families, the church also built a medical clinic for the indigent, currently staffed by 50 doctors and eight dentists, a 16-bed addiction facility for women and a 30-bed addiction facility for women, men, a pregnancy resource center and a free counseling center. In addition, they operate a large community feeding center that gives away 15 tons of food weekly to the needy in their community. The church provides tours twice monthly to groups who travel to central Florida for vision and ideas for impacting their own communities.
"This is a true IT'S A WONDERFUL LIFE movie," added Ayris. "It portrays the immense struggles and subsequent miracles that followed as the community rallied together."
For more information on group licensing and exhibition, visit https://novacancymovie.com/#events and follow on social media at @novacancymovie.
Tags : NO VACANCY "No Vacancy" Film "No Vacancy" Movie Sean Young dean cain T. C. Stallings