Jason Barie, the Rambling Fiddler, to Release "Radioactive"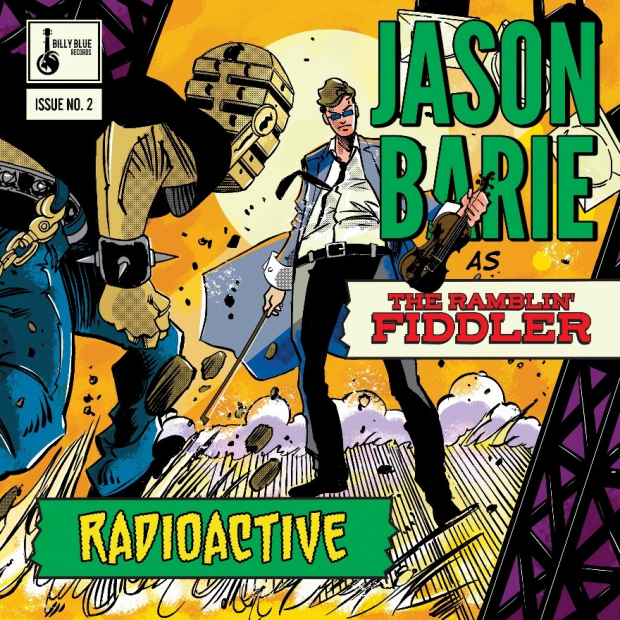 Jason Barie, also known as the Rambling fiddler, is set to release his brand new album Radioactive on February 24. This new record is the follow-up to his highly acclaimed 2019 album, Pieces.
Although Barie is well-known and respected as a gifted sideman in acoustic music, we first met him as The Ramblin' Fiddler in 2019; discovering his power from an enchanted cake of rosin found in a fiddle case inherited from his great-grandfather.
The fable of The Ramblin' Fiddler is based on Barie's own life experiences. As the character's powers grew, he was able to bring together his own heroes for epic recordings, a journey that began in 2019 with Pieces and continues this year with Radioactive. The clever packaging includes a 7-page "comic book" story on our hero.
Once again, Barie has amassed an impressive roster of his own heroes who willingly lend their own superpowers to the project. In addition to Barie's own impressive skill, Radioactive boasts the talents of Michael Cleveland, Bobby Osborne, Doyle Lawson, Russell Moore, Danny Davis, Paul Williams, Tim Raybon, and Jeff Parker.
Two songs have already been making a heroic noise at radio: "That's Why You Left Me So Blue" featuring Osborne and Lawson; and more recently, "Keep A Memory" with Lawson and Moore.
Jason began taking classical violin lessons at the age of 10 but within a couple of years, found himself shifting styles for fiddle lessons. He spent much of his teens years filling in with various bands and competing in fiddle contests in his home state of Florida. Upon graduating high school, Jason began performing full-time with the Sand Mountain Boys before joining Lorraine Jordan and Carolina Road, followed by the Larry Stephenson Band and then nearly six years with Doyle Lawson & Quicksilver. He's been performing as a member of Joe Mullins and the Radio Ramblers since November 2014. ​Jason, his and two children now live in Portland, Tennessee.
Barie's playing is marked by creativity, innovation, and prowess, making him one of bluegrass music's most sought-after fiddlers. With Radioactive, he delivers on every mark.
TRACKS
CALAVERAS COUNTY
THAT'S WHY YOU LEFT ME SO BLUE
KEEP A MEMORY
DARLING BROWN EYES
IN THE GARDEN
BOTTOM OF THE NINTH
I THOUGHT I HEARD YOU CALLING MY NAME
PICKING IN THE PARLOR
THE TOOLBOX
I WISH I LOVED SOMEBODY ELSE NOT YOU
THE MAN FROM JENKINS
GOOD LOVE GEST BETTER WITH TIME

Executive Producer: Dottie Leonard Miller and Ed Leonard
Producer: Jason Barie
A&R: Jerry Salley
Engineer: Jason Barie
Mixing/Mastering Engineer: Jason Barie