Naomi Raine's "One Name (Jesus)" Paves the Way for Her New Album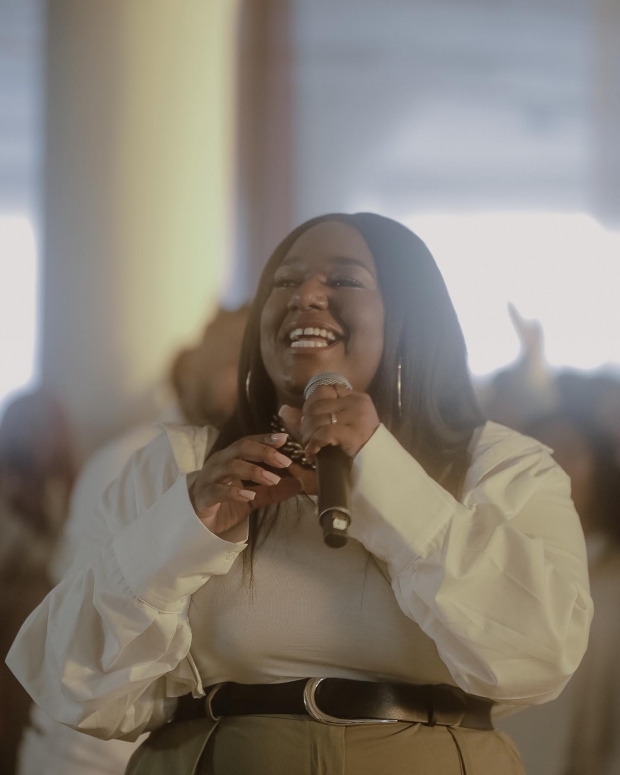 Five times GRAMMY Award-winning artist Naomi Raine previews her upcoming new album with the release of a new single "One Name (Jesus)." Her stunning debut live record Cover The Earth (TRIBL Records), which features a series of choir-filled performances recorded live from New York City and collaborations with Natalie Grant, Chandler Moore, Todd Dulaney and Lizzie Morgan, will be released on June 2nd. 
"'One Name' is about Jesus and my total reliance on him," says Naomi. "Over the past few years, people have listened to my music, experienced my ministry, and have begun to know my voice and my name. I just wanted to release a song about The Name that's higher than every other name in a world where there's so much emphasis on the names of celebrities and brands. I want to bring a message of hope, but not hope in me or my gifts, but in the God who gives them both freely and I pray that people find hope when they listen to the song."
More than a collection of songs, Cover The Earth is a full-blown worship experience full of upbeat and praise-worthy songs that blend pop, R&B and more, while delivering encouraging and uplifting messages across ten songs and four "flow" song transitions. The album was recorded in the heart of New York City and produced by Naomi with Adale Jackson.
Naomi will celebrate the release of "One Name (Jesus)" with two events, one in Jamaica on March 18th and one in South Africa on April 1st with more to be announced.
On Cover The Earth, Naomi addresses how faith can free us from mental prisons ("Paul & Silas (At Midnight) [with Chandler Moore]"), fear ("Uncovering"), greed ("Costly") and more, while also revealing the character behind her source of inspiration for the music. Naomi also sings of the courage it takes to be a light in dark places on songs like "We Agree (Flow)," in which she boldly roots herself in her faith despite modern culture, proclaiming "we don't care what the left or the right is saying 'cause we agree with Heaven."
"Cover the Earth is a project about the goodness of God, his kindness and faithfulness," adds Naomi. "It is a call to action for those that love God to seek Him and spread the message of the gospel of Jesus Christ everywhere we go." Naomi's debut live record follows her vulnerable album 'Journey' and its follow up 'Journey: Acoustic Sessions,' which were released in 2022.
In the past year, Naomi has performed on the BET Awards, GRAMMY Awards and more. The GRAMMY, NAACP, Stellar, BET, Billboard and Dove Award-winning artist is one of the top songwriters in the gospel genre, and starting this April, she'll co-headlining the first-ever all-female worship tour, It's Time Tour, alongside Tasha Cobbs Leonard, TAYA, Natalie Grant, Tamela Mann and others.
For more information on Naomi Raine, visit naomirainemusic.com.
Cover The Earth Tracklist:
1. Rest On Us (Flow) - Live
2. Cover The Earth - Live
3. Sing Hallelujah [with Natalie Grant] - Live
4. We Agree With Heaven [with Todd Dulaney] - Live
5. We Agree With Heaven (Flow) - Live
6. Drink Offering - Live
7. Uncovering [with Lizzie Morgan] - Live
8. Costly - Live
9. Paul & Silas (At Midnight) [with Chandler Moore] - Live
10. Paul & Silas (Undignified Flow) [with Chandler Moore] - Live
11. One Name (Jesus) - Live
12. One Name (Jesus)[Flow] - Live
13. VIP - Live
14. The Story I'll Tell - Live
Naomi Raine on Tour:
Wed., Apr 26 | Bayside Community Church | Bradenton, FL
Thu., Apr 27 | Calvary Orlando | Orlando, FL
Fri., Apr 28 | Florida Theater | Jacksonville, FL  
Sun., Apr 30 | James L Knight Center | Miami, FL
Tue., May 2 | Fox Theatre | Atlanta, GA
Wed., May 3 | Ovens Auditorium | Charlotte, NC
Fri., May 5 | Hulu Theatre | New York, NY
Sat., May 6 | The Met | Philadelphia, PA
Sun., May 7 | The Theater at MGM National Harbor | Washington, DC
Tue., May 9 | Wang Theatre | Boston, MA  
Thu., May 11 | Toyota Oakdale Theatre | Wallingford, CT
Thu., May18 | Faith Church | St. Louis
Fri., May 19 | Transformation Church | Tulsa, OK
Sat., May 20 | Exodus Arts & Music Festival | Dallas, TX
Sun., May 21 | 713 Music Hall | Houston, TX
Mon., May 22 | Summit Christian Center | San Antonio, TX
Wed., May 24 | Saenger Theatre | New Orleans, LA
Thu., May 25 | BJCC Concert Hall | Birmingham, AL
Fri., May 26 | Landers Center | Southaven, MS
Sat., May 27 | Ryman Auditorium | Nashville, TN
Sun., May 28 | Grove City Naz | Columbus, OH   
Tue., May 30 | Princeton Pike Church of God | Cincinnati OH
Wed., May 31 | Murat Theatre | Indianapolis, IN
Thu., Jun 1 | Grand Rapids First | Wyoming, MI
Thu., Jun 22 | The Rock Church | San Diego, CA
Fri., Jun 23 | Dream City Church Phoenix | Phoenix, AZ
Sat., Jun 24 | Masonic Theatre | San Francisco, CA
Sun., Jun 25 | YouTube Theatre | Los Angeles, CA
Tags : Cover The Earth "One Name (Jesus)" Naomi Raine Lizzie Morgan todd dulaney Natalie Grant