Balsam Range's Darren Nicholson Scores His First Solo #1 Song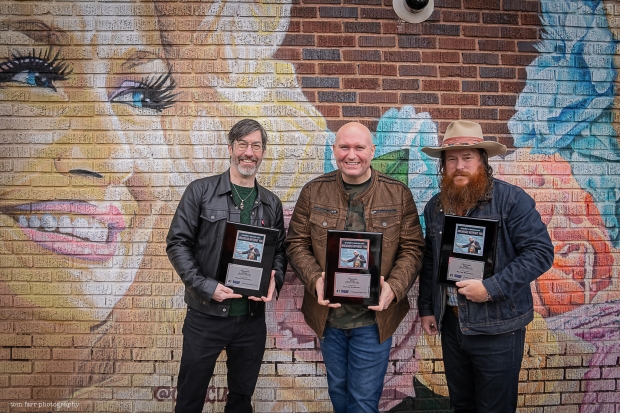 Bluegrass and Americana musicians Darren Nicholson and Charles Humphrey III scoed a # 1 song with their latest single, "Arkansas Without You." Though he's released plenty of solo recordings over the years, Nicholson took a big new step forward with the song's release, his first since concluding a 15-year tenure as a founding member of award-winning bluegrass quintet, Balsam Range.
"Arkansas Without You" hits hard right out of the gate with a fresh new sound, signified by the driving banjo of progressive maestro, Wes Corbett (Sam Bush Band). Over propulsive backing from Corbett, bassist Zack Smith (Town Mountain), Colby Laney on guitar, fiddler Billy Contreras and his own signature mandolin, Nicholson lays out a classic tale of spurned love, jealousy, murder and regret revealed through oblique sketches rather than direct narrative, as he and harmony singers Jennifer Nicholson and Derek Vaden (Larry Stephenson Band), serve up a memorable chorus:
Last night I had a dream
One worth fighting for
I was in your loving arms
I wasn't lonesome any more
'Til I awoke cold and blue
In Arkansas without you
"It was an honor to co-write 'Arkansas Without You' with Darren. I think the song tells an intriguing story and has a powerful melody," says Humphrey. "The band got a great cut on the song and the production from Mountain Home studios is top notch!  I'm proud to have been a small part of the creative process with my good buddy."
Nicholson adds, "A story song always reels me in. I'm grateful to have penned 'Arkansas Without You' with Charles, who is a fabulous story teller. The band and harmony singers knocked it out of the park on this recording. The whole process has been a pleasure. Thanks to Mountain Home, the stations spinning it and the listeners. We want to keep cranking out good tunes and are honored by this showing of support for our music."
Listen to "Arkansas Without You" HERE. The song is streaming in Dolby Atmos spatial audio on Apple Music, Amazon Music and TIDAL.
Tags : darren nicholson Balsam Range bluegrass Charles Humphrey III Arkansas Without You