Exclusive Song Premiere: Benson's "Living In These Troubled Times"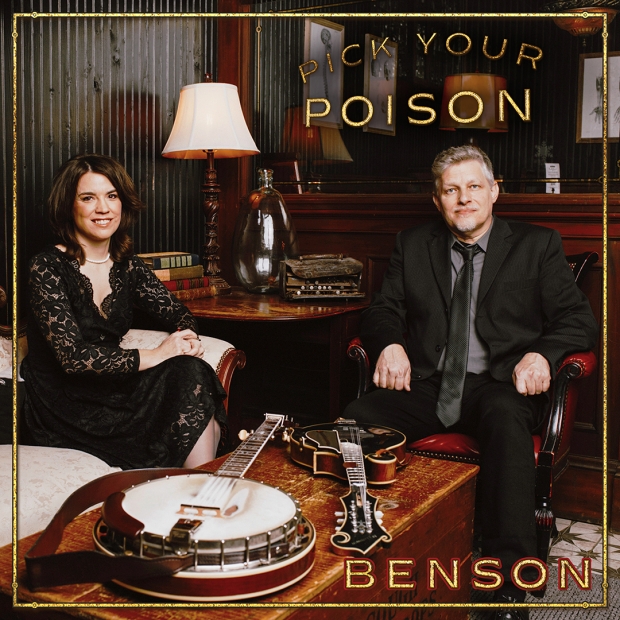 Benson, which comprises of Wayne and Kristin Scott Benson, is set to release their first full-length project for Mountain Home Music Company, Pick Your Poison, this Friday (March 31). The album features the couple's rendition of great songs such as Christian singer-songwriter Matthew West's "Oh Me Of Little Faith," an early 90s Bryan White cut, "Look At Me Now," and the Beatles' "I'll Follow The Sun," 
We are honored to be able to partner with Benson and Mountain Home Music Company to premiere the couple's rendition  on an early 80s Crystal Gayle hit, "Living In These Troubled Times." You can listen to the song HERE. Kristin recalls when she first heard the song. "I first heard this by Maura O'Connell. The message just seemed so appropriate these days. Division and turmoil abound and I think this message of love and forgiveness is perfect."
Wayne adds: "This is one of those songs that very easily translates to bluegrass. Heath Williams did a great job on lead vocals and the track has a nice pace to it."  
Taken as a whole, Pick Your Poison both summarizes the winding paths that have brought them to this moment and points in a multitude of directions for further exploration.
"We're really proud of how this album turned out," says Kristin. "The players and singers did an outstanding job and the roster mainly consists of longtime friends." 
Wayne concludes: "This record is a nice mixture of us, musically. It isn't exactly what Kristin would do or what I would do. I'm glad we documented a collaboration between the two of us."
Pre-order, add or save Pick Your Poison HERE. 
Tags : Benson crystal gayle Maura O'Connell Living in These Troubled Times Pick Your Poison Benson bluegrass music bluegrass Country music