After Grace Reflects on their Journey, Faith & New Music on their 10th Year Anniversary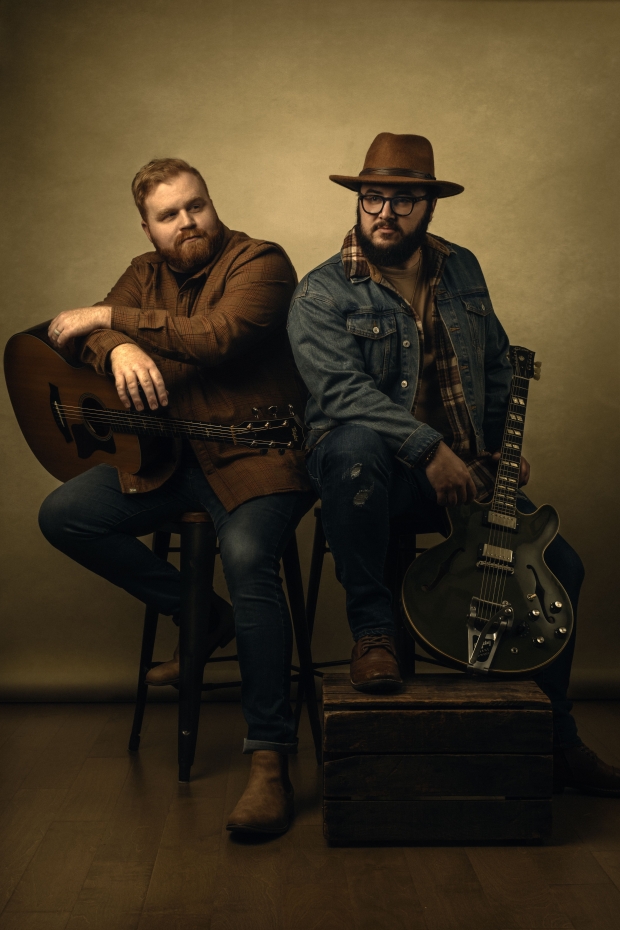 Acoustic/pop duo After Grace have just released their new single "Simple Things" on digital platforms. Written by After Grace's Cody Clark, along with Daniel Doss, and produced by Foster Ferrell, the poignant song recounts Clark's personal journey of rediscovering what was most important in his life: "faith and hope and love, and knowing Jesus is enough to get me through the day."
Brothers-in-law Cody Clark and Jerad Moffitt formed After Grace in their hometown of Mountain Home, Arkansas, in 2013. The duo released the singles "Save Me" and "Shine" in 2016 and 2017, respectively. In 2019 After Grace's debut EP, You Know, released on Burtonwood Records, with the project's title-cut garnering airplay on Christian AC radio. The duo has opened performances for TobyMac, Building 429, Colton Dixon, 7eventh Time Down, Sanctus Real, Cochren & Co., and Dan Bremnes, among others. 
Q: Thank you for doing this interview with us. It has been 10 years since After Grace has been formed. What would you say are some of the highlights in your career so far? 
Cody: Time sure flies! Looking back, there have been plenty of memorable moments. For me, I think the biggest highlight has been the combined times we have heard people mention how our music has been a blessing to them or helped carry them through a tough time. Being able to connect with someone through the avenue God has given us is just an amazing feeling every single time. - 
Jerad: Okay, so this is a tough one. There are a couple of highlights that I can recall that mean a great deal to me. But I'd say the most impactful one was a moment at a youth worship event as we introduced a new song. Cody and I talked a bit about the message and really invited the audience to lean into the words and just allow God to minister to them. To our surprise, we began singing and students flooded to the front with tears in their eyes worshipping Jesus. We felt so humbled in that moment. 
Q: Were there any disappointing moments? Can you share with us one of them and how you overcame it? 
Cody: There's definitely been plenty of tough times through the years. Chasing a dream is never easy, and it's always important to keep things in the proper perspective. There was one time in particular that we were to be on tour with an established artist. At the last minute, before the tour was officially announced, we received a call that we were being pulled off the tour. It was crushing. I remember having all the emotions and feelings of not being good enough, thinking we should just give it up. But it was a moment that helped us learn that not everything is going to go the way you plan in this industry, and you just have to keep on keeping on and doing your best. We just kept working hard and trusting God through the process. Since that time we have seen many doors open, had songs on the radio, and have met, played, and toured with a number of artists. 
Jerad: Back in 2018, I was strongly considering leaving the band. Cody and I were struggling with our relationship. After Grace stopped being a ministry and a joy and turned into a stressful job that was mentally and physically exhausting. How we overcame that was largely in part to the grace of God sustaining us. It also had a lot to do with me taking responsibility for my own actions and mistakes. I took a 6-month sabbatical and really sought God's purpose for my life, for my family, and for After Grace. That time really helped me heal and grow in my faith. It also reaffirmed my God-given purpose to use music to bring Him glory and bring Hope to those who are lost and hurting. 
Q: You have also worked with many Christian artists before. Are there any other Christian artists you would like to work with? 
Cody: Zach Williams is one that comes to mind-we are both from Arkansas. It'd be nice to meet a fellow Arkansan and chat about all things music and growing up in the Ozarks.
Jerad: Switchfoot-they were my favorite band growing up and it'd be a bucket list dream to share the stage with them. 
Q: How has your faith grown throughout this past decade? 
Cody: My faith has both grown and been heavily tested through this past decade. The last couple of years have been particularly difficult. When my dad unexpectedly passed away in 2020, it was his life that helped me rely on my faith and trust in God more than I ever had before. Seeing and hearing about the impact he had on people through the way he lived, reaffirmed to me that faith is worth keeping, and God is worth trusting. 
Jerad: So many seasons of life have come and gone over the past decade. And with each of them, there's been plenty of opportunities for our faith to grow through hardships and trials. The biggest faith test for me was when we lost Cody's dad (I'm married to Cody's sister Kayla) to Covid. It turned our world upside down. Kayla and I were in the process of adopting a sibling group of five from foster care at the same time. Our kids were supposed to move in with us the same week we had his funeral. It was the most difficult time I've ever experienced and my faith took some serious blows. Today, our kids have been home with us for nearly 3 years and God has remained faithful throughout. 
Q: You have a new single "It's Okay (Feel This Way)," which is a very personal song. Can you share with us the story behind this song? 
Cody: When Nick Schwarz and I sat down for a writing session, we started sharing stories and ended up getting to talk about the unexpected loss of my dad. Dad was our rock, and he meant so much to all of us. He got sick, and three weeks later we were at his funeral. It was just a whirlwind of emotions and faith-shaking reality.
Shortly after dad passed, my wife and I noticed that our son started to act like a totally different kid. He was six at the time, and all the joy and happiness that he always carried with him seemed like it slowly started to fade away. We got a call from his school regarding his behavior. They told us he was acting angry all the time, yelling at teachers and other students, and wandering off to be by himself at recess. We had a talk with him and he told us that he "missed pop-pop."
Now, three years later, it's still hard on him. My son and my dad were the best of friends. They did so much together, and Dad meant the world to him. After some counseling and the passing of time, he is doing better, but he still has moments where he breaks down with grief. I wrote this song for my son. I want him to know that no matter what he is going through, I am always here for him. I want him to know that he doesn't have to face the hardships of this life alone-God is here for him through it all. 
Q: Are you guys working on a new album? What can fans be looking out for in the near future? 
Cody: We are definitely writing and working hard on new music! We will have some more releases through the year, and we can't wait to share those songs when the time comes.  
Q: I have read that both of you are leading worship in conferences. Do you have any engagements coming up? Where can our readers find out more about them? 
Cody: We have some concerts and festivals coming up. The best way for people to keep up with what's going on with After Grace is to follow us on our socials or website (@aftergraceband; aftergraceband.com).
Tags : After Grace after grace interview After Grace news After Grace' "Simple Things"