Michael W. Smith, CeCe Winans and Steven Curtis Chapman Invite Fans to Tour Israel with Them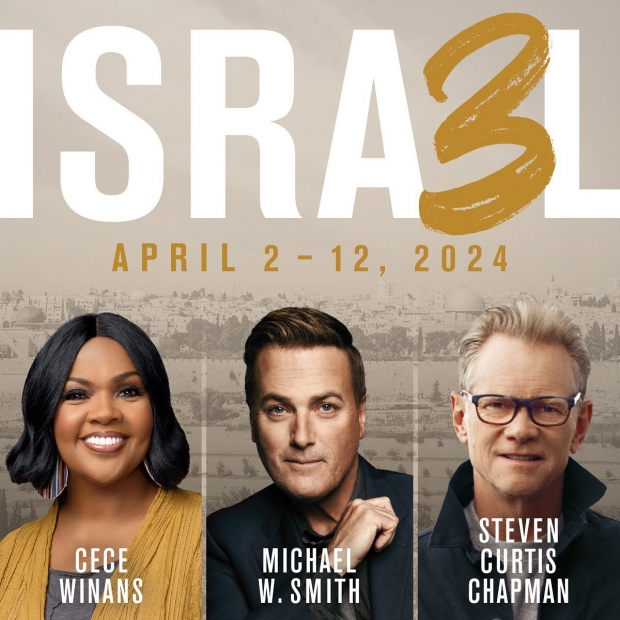 Michael W. Smith is happy to announce that he will be joining forces with CeCe Winans and Steven Curtis Chapman for an unforgettable tour of 11 days around Israel. The three artists will worship together, tour together, pray together, and sing TOGETHER. 
Israel is a land where the ancient past and modern present sit side-by-side. One moment you'll be taking in magnificent skyscrapers overlooking the Mediterranean; the next you'll be examining ancient ruins that have been there since Old Testament days. There's so much to see and do, from the Sea of Galilee to the busy markets of Jerusalem. But the spiritual meaning is what brings believers to Israel again and again. When you visit places like the Mount of Olives or the Garden of Gethsemane, you are literally walking where Jesus walked.

Those historical locations will be the focus of our tour: Masada, the Mount of Beatitudes, Caesarea Philippi-you'll even have the chance to be baptized in the waters of Jordan. And then there's Jerusalem, where we'll worship in the city Jesus traveled to for worship.
Smith writes, "We'll take communion in the city where He and the disciples had the Last Supper. We'll study the Gospels in the place where He died and rose again. It's hard to overstate the impact on your life and faith! The fact that the three of us are going to make this trip together and invite some of you to join is hard to even imagine. There will be moments of worship, prayer and songs that we believe will take on new meaning when we get to sing them together, with you, in the Holy Land.
"We can't wait to share Israel with you, because we know it will change you (and us). We truly believe God has something special planned for us in 2024. We hope you can join us in The Land!"
To book, click HERE. 
Tags : Michael W. Smith Cece Winans Steven Curtis Chapman Israel Tour