Don't Miss Beverly Crawford's New Single "Lord, You Are Good"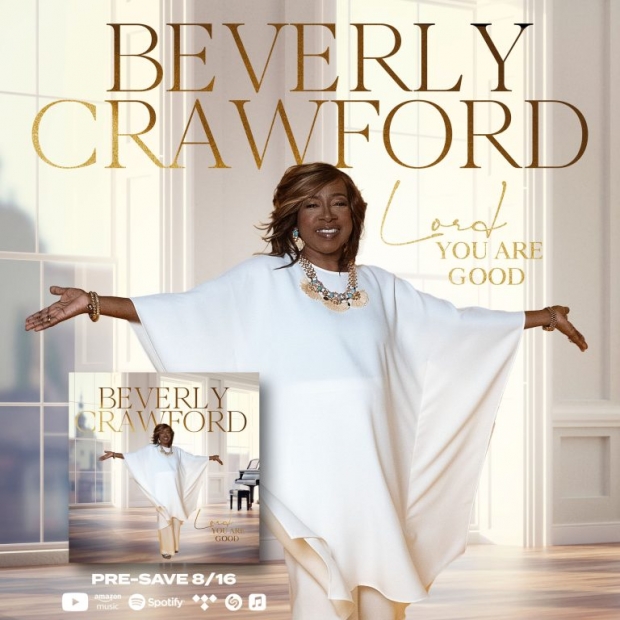 Grammy-nominated gospel legend Beverly Crawford has released "Lord, You Are Good," to all digital outlets. The new single, a re-imagining of Todd Galberth's 2016 hit, is produced by David "DLo " Outing (Fantasia, Pastor Mike Jr., Tye Tribbett). 
Crawford, dubbed "the spiritual showstopper" by Ebony, first began singing Galberth's composition in churches over the past year at the suggestion of her husband and manager, Pastor Todd Crawford. When a video of her singing the song at Pastor Tony Evans' church hit the internet, Jonathan Nelson urged her to record it.
The Crawfords met with Outing about collaborating on her next project and they suggested starting with this song. The studio experience, Beverly says, was one of the most fulfilling of her career. "It felt so good to have a producer interested in my ideas for the arrangement," she says. "He let me be me and then added his own unique flavor to the song which stretched me." Outing, a Grammy-nominated producer and songwriter, says, "I didn't want to change her. It can sometimes be difficult to take a song that is already a classic, but we made it fit her and I added my twist to it. I look at it like an iPhone-you don't change the brand, you just run an update!"
The single marks the first single from what will be Crawford's eighth full length album, slated for a 2024 release, to be released as she approaches the 30th year of her career as a solo recording artist. She emerged onto the national stage in 1989 as a member of Bobby Jones & New Life, reaching millions of viewers weekly by way of Bobby Jones Gospel which aired on Black Entertainment Television. She released her first solo album, Jesus, Precious King in 1995 on Warner Brothers Records. She is a Grammy and Dove Award nominee and Stellar Award Winner.
Crawford's new single, "Lord You Are Good," is available for now across all digital platforms.
Tags : Beverly Crawford Beverly Crawford new single Beverly Crawford Lord You Are Good