Acapella Group Kings Return to Release First Christmas Album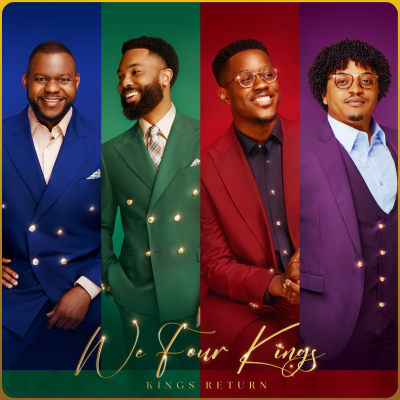 GRAMMY-nominated acapella group Kings Return has announced their first full-length holiday album entitled We Four Kings, set for release on November 3, 2023. The Dallas-based quartet transcends genre and time with their signature smoothness and charisma as they soulfully reinvent holiday favorites including "I'll Be Home For Christmas," "Jingle Bell Rock," "Mary, Did You Know" and more. The self-produced collection follows their 2021 debut EP, 'Merry Little Christmas,' and several viral performance videos that have garnered over 10 million views and earned the group a GRAMMY nod for "Best Arrangement."
In honor of World Peace Day today, Kings Return has unveiled a heartfelt arrangement of Louis Armstrong's timeless "What A Wonderful World,"showcasing their exceptional talent and unique blend of musical influences. 
Kings Return - composed of tenor Vaughn Faison, bass Gabe Kunda, tenor JE McKissic, and baritone Jamall Williams - proudly defy genre boundaries, seamlessly blending elements of gospel, jazz, R&B/soul, and classical music. The group was formed unintentionally in 2016 after first singing together for Gabe's college graduation recital. Their popularity grew when they began posting videos to social media from the stairwell where they rehearse, earning praise from NPR All Things Considered, Emily King, Anita Baker and more. Their name, "Kings Return," reflects their commitment not only to conquering the musical landscape but also to giving back to their community. 
This Fall, Kings Return will charm audiences across the country with a string of US tour dates, including stops in Chicago, NYC, DC and more. For more information and all upcoming tour dates, please visit https://www.kingsreturnmusic.com/.  
'We Four Kings' Tracklisting
It's The Most Wonderful Time
Jingle Bell Rock
The King's Nutcracker Suite
The Little Drummer Boy
Mary, Did You Know
Jesus Is The Reason For The Season
What A Wonderful World
Let It Snow
Mr. Grinch
This Christmas
Walking In The Air
Whoville Radio
I'll Be Home For Christmas
Listen to "What A Wonderful World" HERE
Pre-save 'We Four Kings' (11/3/23) HERE
Tags : Kings Return Christmas Albums 2023 Kings Return Christmas Album 'We Four Kings